In 2022 events industry has seen a major transformation, with a resurgence in the popularity of in-person events, while virtual events continue to play a significant role in the industry's future. Event content management has become increasingly critical, and Gevme has taken the lead by introducing a suite of tools to equip event professionals. With the ability to not just design engaging events with Gevme's Experiences, but also manage event content with ease, the website is now at the center of all event content, serving as a hub for pre-event promotions, registration, and post-event content on demand. Gevme is leading the way in the "Create once and use everywhere" approach for events.
Here are some of the key product innovations by Gevme in the past year.
Event Website: Reinvented
With the increasing importance of omnichannel events, the number of digital touchpoints has skyrocketed, making it more crucial than ever to have a well-designed and functional event website. Enter Gevme's Website app, a cutting-edge solution for event organizers looking to elevate their event website to new heights.
Gone are the days when the event website served merely as a promotional channel. With the Gevme Website app, the event website becomes a one-stop-shop for all things event-related. From landing pages and registration forms to the speaker and sponsor portals, and exclusive pre- and post-event content for attendees, the event website is now at the center of the event experience. Say goodbye to scattered and disjointed event content and hello to a seamless and integrated event website with Gevme.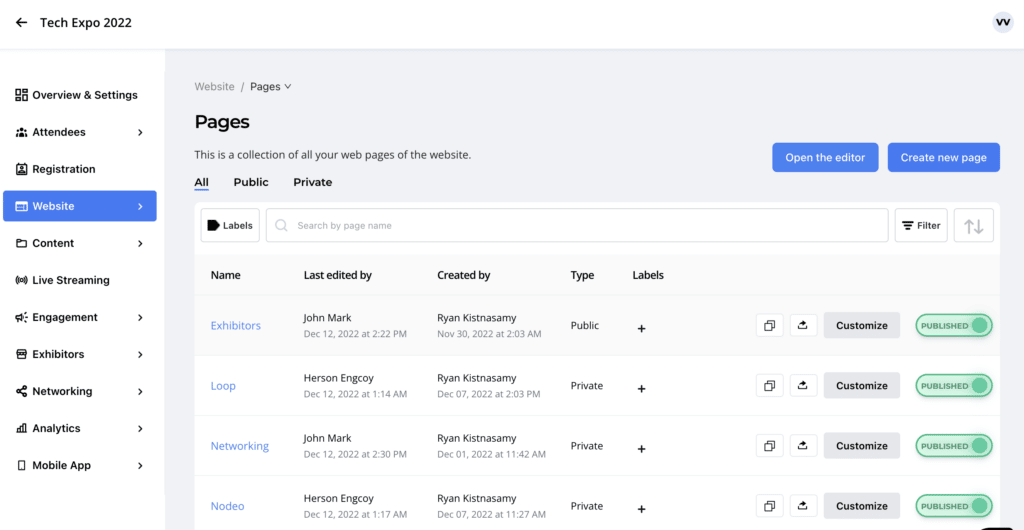 Content Hub: All your event content managed centrally
Gevme understands the importance of event content as a valuable asset, and that's why we're proud to introduce our innovative Content Hub. Say goodbye to the hassle of juggling multiple platforms and struggling to manage your event content. With Gevme's dynamic and real-time content widgets, you can create all your event content, including the agenda, sessions, speaker information, sponsors, exhibitors, and products, in one central hub.
And the best part? These content widgets are easy to access and embed globally, allowing you to promote your event and keep attendees up to date with the latest information. Whether you want to showcase your content on your event landing pages, through promotional emails, on partner websites, or in social media posts, Gevme makes it effortless to keep everything in sync. So, whether you're hosting a virtual or in-person event, take control of your event content and make a lasting impression with Gevme's Ultimate Content Hub.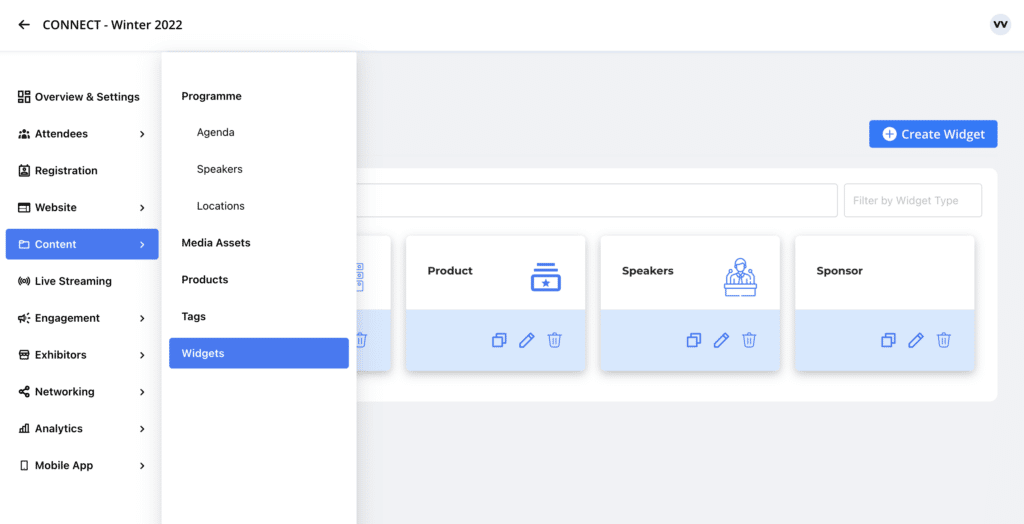 Mini Experiences: Brand new way to augment in-person events
We have introduced Mini-Experiences a new feature that allows event organizers to create their own custom event-specific apps with Gevme. These Mini-Experiences are designed to enhance the overall event experience for attendees, providing them with all the information they need in one place.
With Mini-Experiences, organizers can easily create an app for their event that includes the program agenda, speaker bios, exhibitor information, and much more. The app can be customized to match the look and feel of the event, and attendees can access it from their mobile devices, making it easy to stay up-to-date and engaged.
We believe that Mini-Experiences will be a game-changer for event organizers, as they provide a way to create a truly personalized event experience. Whether you're hosting a virtual event or an in-person event, Mini-Experiences offer a powerful tool for event-led growth and delivering ROI-driven event experiences that are unique, different, and memorable.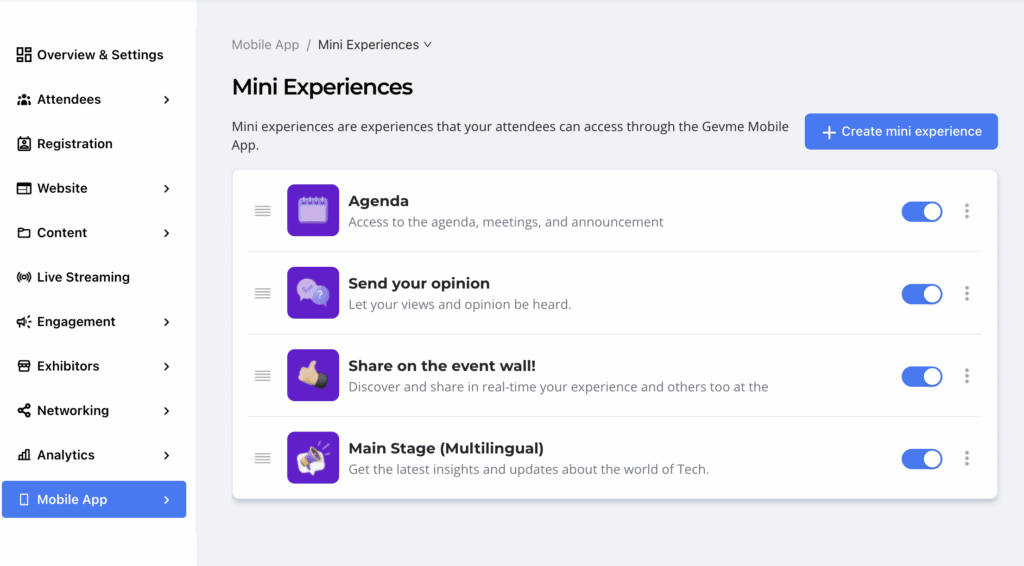 Reactions: A tool to boost engagement
Bring your virtual events to life with our new reactions feature! We understand that interaction and engagement are crucial elements of a successful event, which is why we've added the ability for attendees to express themselves in real-time through emoji reactions during a live stream and video sessions. With just a quick click, attendees can let their emotions be known, creating a more dynamic and interactive event experience.
Customise your event with your preferred emojis and watch as the reactions roll in, providing real-time feedback on the content being shared. The power of choice is in your hands – easily update your emoji selection to match the tone and mood of each session. Make your virtual events come alive with Gevme's Reactions for Live Streaming and Videos.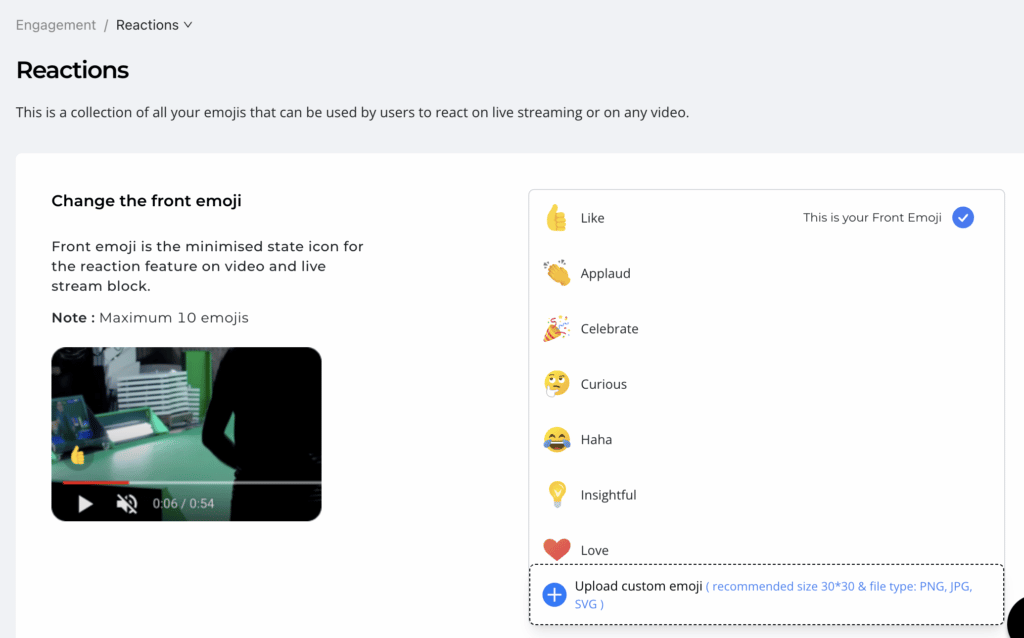 And on top of these major updates we have released 100+ Exciting Features to power an Omnichannel event strategy. We are always looking to improve our platform and offer the best experience possible to our users. In 2023, we have exciting new updates and features in store, so be sure to keep an eye out. To stay on top of the latest developments and get a sneak peek at what's coming, we invite you to join us at Gevme CONNECT, our quarterly product update event, on March 15, 2023. This is a great opportunity to connect with other event professionals and see what Gevme can do for you. Register now and stay ahead of the game in the world of events.