Scheduling an event over breakfast might seem like a crazy idea. But if you consider the benefits to early risers and their habit of tackling the most challenging tasks first thing in the morning , you might discover many perks, coffee and pancakes being two of them. To help you have not only delicious but also super productive breakfasts, we've collected some proven breakfast event ideas.
Why should you do a breakfast event?
From a fundraising event to a corporate meeting, morning ideas can benefit any event planning strategy. Here are the core reasons you should consider organizing breakfast events:
Increased productivity. Have you ever thought why the majority of school lessons start early in the morning? Because people are more alert and productive in the first part of the day. Especially if your meeting requires some brainstorms or active discussions, scheduling it over breakfast is vital.
Pancakes! The advantage of a breakfast event is that you can turn it into a pleasurable foody ceremony with the delicious smell of coffee, favorite pastries, and fruit platters.
They won't say no. Most business people are super busy during the day. This means if you schedule your event over breakfast, you get more chances they will RSVP and attend.
Planning a breakfast event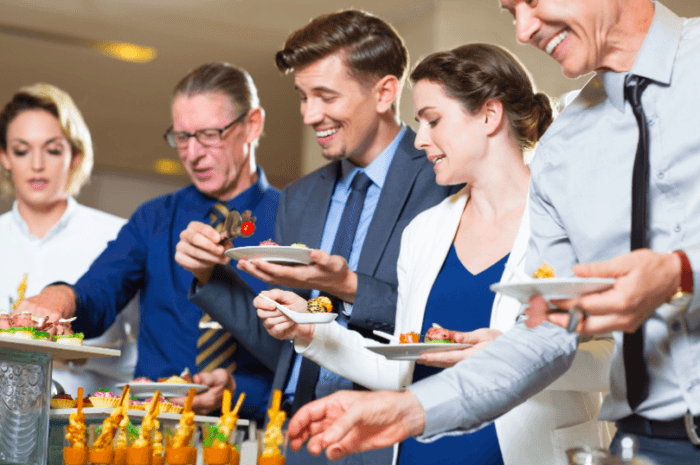 All the interesting breakfast ideas you can think of when planning a breakfast event have common elements: A menu and cooking equipment are kings. Here's a short guide to setting up a breakfast event which can generate productive outcomes and great appetites:
Location. Since you don't want your guests to stuck somewhere in a morning traffic jam, make sure that the location you choose is easily accessible at this part of the day.
Invitation. Depending on the number of guests and event format, you can either publicly promote it, send personalized invitations, or facilitate exclusive access through online approval.
Coffee. No matter whether you pick "breakfast on the go" ideas or go for the best cafeteria in the city, ensure that your guests will be treated to good coffees as soon as they walk in.
Timing. If the number of guests is higher than 10, it's a good idea to choose a breakfast buffet format. Otherwise, the cooks might be overwhelmed processing the orders, and you'll end up eating breakfast at noon.
Atmosphere. If a day starts on a positive note, it can't be a bad day! Hire an MC, start with a motivational game, or just inspire people by a brilliant view from the window. Keeping things positive is a breakfast rule that you can't break.
Networking. Ask your guests to bring their business cards along if they're interested in sharing their expertise and networking. Also, facilitate the time for networking in your event schedule (preferably during or after the event).
Goodie. Think of creative breakfast bag event ideas. Treating your guests to some goodies can help you acquaint the audience with your brand, stretch communication, and finish an event on a jolly note.
The best breakfast event ideas
To understand the goals and prospects of organizing a breakfast event, check out these fresh ideas:
Breakfast fundraiser
Either to test-drive their big fundraising campaigns or raise money over a short period of time without exhausting preparations, numerous non-profits schedule their events over breakfast. Here are few proven tips for breakfast fundraisers:
Utilize your NGO website/previous campaigns/projects to promote the event.
Provide public access to the event website and set up an integrated online registration.
Organize a breakfast buffet with a catchy, thematic decor.
If necessary, incorporate extra activities like auctions, raffles, and more.
Wrap up by explaining the outcomes; the guests should know how their investments is to be used.
The great thing about breakfast fundraising is that you can find hundreds of interesting projects ready to support your event out there. Take this stunning pancake initiative, Krusteaz, which refunded 50% of the pancake price to the breakfast fundraiser organizers: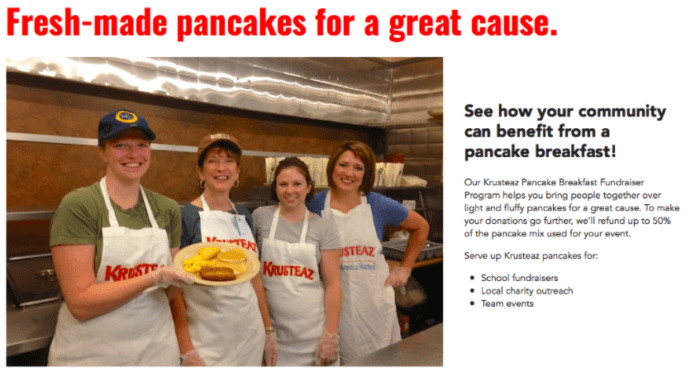 Academic events
We've already mentioned that morning is the best time to learn and learning is better on a full stomach. Academic initiatives and private lecturers throughout the world use the early-rising statistics to attract maximum crowds to their morning events. The Creative Mornings an organization offering lecture series for learners of any age is a great example. These guys know that those who get inspired in the morning have better chances for doing amazing things during the day.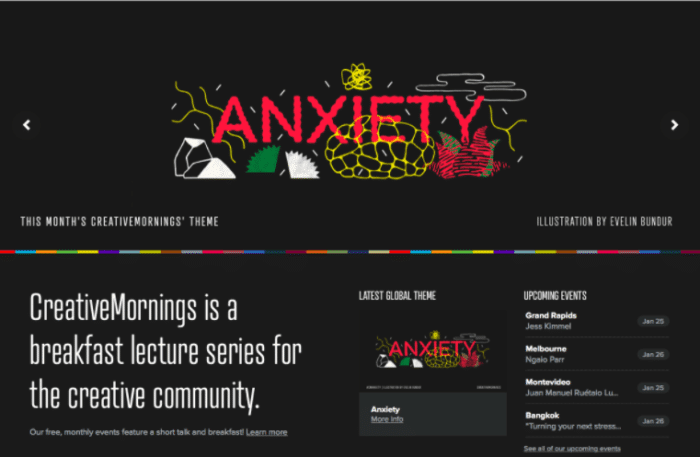 Business speed dating & networking breakfast events
One of the most popular conference breakfast event ideas is launching networking sessions during which people can establish partnerships, meet like-minders, share expertise, and more.
According to The Big Breakfast research, the most popular breakfast event format used by such companies as IKEA is speed-dating for businesses. Based on the IKEA experience, such events are perfect for busy business people. While during a morning event, they can get the chance to network, have a tasty buffet breakfast, and win a special prize from IKEA in a business card lottery. All of that without any damage to their daily schedule.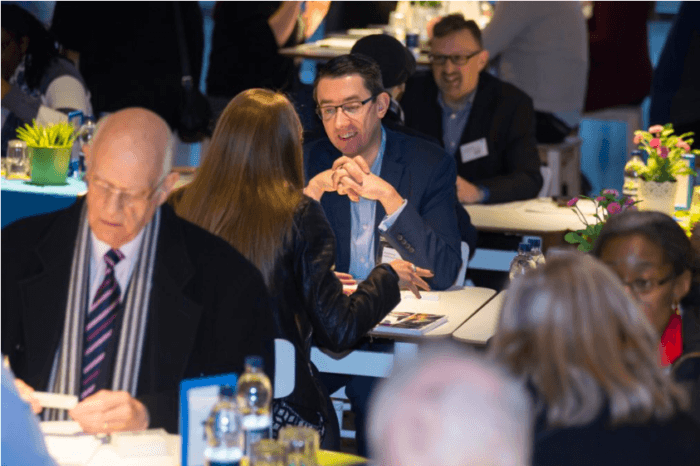 Here's what you should consider for organizing a high-scale networking or speed-dating breakfast event:
Create personalized name badges to facilitate smart networking.
Provide table numbers and a networking schedule to accelerate the process.
Have a specific timeline for every networking session.
Encourage the use of branded giveaways.
Conclusion
Having a good list of breakfast ideas in your event planning arsenal makes you invincible. Scheduling an event over breakfast has great benefits like increased productivity, better food choice variety, and meaningful outcomes. What's more, breakfast events are the only meetings that don't damage anyone's working schedules. To facilitate better networking at your breakfast event, test GEVME Connect – the integrated tool that helps event guests interact better, even in the early morning.