No employer wants to see dejected employees in the office with that "I wanna go home" look on their faces. Yes, working through challenging tasks can be quite an undertaking. That's probably why someone smart invented team outings. But guess what: Corporate events can actually be quite boring as well. To ensure you make the best use of your corporate event budget, check out this list of exciting activities we've compiled for you.
Key reasons to use entertainment activities at corporate events
Why not just take them to a nice park and let them do whatever they want? Okay, that's always an option, but you can achieve so much more through thrilling activities that are based on your corporate style and expectations:
Maximize networking. Particularly in large corporations, people often lack opportunities to socialize in the workplace. Networking activities rarely make people go solo. In most cases, such entertainments promote tight cooperation between people as they work towards a common goal.
Give birth to competition. Corporate event activities are not only a means of bringing people together but also of making people compete against each other. It's a well-known fact that competition in a workplace increases productivity. Develop the spirit of outperformance through fun activities and let employees take it back to the office.
Enforce a good understanding of each other's strengths. Effective team bonding activities can help employees understand who they should address or consult in the workplace when facing certain issues. Let's say you set up the so-called "sales game" in which participants demonstrate their ability to sell specific types of products to a target persona. This way the whole team gets a chance to see who the strong sales players are and to use this knowledge in the company's favour later.
Bond through brainstorming. Creative activities for corporate events can generate new innovative ideas that will benefit your business in the future. Embed useful brainstorming and sharing sessions into a corporate event schedule, and inspire people to create productive work in a relaxing environment.
The best activities for your next corporate event
The landscape of company event ideas embraces a huge variety of activities, ranging from training-oriented games to complex team missions. Based on the inspiring practices that our clients apply as well as the activities we've implemented in our company, the following list of ideas has been developed:
Picnic challenge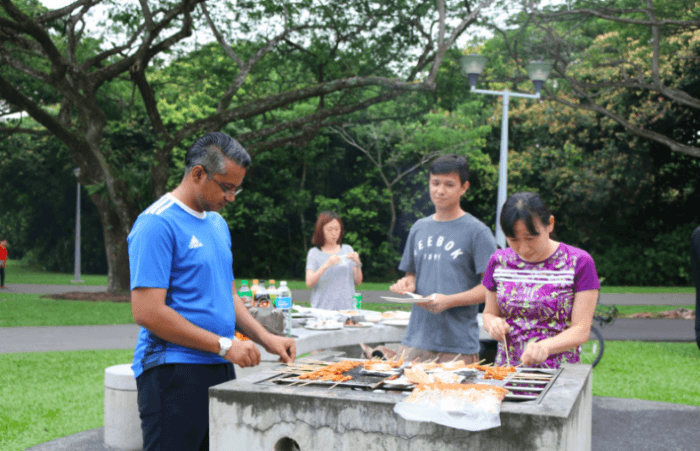 There are many "evergreen" corporate event formats that will never be boring, no matter how hard you try. A corporate picnic is definitely one of them. What could be better than being outside and cooking and eating great-tasting food in excellent company? To spice up your picnic, consider running cook-off challenges. The main rule: People have to be split into several groups, each of which gets an individual cooking task. Ensure you make it fun by setting specific rules (e.g., Team #1 is allowed to use only sweet products, while Team #2 cooks with one hand, etc.).
Hunting expedition
If your goal isn't to just get everyone to chill and have fun but rather to work towards a common objective, a hunting expedition is a good choice. Prosper Taruvinga, Digital Marketing Strategist at Livelong Digital, makes a great statement about such kinds of corporate activities: "In a scenario where people are on a hunting expedition, people with different sets of skills are enlisted to the entourage. You have builders, chefs, fast runners, etc. Everyone is performing a specific function." There are lots of challenges you can use with this type of corporate event, from asking people to find food to taking shelter in the wilderness. What does it bring your team? First of all, people get a chance to see their teammates in stressful situations, learn to trust each other, and develop their own corporate style of dealing with challenges.
Improv games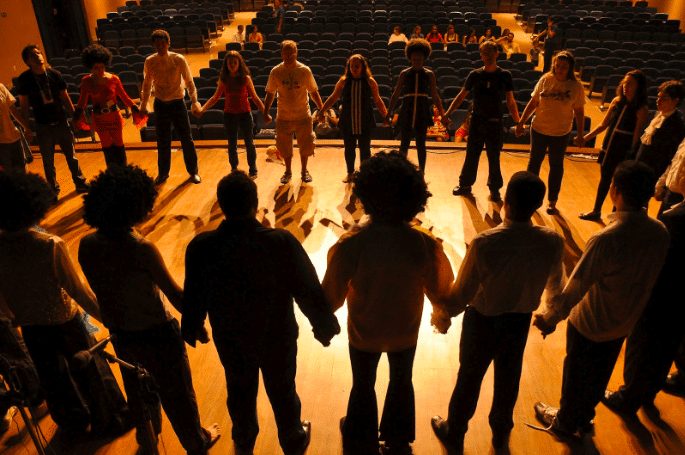 How about helping your employees unleash their creativity while having fun? In contrast to cliched corporate entertainment like bowling or escape rooms where people simply relax and network, different forms of improv games give employees space to experiment with their own skill sets and ideas. For instance, you can take your team to a theatre and encourage them to build a shared reality, performing without any preliminary preparation and scripts. Sounds fun, right?
Mistakes you should avoid
When choosing team-building activities for corporate events, you should be able to personalise. Some teams simply won't have the goal of interacting with other departments, which is why creating mixed groups of players on hunting expeditions might be a terrible idea. Every team is unique, but there are some common mistakes you should be able to avoid under any circumstances:
Learning gaps. Remember the "sales game" we discussed before? It's critical to understand that it will work well only with employees who are somehow engaged in sales processes in their workplaces. For the majority of designers and HR specialists, such games might simply be a waste of time.
Getting personal. Networking is always a good idea, but don't get too personal with your corporate event narratives. Some people just won't feel good sharing personal ideas with a big group of people.
Skipping pre-event surveys. Event planners tend to avoid indoor activities for corporate events, giving preference to outdoor entertainments. But what if a cosy evening with board games is something that your team actually needs? Pre-event surveys can help you embrace a more targeted approach.
Conclusion
You can find an abundance of interactive activities for corporate events on the web these days. However, the practices that other corporations apply may not work with the team you're catering for. In this article, we've described three scenarios for corporate event planners that can be easily personalised based on the unique requirements.