Are you an event creator who is constantly on a lookout for discovering the undiscovered promotional goldmines? We feel you. The internet is full of opportunities with scores of websites where you can promote your event.
In the middle of so much, if the event planner in you is thinking of driving more sales towards the next event, you need to check out this list of event listing websites to increase your audience reach. 
Reasons to list your event
Before we start with the list of top websites that will help you reach your audience, it is important to understand why you should list your event on them.
There are hundreds and thousands of discovery sites people visit every day to find out what is going on around their surrounding places. There is more information about events than the number of events happening around you. Think of all the neighbourhood guides, social media posts and those newspaper calendars flooding with all the details. Listing your event on such websites will help you reach out to a wider audience without the associated costs and of course, with no extra effort.
How to list your event successfully
Alright, so you have made up your mind to list your event on the listing sites but knowing how to list your event successfully is essential, right? Here is a list of quick points for you to brush through before setting up an event – 
The first and foremost point is to do ample research. make sure to not skip this part because research is what gives the entire event a direction. Without in-depth research, you can risk your event on missing out on a lot of things. When you are on the research stage, you must define the goals and objectives of your event, chalk out everything that your event will entail, check the feasibility of your plan, define your audience, create a timeline within which you shall be working and assign the entire event budget.
In the planning stage of your event, you must think everything thoroughly – the event schedule, the location of the venue, the number of people you want it to invite for the event, jotting down guestlist, thinking of food catering, entertainment, space et cetera. 
We advise you that there will be a lot of things to consider in the stage so the best way to work it all out is to break it down into small manageable parts so that you can assign tasks to your team. 
whenever you are planning, remember to constantly ask yourself the following whys and hows –
What will your event entail and what activities can you put in your event to make it a memorable one? 
Who is the event for? 
How can you please the audience?
Why are you putting on the event?
Where is the event taking place? 
Is the venue available on the required date? Is it easily accessible? 
When is the event happening?
How will the date and time affect the outcome?
The third stage of event planning is to promote it. How can you generate awareness and create a buzz around the upcoming event? While this can depend on the objective of the event and if you are putting the event on behalf of somebody else. In most cases, it is up to the event manager to spread a word about it and make sure that people attend. 
The next thing to do is to generate lots of awareness and buzz around the event. This may depend on the objective of the event and whether you are putting on the event on behalf of someone else or doing it yourself, but generally, it is up to you to spread the word and ensure that people attend. Here is a small tip for you – try to outline the event in a very engaging way. If it is possible, offer attendees various incentives to attend the same.
Done with all the preparation, planned the event through and through and made the guests excited? It is now time to execute the event in full throttle. This is exactly where all your hard work comes in. You will be expected to pull in all the elements together and oversee the entire production. Calling suppliers, sourcing props, organizing catering, book entertainment, sorting out transfers, lighting, music, installations, etc — everything will be a part of your job. When it comes to large scale events, these lists and tasks can seem never-ending but working through it with a fine-tooth comb will sort out the things for you.
In the event coordination stage, problems will arise for sure. But a good event producer is the one who is excellent at problem-solving by spotting them and rectifying them before it is too late — all of it while remaining calm under pressure.
After the event is over, a good event planner must conduct an overall and thorough evaluation to understand how the event was – what went well and what did not, if the goals that you set for yourself were fulfilled or not, whether the attendees were satisfied or not. With all this information, you can enhance your brand awareness by putting it out there in the public. After event evaluations are extremely important for any business to reflect and plan its future strategies. If this event was a success, you can start planning the next event by taking cues from the one you executed. 
TOP 25 conference event listing sites for 2020
With sheer willingness to attend events, concerts, exhibitions, conferences, and seminars among people from all age groups, the event marketing industry is witnessing a great boom right now. Everybody loves to attend live sessions and discussions and a dedicated event can do wonders if it is organized properly, marketed well and if the right kind of people are targeted. In this blog post, we get you an extensive list of the free event listing websites, conference listing sites and various other event listing sites that can help you reach your audience on a broader perspective — absolutely free or without investing much. 
Free Listing Sites
OurGLocal lets you know about all the events and research meetings happening on an international level. The word GLocal Implies that the events featured here are global, and there is an effort to give it local flavor at the same time. With the advancement in science and technology, the entire globe has shrunk and become a small place. 
OurGLocal uses a common platform to feature academic conferences taking place across countries, And you can filter them on the basis of country and topics that interest you. Some of the hottest selling topics include science and technology, agriculture, geography, anthropology, recreation, engineering, fine arts, medicine et cetera. A user can add event information on OurGLocal for free, subscribe to the updates and latest event information related to their field of research at no cost at all. 

Type Conference Alerts.com in the address bar when you are done checking out hundreds of websites and are looking for one of those quick events posting sites. Being a planner, you can add an event to the list of Conference Alerts database quickly and for free. Promoting your events is absolutely simple as well — sending targeted emails, Conal Monthly reports to keep the audience informed and updated. 
There are a plethora of fields that a user can explore, starting from philosophy, information science, popular culture, women's history, biomedical engineering, internet and world wide web to nanotechnology and smart materials. 

Find all sorts of events, news, and guest posts on the seminar, workshop, conference, education, company, announcement, circular, business, technology, gadgets, telecom, and the important updates of college, university, institute, or company on a worldwide basis on EventGet.With a dedicated section for news and blog on their website, EventsGet makes sure to talk about the background, essence, reasons and much more about the event(s) listed. The exciting part is that EventsGet is an absolutely free portal. 
Scientists, researchers, knowledge seekers, and students from different disciplines and faculties visit and register themselves on EventsGet to stay informed on the upcoming events in their respective niche markets. It covers events ranging from business management, engineering, medicine, technology, general science and more. An open platform for sharing knowledge with like minded people from around the globe EventsGet keeps its users updated with all the happenings through their daily/weekly/monthly updates as per the choice and preference of the individual.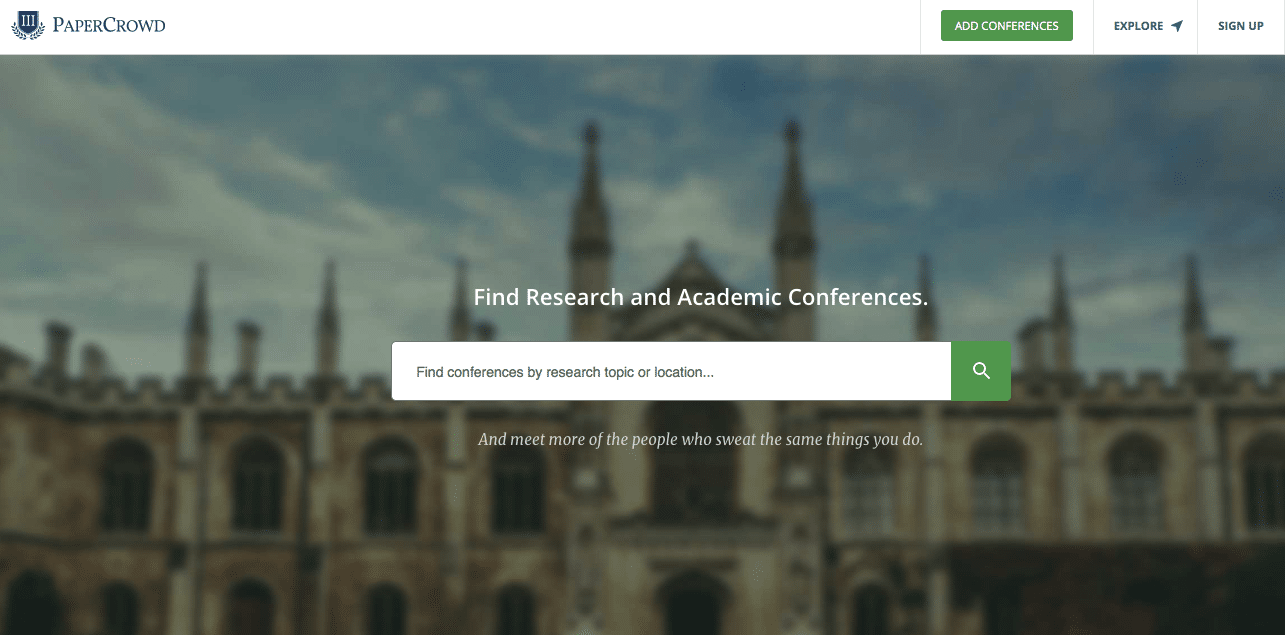 One of the best listing sites for research conferences, PaperCrowd is an absolutely free, directory of academic conferences that are driven by the academic scholars. How is it of any use to the organizers? They use PaperCrowd to find new researchers for their event. A user can search on the basis of topics, their current geographic location, and keywords for the research conferences that interest them, such as law, legal, arts, humanities, business and management, social sciences, telecoms, and technology, etc. The researchers who use this platform can search and follow the conferences that interest them. Apart from that, they can also follow other fellow researchers, see the conferences and events they are attending and/or the ones coming up in a few weeks or days.
Organizers utilize PaperCrowd to add and promote their conferences to known and renowned researchers and the new ones as well. They can quickly create their events in a few minutes at no cost at all while also being able to check whether their event is clashing with a similar event at the same time in a similar vicinity. The only limitation on PaperCrowd is that it is restricted to academic research conferences. 

An academic call for paper database, CFP List offers a free medium for its visitors and users to collect abstracts for their conference, event or publication. By collecting abstracts, one can avail various benefits from the CFP List, some of which include letting you automate the collection of all abstracts, organizing the papers in a grid and by providing a unique link, and the ease of sharing the administrative link with other members of the team for easy collaboration. Whenever abstracts are posted to some body's CFP, CFP List notifies them automatically. That email will contain the contents of the abstract as well. The person submitting CFP will also receive an email confirming their submission.

If it is about free event advertising, it has to be Yelp! When it comes to connecting people with local events and businesses, finding everything right from cafes to hairdressers, spas, gas stations, bars, and restaurants, Yelp is one of the best websites that come to mind. Most people know Yelp as a restaurant and venue review community but what they do not know is that there is also an event section wherein the local events happening in the neighbourhood get listed in the community calendar. 
The listings on this absolutely helpful website can be sorted on the basis of business, the results can be filtered in terms of geographical location, price range, and unique features like outdoor seating, delivery service, or the ability to accept reservations
The people who use Yelp can also state whether or not they will be attending an event and also leave a review and rating of the event after attending it. This insanely popular business directory is used by businesses, event planners and event visitors looking for local event listings worldwide.

Yet another website that acts as a public events calendar, In The Calendar is gaining lots of popularity in the USA. The events can be viewed by anyone who is visiting this website without registering. This is a one-stop resource that features various categories of the business, chamber and social networking events, meetings, mixers, and expos in their own locale, without investing much time surfing on the internet by checking out tens of websites. 
As an event planner or an event host, you can view, enter and edit any of your events taking place in the major metros areas in the United States of America. A free to list website, In The Calendar is a website that is mostly visited by the people who are looking for something to do, be it business networking or entertainment. Think this is your target audience? Go, list your event!
Paid Listing Sites
http://www.allconferences.com/
While AllConferences is not a free listing website (the online registration services are free, though), yet it ranks on the top of Google and Bing searches in most of the major conference categories. How AllConferenes can help you as an event planner is by letting you be found by your target market, providing your event presence on the global level instantly, giving you the flexibility to control your own ad campaigns. With more than 8 million visitors on a monthly basis from across the world, you can be sure to increase your event attendance by offering online registration directly from your conference listing. Greater visibility obviously translates into more sales.
Currently, the audience at AllConferences includes media planners, conference organizers, exhibitors, attendees, computer and information technology personals, professors, medical professionals, scientists, and academicians. They reach out to thousands of people who are on a look out for specific conferences, so your conference stands a fair chance to be just what they are searching for!
This website is exactly what you need when you are looking out for listing websites that connect people and businesses and give them just the right opportunities and fuel their growth 10 times. 10Times features trade shows and conferences around banking and finance, food and beverages, power and energy, wellness, health and fitness, baby, kids and maternity and many more topics on a global level. 
The main motive of 10Times is to connect opportunities. And how exactly do they do so? By providing the perfect platform for a large number of people to connect with just the right kind of opportunities. The folks at 10Times are loaded with information for more than 300,000 events (and still counting more) on a global level, they are making efforts to make the event listing and attending process smoother.
Used by millions of users each day, 10Times helps them decide which event they should attend, who they should meet in more than 10,000 cities across more than 150 countries. When it comes to the scope of growth, 10Times should be able to help its users figure out the best events that are happening around them and all over the world so that they can attend them in a matter of a few years. 
An award winning ticketing platform which is used by thousands of event managers on a global level, EventBee has established itself as a promising event listing site that can help you reach your audience. An event can be set up conveniently by creating an event page, choosing to make it one time or recurring event, creating different types of tickets — single or multiple, letting the people get general admission to the event for choosing to provide them reserved seating. The event can be further customized by setting up a dynamic registration form etc. 
EventBee has a one time payment starting at $1.00. The event managers cancel the ticket online with minimum effort and cost by using this platform. It supports third party credit card processing, paying via Paypal and other multiple payment methods to let people buy tickets. Further, EventBee lets the event planners be creative so that they can create custom event URLs which make for a great way to sell more tickets for private events. 
Do you want to connect with your target group, turn your events into large scale business, keep the buzz about your event going among the audience, take control of your event like a pro, channelize all your efforts into building your community and be able to do things in a better manner and generate heaps of ROI by using less energy? Conferize has got to be your go to website. 
Most of the events are not able to deliver long term value to your businesses but this bespoke platform which is ideal for conferences, meetups and seminars is just the perfect place for you to list your event at. It is an open secret that people like to attend events so that they can attain knowledge, get inspired and connect with people. The number of hours that they invest by physically being in your event does not matter as much as these things do. This gives you the advantage of trying to engage with people, up your event game and drive buzz, curiosity among the attendees. Conferize has a lot of tools for the speakers and attendees at your event to engage and involve them before, during and after the event.
USA Specific Event Listing Websites
Owned by MTV, Eventful is an extremely popular website for music, community, and educational events. One can find local events, music concerts from their favorite artists, bands and musicians in their town, or across the world on Eventful. Users on Eventful can search for events happening worldwide on the basis of time zone, location, name of the performer or band, and descriptive keywords such as the genre of music, etc. They can create public or private calendars, including "smart" calendars that get updated automatically when the events that match the search criteria are added or if existing events are revamped. 
Whenever the favorite artists of Eventful users are in town, they are sent updates via email, or they can simply search the database to know what is happening around them over the weekend. They can also comment, ask questions to bands and music artists. 
The email newsletter sent by this site constantly keeps reminding the users about upcoming events in the nearby areas. We suggest that the website is definitely worth a try if you really want to amplify your after event presence online.
Got a fun event coming up that you would love to share with lots of people? Trust Connieslist to act as an extremely valuable source that is used by lots of people, businesses, and organizations to put out a word about their events in a really big and impactful way. If you are eyeing at making your event grand and a memorable one, list it on Connieslist. 
The posts with a captivating, click baity title bearing as much vital information in the title are the most viewed ones. As an event planner, you should make use of visual language in your post so that they evoke visual images to the mind of the viewer and it becomes easy to get people thinking about your event. What distinguishes Connieslist from the rest of the event listing sites is the fact that meaningful links can be hyperlinked in the posts so that the readers can quickly read the post, get all the details by clicking on it. Going that extra mile to make your post stand out from the crowd is sure to pay you off in the long run!
An event discovering a website that promotes events and offers free signup on free events, the biggest highlight of Events.org is that 20% of the profits generated from all ticket sales are given back to the charities of your choice. Why? The key part of the mission at Events.org is to Give Back to charities and the communities. 
As an event planner, you can sell tickets on this platform with a 0% fee. All you have to pay is $1 per online registration along with a nominal card fee. At the free platform that Events.org is, you can feel free to create, discover, share, promote and be a part of the wonderful events that connect people and make the experience of attending events delightful. That being said, Events.org only works for the events happening in the various cities and metros of the United States of America — which implies that you can not feature events happening outside the USA on this site. 
World Wide Event Listing Websites
Advertising any kind of event happening anywhere in the world, YourEventFree has 100 different categories of events listed on its portal. This high quality event advertising website lets you add a photo, scribble down a lengthy description about the event, customize the ticket prices and you can also add the opening time, dates and venue about it while also indicating whether or not your event is suitable for kids. 
If you are wondering about how long has this web site been running, here is the answer — since 2012. YourEventFree works the best on mobile devices of all the platforms it can be browsed on. Yes, this website is as lucrative as it sounds and there is no catch. It is one of the best opportunities out there in the market for you to promote and advertise your event. YourFreeEvent is not just limited to a particular kind of event — webinars, functions, demonstrations, rally, sports events, private events, and purchases are a part of it. The traffic on the website is not limited in any way and the reach of your listing totally depends on what exactly the visitors are looking for. With more than 1 million visits every single month, there is noticeably a spike in the number of visits on YourEventFree at certain times of the year. 
ESN.net
Collaborative event sharing workspace, events, technology, and news come together at ESN. This event listing website provides access to a large number of the event covering websites so that an event manager is able to reach out to all the target markets, demographics and industries in the most effective manner and add to the ticket sales of their event. 
ESN.net features events happening in countries such as South Korea, Germany, the United States of America, United Kingdom, Canada, Belgium, Portland, etc and covers fields like food and beverage industry, merchandise, expos, next generation technology, design and automation, environment and waste management, etc.
Calls For Papers, anyone? WikiCFP is a semantic wiki for Calls For Papers in science and technology fields that brings together events for researchers to present, showcase and discuss their work. There are about 50,000 CFPs on WikiCFP. Over 100,000 researchers use WikiCFP each month. Some of the most famous topics on this site include computer science, machine learning, security, artificial intelligence among the rest. 
As far as the authors are concerned, they can build their CFP list in a matter of a few minutes. Besides doing so, they can search and filter them on the basis of category, title, location and year. WikiCFP lets the researchers browse with the graphical timeline, subscribe to the RSS of lists and various categories, regularly sends emails and iCal reminders so that they do not miss out on attending any meetups. 
When it comes to organizers, they have the power to present CFPs to thousands of researchers at the same time, broadcast CFPs to Twitter and Facebook and push them to targeted RSS subscribers. To see how well their CFP is doing, we can check the number of views and users following it.
In the world of event planning, you will always come across people who are very particular to attend events of their interest, beyond the top of all the upcoming ones, do not really like learning about conferences and meetings happening around at the last minute, may constantly be worried that perhaps they are going to miss some important webinar or event. This website comes handy for such people by keeping track of events, famous people, topics and organizations for them. 
EventSeer aggregates the event announcement, call for papers et cetera which float around the internet into a common, user friendly and searchable tool. Of course, this website is an amazing platform for event planners because of its reach. What makes EventSeer like people among the people is the fact that their personal tracker can be customized as per their liking — if there is a certain topic that interests the user, it can be easily added to their tracker. Whenever there is a mention of something that interests the user, he or she will receive an alert. The essential advantage of EventSeer? You do not have to be friends with a person if you send them an invitation to join the site. 
https://www.allconferencealert.com/
People of all ages, with common or different interests, browse through this exclusive online portal that provides complete information on leading academic conferences, seminars, webinars, workshops, and associated events. All details such as the venue, conference dates, agenda, organizer and their contact details for these events can be found on All Conference Alert. You can find events pertaining to the field of engineering, information technology, banking and finance, eCommerce, marketing and medicine, on this website. 
This one stop event information counter brings its viewers the latest and upcoming national and international events from more than 130 countries worldwide. You can even sort and filter the events on the basis of date, month, and popular cities such as San Jose, New Delhi, Kuala Lumpur, Singapore, New York, etc. When a person browses through the data of this website, it keeps gathering your interest and passion for attending conferences and starts showing you meetups of your interest.
eConferences.com
Whether you are looking for an exhibition, a trade show, a convention, business meeting, congress, or an expo — eConferences.com has all of them listed for various categories. Looking for a computer engineering symposium dealing with robotics or scientific conference or Continuing Education Units (CEUs) at a medical conference? You can explore and find an event matching your interest to attend on eConferences.com. The search results can be filtered on the basis of categories, location, or an advanced search can be run by adding a relevant keyword, title of a conference or by venue it is happening at. 
If you are organizing a conference or planning meeting, you would definitely want to submit your conference here. The global reach of this website will make sure that it has lots of eyes taking notice of your listing. It can potentially increase your event attendance and help you reach out to a wider audience by marketing your conference on eConferences.com.
Do you want to find a comprehensive list of the conferences, meetups, and trade shows coming up in the Days Ahead? At EventCalendar.net you will be able to find and explore all this and much more. they have got you covered with events happening around art and culture, the ones that are community based and other local events. Developed with the vision of trying to organize and keep track of events happening, EventCalender has proven itself to be a solid, feature rich event calendar and events management suite. The folks behind this website have made it super easy to list an event on their website. All you need to do is get in touch with them.
An online service that helps people find and build local communities that host local in-person events, Meetup was founded in 2002 by five different people and later taken over by WeWork. Most of the people on this website want to meet new people, learn new things, find support, pursue their passions and get out of their comfort zones together. If you are thinking that perhaps, this website may not be visited by as many people, here is a quick look at the number of Meetup users — about 35 million and that too in more than 225,000 Meetup groups spread across 180 countries. 
Woah! Now that is a big number to reach out to, right? What makes this an amazing choice is the fact that every user who uses this platform can be an active member of multiple groups, RSVP for any number of events and the groups on this website is run by approximately 140,000 organizers. It is as amazing as it gets because to attract people to your event, you can start a podcast, design something, set up a discussion in absolutely creative ways. In addition to that, the most popular group categories on Meetup include adventure and outdoor activities, career and business.
Being one of the most popular social media platforms all over the world, Facebook is the place where each one of us can find out what is going on with our friends, the events and things happening in our communities. If the reports are to be believed, more than 40 percent of Facebook users frequent the events every single month which makes it to 35 million Facebook event views every single day. Now that is massive, right?
What makes Facebook an appropriate choice for listing your event is the fact that this social media platform has robust targeting capabilities. You can reach out to the right audience with the help of Facebook algorithms when it comes to demographics, behavior, geographic location and interests. Another fun fact is that when a person clicks on your event and expresses interest in it, the same interest shows up in the news feed of their friends. Tempted much? Go and post your event on FB, now!
Need help in organising your upcoming event? Reach out to the experts at Gevme.
Did you like our list of the best event listing websites? We think we did our bit in compiling the best event submission sites list here. If you think that we missed out on featuring your favorite website in our list, drop your valuable suggestion in the comments section below!