Don't mind some new audiences finding out what your next event is? Create a Facebook ad! With the endless possibilities of Facebook advertising, it's now possible to generate strategic content with the use of audience targeting.
In fact, Facebook advertising is the means for you to reach people based on demographics, location or behavioral factors with no magic wand!
Why should you create an event on Facebook?
Have you ever tracked your organic content on Facebook? Then you must have noticed that there aren't any consistent patterns in the way they appear in news feeds. Due to the rapidly-changing Facebook modes of data structuring, it becomes really hard to predict whether organic content will reach the target audience or not. This is where Facebook advertising comes in. If you want to build your social presence on Facebook, boost traffic, and gain leads for your business – you gotta go for it.
4 Components of Successful Facebook Ads for Event Promotion
Making the best use of your PPC budget is possible if you know how to make your ad promote the Facebook events with top efficiency.
Check out the 4 key features of an ad that can turn your event into a super nova.
#1. It's visual.
The harsh Facebook reality demands images. According to the stats, the ads that entail visuals are far more likely to be shared and are more memorable in general. Use the lesson and pay proper attention to the Facebook ad look.
#2. It's relevant.
You don't want to pay a plumber if he can't fix the leaks, do you? The same goes with Facebook advertising. Since you have to pay for clicks and views, make sure that the content for your ad complies with the expectations of people who do those clicks. What's more, the way users engage with your content influences your relevance score and shapes Facebook's opinion about you.
#3. It includes an enticing value proposition.
A successful Facebook advertising makes people want to make that click. To win the maximum clicks, you have to call upon your inner marketing genius and think about an appealing statement or an eye-catching headline that will do the magic for you. Whether it's a discount or a social proof, make sure that it will work for audiences you want to attract.
#4. It has a clear call-to-action.
Your Facebook ad is, basically, pointless for users if it doesn't include a clear CTA that tells them what to do next. You can enable successful promotions on Facebook if you have an irresistible call-to-action enticing the users. ProTip: Make sure it's urgent so that the users don't postpone the action. The words like "access now" or "offer end soon" will give you the desired results.
5 best creative examples of Facebook event advertising and event promotion strategy
We've prepared 5 top examples of a Facebook event promotions that bore fruit in 2017.
1. Web Summit 2017
One of the largest annual tech conferences in the world, Web Summit is a database of iconic Facebook advertising examples. Let's go through the lessons that Web Summit 2017 the promotion has prepped for us.
Takeaway #1:
Use people to engage people. If you look through the Web Summit Facebook ads, you'll notice a pattern: amiable faces, conference settings, interview reports, and photos of the team make the ad promotions look truly authentic and invigorating.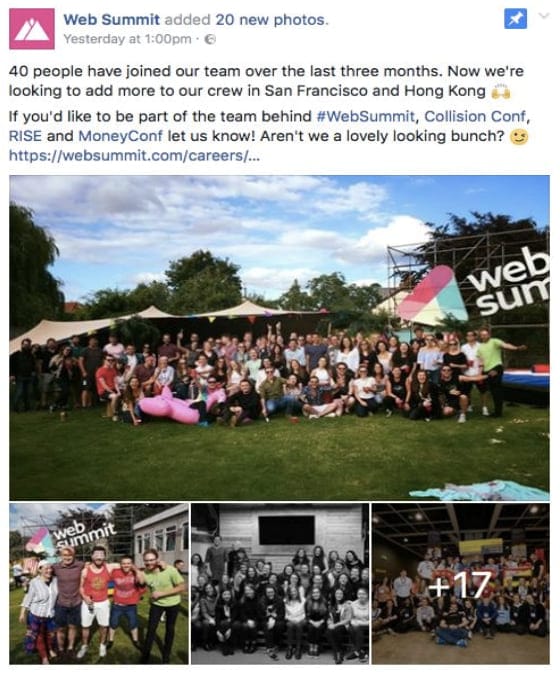 Takeaway #2:
Promote lucrative discounts.The discount campaigns that Web Summit 2017 set in motion drove huge traffic on social media. To boost the engagement, the contest organizers launched a large program, Women in Tech, that allowed purchasing early bird tickets for 85 euros plus getting two free tickets for friends. The "tag a friend" campaign, as well as "free tickets for 1000 developers," "free tickets for Irish students" definitely helped in making the social media ads go viral.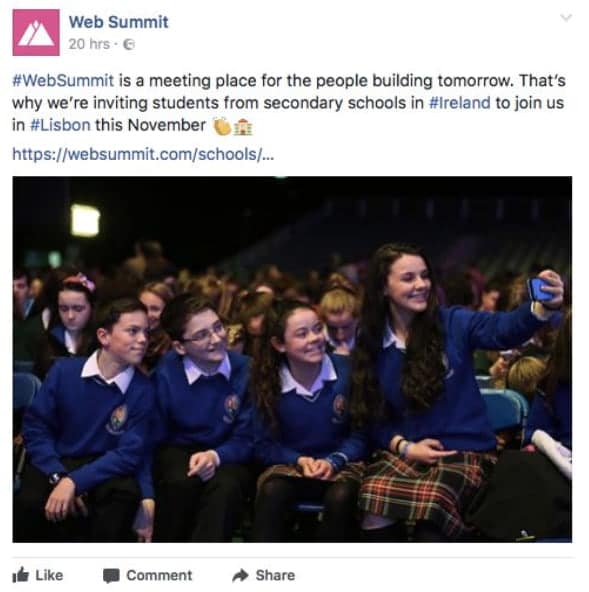 Takeaway #3.
Double engagement by promoting pre-/post-event activities.Web Summit 2017 organizers have successfully aligned conference promotions with the promotion of the Surf Summit that'll be taking place two days beforehand. The benefits don't need to be explained: additional traffic, plus additional target audiences.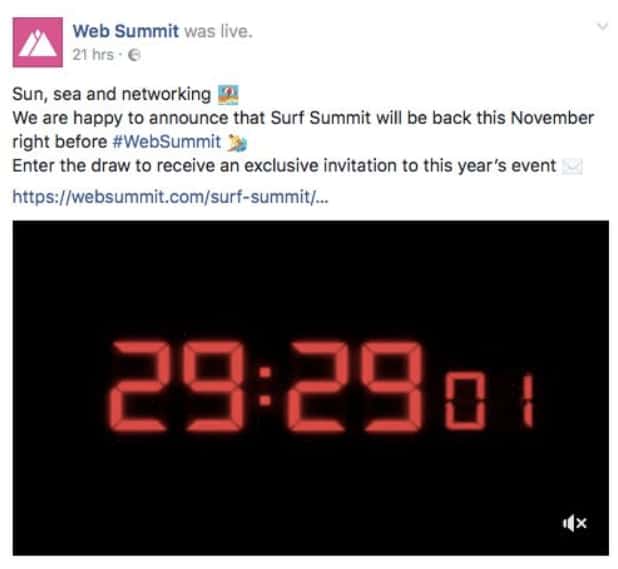 2. Totally Thames 2017
The major river celebration that takes place every September in London, Totally Thames, employs a "split-promotion" strategy for successful Facebook advertising. To score more chances for user engagement, the organizers decided to split the festival into micro-events and promote each of them separately.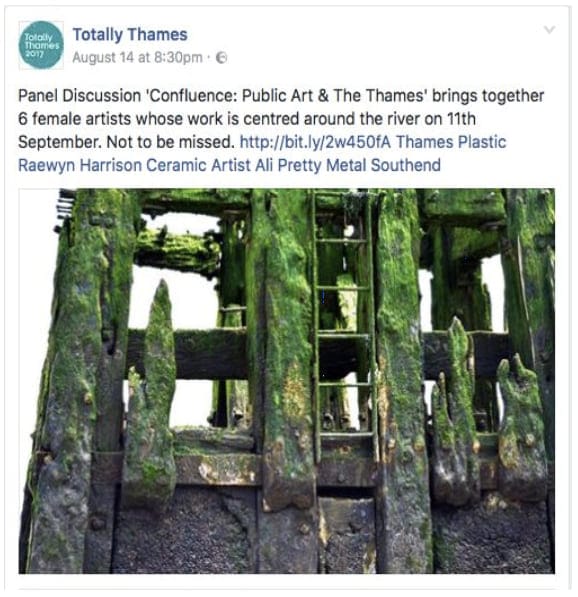 Takeaway:
Provide an option for everyone. If you have diverse activities being planned in the within the frame of your event, don't hesitate to promote them as independent workshops or meetings through Facebook ads. Even if some of the users won't get fascinated by your event announcement, they might find a specific part of it pretty interesting.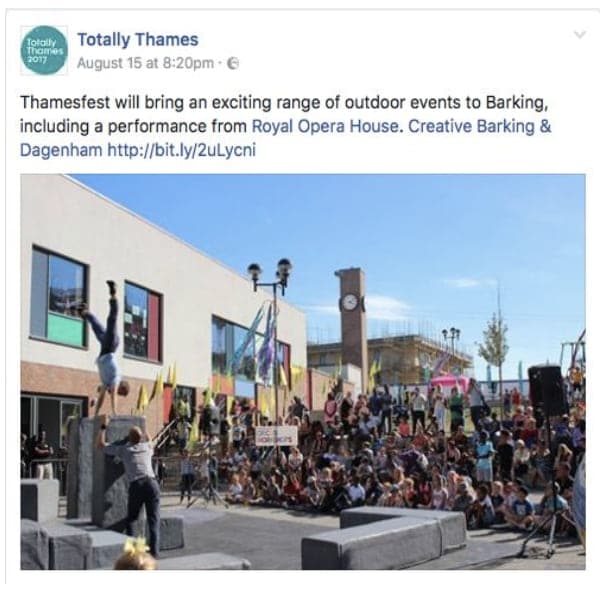 /

3. Edinburgh Festival Fringe
Videos and live streaming are the Facebook ad magic wands in 2017. With a growing interest in video promotion, effective advertising on Facebook doesn't live long without live contents. Have a look at how the largest art fest in Scotland, Edinburgh Festival Fringe, engages the audiences on Facebook. The number of views speaks for itself.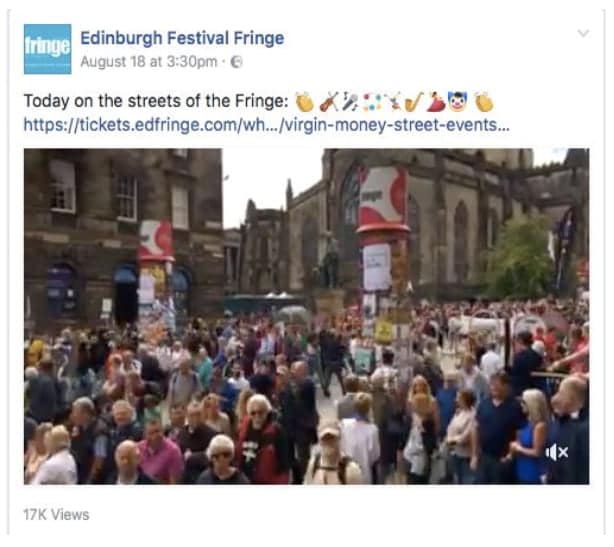 Takeaway:
Capture your users' attention by using live video promotions. As the most successful Facebook ad campaigns reveal, providing an insight into event activities is very promising.
4. Eurovision Asia
It's hard to find something that would work better for a spectacular event's promotion than promo videos. The promoters of Eurovision Asia, which is the Asia-Pacific version of the world-famous song contest, know the drill. To attract the maximum number of fans, they took the flavor of Asia, mixed it with impressive show sets and good music, and voila: Facebook event promotion strategy complete!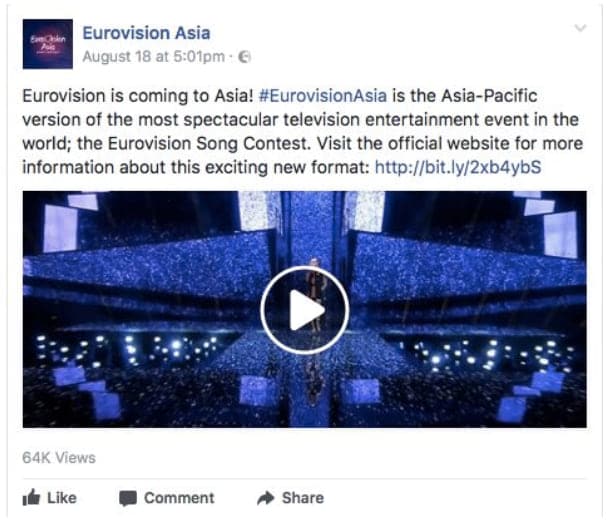 Takeaway:
If you know that the view of your event will definitely wow those people who you want to attract – go for an impressive video promo!
5. Australia's Biggest Morning Tea
People have to know what they stand to gain by attending your event. Or, what changes their contribution can bring about. Australia's Biggest Morning Tea, which is an annual charity event cooperating with the Cancer Council, proves the point.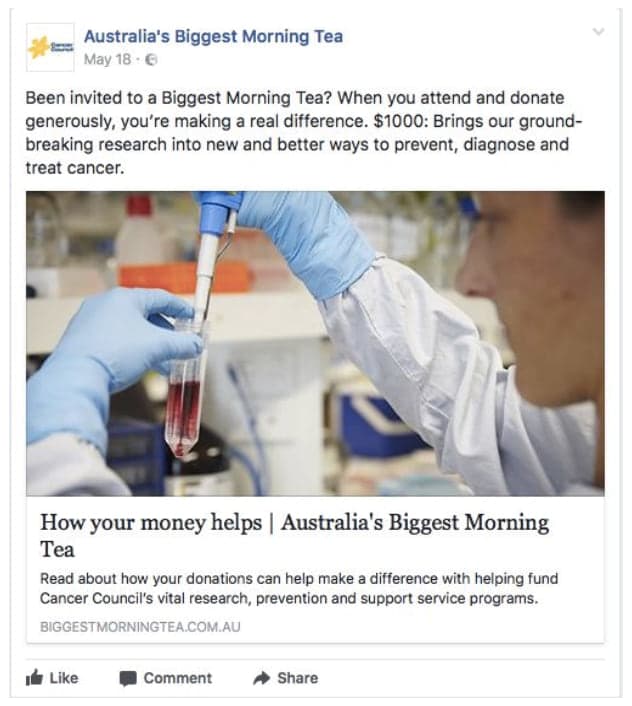 Takeaway:
Purposeful events evoke sympathy. Don't hesitate to be direct about the role of an event attendee in your Facebook ads, and you'll get driven audiences standing on your side.
Conclusion
Examples of Facebook event promotions prove that audience targeting may be full of creative techniques and a juicy agenda. Learn from the best and shape your own success!
To simplify your event planning experiences, get started with GEVME. Free of charge, free of trouble!