Years ago, people would have believed that running a virtual event was a one-person task. All you need is a laptop, a good WiFi connection, and one person behind the screen to run the entire event.
We know that running a virtual event cannot be a one-person task. There has to be a collective effort of more members to brainstorm, get creative, and think about serving our audience to the highest capacity.
Any event conducted online can be called a virtual event. Even a Zoom call, for that matter, is a virtual event. A YouTube Live, an Instagram, or Facebook Live is a virtual event.
While our platforms are advancing, the audience is advancing too. Hence it is essential to keep our audience on their feet continually.
"Zoom Fatigue" is the term used to define the tiredness and boredom caused due to excessive use of one platform without having much of any variations on it.
Today, the events industry is competing with companies like Netflix and YouTube. These platforms are continually putting out content that will increase an audience's stick rate (people will pay to stay for a longer time).
Hence, virtual event organizers have to think of ways to attract this audience, make them attend an event, and have them stay till the end of it.
Virtual event requirements are much more than a mere zoom call. As we proceed, we will discuss why we need a team to run a virtual event, the team members needed, how to hire a team, and the costs involved.
Why do you need a team?
It takes a village to run a virtual event. Did I get that right? Maybe not a village, but it definitely takes a whole group of specialists to run an event online.
As discussed above, we are now competing for the attention of our audience with different major companies. And to give our audience an experience to remember, we need experts from the events management companies and the tech industry. We need social media specialists, marketing specialists, writers, organizers, digital managers, and a wholesome excellent team to help us put all the bits together and deliver an experience for our audience to remember.
Having a virtual event team is an integral part of any organization. Similarly, a virtual business is not a one-man business. You need people who are good at organizing, tech, and creative minds.
A team will help share your responsibility instead of you doing all the work alone. A business thrives when you have a diverse group of people working together. You get ideas and insights from minds coming from different fields.
When these people from diverse backgrounds come together and brainstorm ideas, something incredible can come out.
When one's ideas are valued and used to bring an idea to fruition, this can mean a lot for those working in the team and motivate them to be more creative and more dedicated to their work.
Different Team Members Needed to Run a Virtual Event
A Digital Manager:
Digital Managers are the ringmasters of the virtual event world. They help bring the whole team together and run the show. Many event managers know how to run the logistics in person. However, here is how to move events online, there is a need for these event managers to learn the technical know-how of running the event online. Until then, this may be a job for two to three people.
The digital manager is responsible for ensuring that the audience has an excellent experience and delivers what it promised while promoting the event.
Development and Design:
A virtual events team will need a designer every step of the way. Your event should have a logo, a theme, selected colours, graphics for promotion, etc. The slides that your speakers will use need to match with the theme.
Your design, brand logo, etc., must match all platforms, even during the event. This is giving the audience the assurance that they are in the right place.
Event Promotion and Copywriting:
Your promoters and copywriting experts are some of the most integral people of your events. These are the creative minds who will make sure that your event sells out. Your promotions, messaging will help your audience know about your event and connect with your brand's story.
Your creatives and messaging have to be the same across all platforms. Different messaging across different platforms will confuse your audience, making it challenging to build trust.
Do not overlook the amount of value a promoter or a copywriter can bring to your business. Hiring a team of expert copywriters will help you spend less and generate more conversions and sales.
Attendee Support:
Your attendee experience is one of the most critical aspects of your event. Just because you cannot see them face to face doesn't mean they don't exist. Providing your audience with the best of services is necessary at every stage. Being proactive with all calls and questions about audience queries will give the audience a sense of trust in your services.
Social media platforms have a quick response template that you can use when people message you. Furthermore, you can enable this feature on your website where the audience can chat with a bot to solve their queries.
Tech Support:
Having tech support experts on board is essential. Tech experts can help you from live streaming to taking care of registrations. This person can be someone you hire from outside or someone on your team as well. You can even hire an expert to guide and manage the event only for the primary day. Tech support can help you detect any technical faults and help rectify them before the event.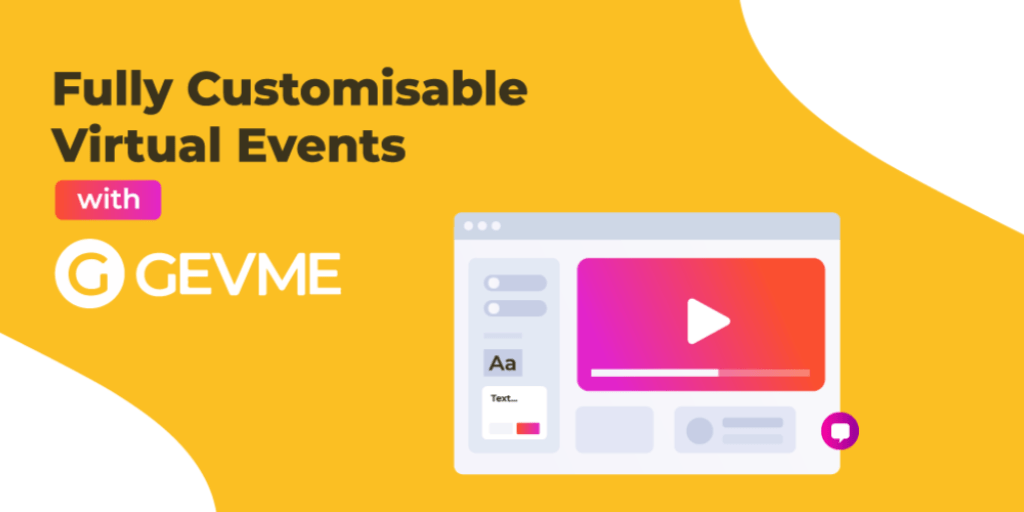 Host:
You need a person to keep your audience together from the beginning of the event to the end. A good host can set the event's tone, cover up any delays and keep the audience entertained.
Having a person as an emcee or a host who the audience already knows will serve better than hiring a random person to host your event. A person already working for the organization and who people know about will better host the event and connect with the audience.
They will be able to tell your brand's story and will be well versed with what the event is about. Choose wisely with whom you trust your event. This is the part where there is a high possibility for a make or break.
Co-host/Moderator:
One of the best parts of a virtual event is having a co-host or a moderator. Even though your event is virtual, you still have an audience listening to you online, and this can be several hundreds of people. But if it is ten or one thousand people, make sure that your audience is heard.
A moderator will help read out any question that your audience has. If there are too many questions, they can skim and convey to the speaker the best ones.
A host cannot single-handedly handle taking care of the audience and making them heard together at a virtual event. Hence, having a co-host takes away the burden from your host, and as a team, they both can handle the audience exceptionally well.
Virtual Presentation Coach: Many speakers, especially those who thrive on the audience's response, are people who may not be very comfortable in the beginning simply sitting in their home office or living room talking to a virtual audience. A virtual presentation coach has to make sure that the speaker is comfortable.
When giving a talk or presentation, the speaker's camera quality has to be good. The place where the speaker is talking has to be well lit.
A virtual presentation coach has to make sure that all tech and display aspects are in place. The speakers have to be properly instructed on using the software being used, access the presentation, and that the speakers are correctly timed. It is vital to run several run-throughs of the event before the primary day of the event. This is to figure out any delays or uncover any technical issues before the final audience gets to see it.
Sponsorship:
Virtual events provide a great sponsorship opportunity. Regarding an in-person event, they would have been a limited number of people, and they would hardly interact with the sponsors. Virtual events give an excellent opportunity for people to interact with the sponsors directly and clear any doubts.
Many virtual events have lounge chats where the audience directly gets to interact with the sponsors. Over the last year, we have noticed more audience turnover for a virtual event compared to an in-person event otherwise organized.
Providing valuable content and increased turnover helps us serve our sponsors better as more people learn about their business and products.
How to Hire a Team?
So far, we have determined why we need a team for virtual event success and the most necessary group of people.
Following is a list of additional virtual event employees you may need depending upon the scope of your event.
• AV Specialist
• Email marketer
• Event planner with virtual event experience
• Event scriptwriter
• Graphic designer
• Instructional designer
• IT technician/support specialist
• Marketing strategist
• Presentation designer
• Program manager
• Public relations specialist
• Scriptwriter
• Social media expert
• Videographer
• Video producer
• Virtual assistant to support research, data entry, and other event preparations.
• Web designer
Hiring people to handle the logistics and delivery of your event is essential. However, hiring employees for a virtual event depends upon three critical factors. That is the purpose, process, and people.
Purpose:
Most of your planning revolves around the intention of your event. You discuss the subsequent questions with your team.
What is your event's primary goal?
What kind of content do you require to put out?
What do you want your audience to take away from your event?
What determines the success of your event?
Process:
Here, you will decide the date when you want to Livestream your event. Determine how you want to put forth your content (do you want presentations? So, you want to send your audience any material to refer to? Do you want to have breakout room sessions? etc.). You can discuss the following questions with your team.
What platform do you want to use to host your event?
How will you encourage your audience to participate in the event?
What media will you use for promoting your event?
The message you want to put out.
Do you have sufficient time to get the required technology and expertise to run your event?
People:
The most integral part of your event is the people running the show on the backhand and the people going to attend your event.
Who is your target audience?
Who are your stakeholders?
Who are your speakers?
How many attendees are you targeting?
What skills and expertise do you require to run your event?
Costs
One of the best things about a virtual event is that virtual events have a lower overhead cost than in-person events.
Virtual event organizers mostly have to spend on the venue, hiring specialized skills, technology, and promotional activities. The cost of food, travel, stay, and a physical venue can be omitted.
Before determining your profit, assess your investment and expenses. In the sections above, we have defined our platform, the skills, and technology that we will be investing in. Create an excel sheet of all the expenses you are bound to incur, keeping your event's goal in mind.
Once you have prepared your budget, you can think about how much profit you can draw from your event.
If this is your first digital event, not many people may even know about you. You will hence have to start off with a low or mid-range cost for entry. As your event grows, you can increase your pricing.
Conclusion
There we go! We have discussed why a virtual event requires more than one man to run the show. Having a team and people working towards the same goal will help in more ways than one can imagine.
As demand for having virtual events rises, so will the need to provide quality content and experience. Growing any company needs an empowered workforce. And the more quality people we find to help run our event, the more success our companies will find.
The events industry revolves around serving people. Keeping this in mind, go ahead and plan your first or next fantastic event with an incredible group of people! Need help in understanding more about virtual event teams? Get in touch with us now.