Making a positive impression on attendees at a conference doesn't mean filling their bags with some branded paper fluff. The tradition of preparing gift bags for a conference can be used as a strategic move for stretching dialogue with the target audience. If you manage to develop some quirky gift bag ideas that surprise the guests and keep them tuned, success is all yours.
Why a gift bag is a good idea
Over the last few years, there have been some concerns about the detrimental effects of gift bags on the environment. Still, the most significant world conferences insist that there are many ways to create sustainable and useful giveaways. So, why is the idea of presenting conference guests with some goodies so viral?
Infect with branding

.

Event branding

plays a strategic role. Either you use it to promote the event or showcase specific businesses and their products. Conference gift bags are great tools for making your guests take branding home.

Be a mood booster

. Useful and creative goodies can make your conference attendees smile. And that is a great start!

Communicate a message

. Have you ever felt that a conference you visited never actually answered your questions? This is the nightmare of every event planner. Gift bags can be a lasting chance to speak to every attendee in person and explain the core message of the event.
What are the qualities of a great gift bag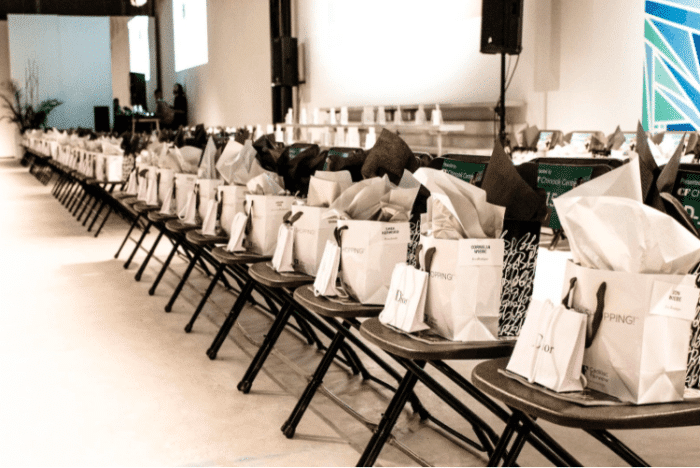 Effective conference gift bag ideas have much in common. Check out the essential qualities of a good gift bad:
First quality, then quantity

. The tradition of filling guests' bags with junk is past. You don't need dozens of

conference gift bag items to make an impression. Instead, choose one or two useful presents of good quality that can be used over a long time.

No boring designs

. Black color can kill your gift bag, no matter what's inside. Incorporate vivid and interesting fabrics to win the attention of your conference guests.

Use reusable

. Sustainability is a global vogue trend that shouldn't be disregarded in your strategy. Welcome green solutions for gift bags at your conferences to expand its outreach.

Opt for practical

. Gifts that solve real problems will definitely gain much appreciation. Professional books, food, or basic outfit elements make a great match.
The top 10 conference gift bag ideas
Still in the dark about what to put in a conference gift bag? Check out some creative ideas:
Custom gift lists
Do you know what the second reason (after ideas worth spreading) that people love attending

TED

conferences so much is? Because, at these events, they can choose their swags themselves! The organizers offer custom gift lists that include diverse kinds of giveaways from free yoga classes to branded hats. If you use an

online ticketing system for your conference

, you can also attach a list to the registration form to incentivize attendance. If your budget permits, make a gift bag selection into a personal thing!
Reusable bottles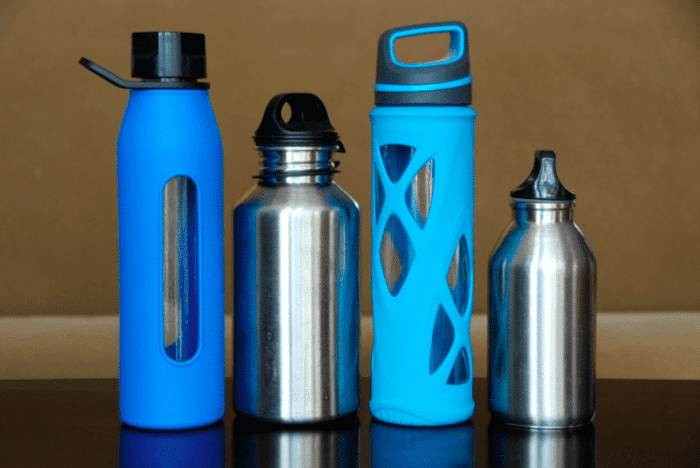 But don't be frustrated if your giveaway budget is tight. Reusable bottles are a good example of cheap gift bag ideas which not only carry a practical mission, but also underline green values. Make the bottles bright and catchy. As a nice welcome, you can fill them with colorful juices to encourage the use of bottles right away at the venue.
Thematic badges
The organization of thematic conferences that showcase diversity is not rare today. In the frame of Web Summit 2017, which is the largest tech conference in the world,  Booking.com supported a "Women in Tech" meeting. For its female audience, the company created branded metal badges and pins in the form of different coding signs. As a result, they connected professional aspirations, proof of diversity, and practicality in their gift bags for their women's conference.
Branded charging devices
How about providing all your guests with branded charging devices during the onsite check-in for a conference? Because you promise a short queue, this gift would instead symbolize long-term relationships with the attendees who are more than welcome to become loyal clients.
Playing cards and table games
There is no such person who doesn't love games; there are people who simply haven't discovered their perfect game yet. Craft catchy playing cards or table games with the conference logos for your event guests. The benefit of these gifts is that they eventually travel widely because people who get playing cards and table games rarely play them alone.
Healthy snacks
The use of food gift bags is a proven way to please conference guests. The only disadvantage to this idea is that by offering food you build no dialogue with a wider audience. Make it smart by providing snacks in some reusable branded tins or boxes that can be utilized in the future. This is also environmentally friendly.
The old good pens
A paperless world is beautiful, but good old pens and pencils are still widely in use. To make your gift bag creative, you can upgrade the conventional pencil/pen packs by ordering special branding from companies like Paperwink.
Virtual gift bags
Non-tangible gift bags are a smart choice for tech-focused conferences. From electronic books to gift cards and applications, you can create your custom gift bag without wasting any physical space at the venue.
Life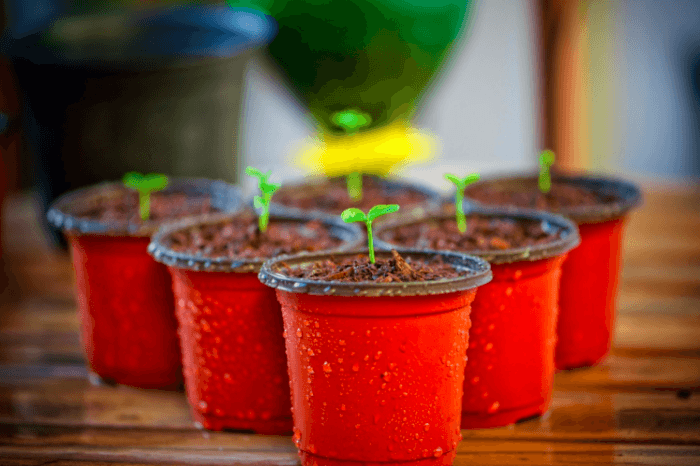 Yes, it's not a spelling mistake! If you cater to an eco-friendly mission or if your conference focuses on the agricultural sector, provide your event attendees with potted plants. It would be better to use small and easily transportable pots if your guests travel to distant locations.
Problem solving
If you present a digital product or solution at the conference, you can incentivize people to use it through giveaways. Offer a limited-time service that can solve the problems of your audience and the chances are high that new clients will be breaking down your door.
Conclusion
Filling your conference gift bags smartly is a critical part of event management success. Get started with Gevme to automate the rest of the processes!