Keep your finger on the pulse of developments around the tech of law and the law of tech, as TechLaw.Fest fires up the Suntec Singapore Convention and Exhibition Centre on 21 and 22 Sept 2023.
For more than a decade, TechLaw.Fest has been at the forefront of groundbreaking discussions about the tech of law and the law of tech. And after last year's successful dive into the metaverse, we're ready to unveil what's next. The implications of last year's crash on the future of crypto, how increased AI regulation will affect the tech's adoption and Singapore's bold efforts to tackle online harms—these are among the topics that will be debated and deliberated on the TLF mainstage in September. Be part of the global conversation and connect with thousands of likeminded legal and tech professionals.
#ThisIsWhatsNext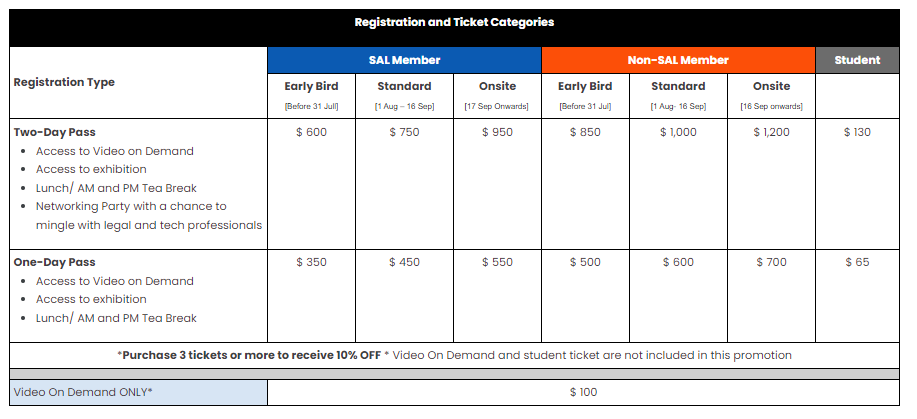 * Video On Demand will be available for access one week after the event

Substitution of Delegates:
If a delegate cannot attend TechLaw.Fest 2023, we are happy to accept a substitute colleague at any time. Requests for substitutions will only be accepted in writing via email to info@techlawfest.com. The communication must indicate the name and registration id of the cancelled delegate as well as details of the substitute. The substitute must be from the same organisation.
Cancellation Policy:
No refund of the registration fees will be granted. No-shows will not qualify for a refund of fees. Refunds or credits will not be given for unattended events. These rules also apply to group registrations. In the event of overpayment or double payment, refund requests including valid proof of the overpayment or double payment must be made in writing via email to info@techlawfest.com, no later than one (1) month after the closure of TechLaw.Fest 2023. Bank charges associated with a refund will be borne by the delegate(s).
Visa Requirements / Invitation Letter:
If you require an invitation letter for VISA applications, Please contact info@techlawfest.com
All fees listed are in Singapore Dollars.
Prevailing Goods and Services Tax (GST) of 8% will apply to individuals, corporations and businesses in Singapore.
TechLaw.Fest 2023
Event Venue