Secured Enterprise Websites for Government
Amazon Web Services - APAC
23 Church Street, Capital Square #10-01 Singapore 049481
Add me to the waiting list
Please fill in the form below and we will get back to you as soon as there is a spot which frees up.
Thank you,
Jonathan Easton
We have added you to our waiting list and you will be contacted as soon as a ticket becomes available.
Do you know that Drupal is used in more than 150 countries? The White House and Parliament of Singapore are using it to power their websites. Are you leveraging on the security and high performance of Acquia cloud or elastic scalability of Amazon Web Services (AWS) for your digital website? 
Join us as we invite a panel of experts to share with your case studies of how you can best leverage on the collective services of 3 distinct organisations to help build your next secured Enterprise website for Government.
TIME
DESCRIPTION
8.30 - 9.15
 
Registration of Guests and Breakfast
 
9.15 - 9.45
 
Government on Amazon Web Services
Speaker: James Liu, Amazon Web Services
 
9.45 - 10.15
 
Drupal CMS in Government
Speaker: Kieran Lai, Acquia
 
10.15 - 10.30
 
Tea Break
 
10.30 - 11.00
 
Putting it all together
Speaker: Eugene Yang, GSI Digital
 
11.00 - 11.30
 
Government initiatives and Case Studies
Panel Discussion: Amazon, Acquia, GSI Digital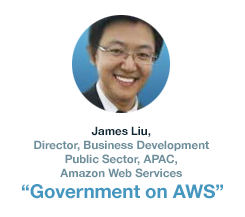 James is the Business Development Director at Amazon, managing the public sector business in Asia Pacific region. James works closely in collaboration with senior leaders across AWS World Wide Public Sector/ APAC enterprise team, government leaders and partners to strategically help governments around the APAC to harness the power of Cloud innovation addressing the major societal challenges, effective citizen engagement, enhance economic competitiveness and National Security.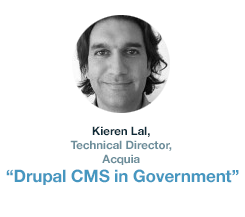 Kieran is the Technical Director of Enterprise Sales at Boston-based Acquia. In this role, he provides technical leadership to the Acquia sales team and works closely with Acquia's customers. He has been a leader in the Drupal community since 2004, when he earned his nickname, Amazon, by following a dream that he was biking through the Amazon river basin. That spirit of adventure continues in his multiple roles within the Drupal community today. He has been involved with and has pioneered many projects including the drupal.org redesign, Drupalcon Boston & San Francisco, the coordination of the Drupal security team, and many more.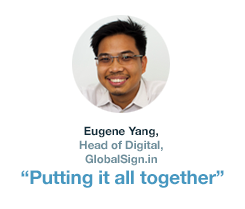 Eugene Yang brings with him almost 10 years of experience in the digital landscape, having worked in various digital roles in both local and European-based digital agencies, managing key accounts in both the private and public sector. Together with his team at GSI, they provide clients with strategies to delivering an online experience for their end-users. He focuses on leveraging today's technologies to delivering user centric web portals.
James will share the best practices for various Government agencies to meet their needs when using AWS in Singapore. James will also share case studies of how agencies are leveraging the services of AWS for their digital platforms. 
 
With an ever increasing pressure to create innovative, user friendly web experiences with limited budgets, government departments around the world are turning to Drupal. As the world's leading open-source Content Management System (CMS) for large scale websites, Drupal is the preferred platform for websites in over 150 countries. 

One of Acquia's founders, Kieren Lal, will give a comprehensive introduction to Drupal and explain how the Singapore Government can "Do More With Drupal" at the breakfast seminar. 
It all sounds so simple. Let's build a portal. It's got to be user friendly. It's got to be secured. It's got to have that feature I saw on Facebook or Google. But how many of us really understand the thought processes involved in putting all these together? Bringing it all together in a holistic solution is the key to a successful portal.

Hear from Eugene as he walks you through the best practices and project methodology of website development. 

Secured Enterprise Websites for Government
Event Venue