Big Data to Big Insights Q&A Session
Tigerspike Singapore
100A Duxton Road Singapore 089544
Change of Date & New Speakers Announced




---
Join Mu Sigma, Tigerspike & AWS for a short digital discussion and Q&A session on how to accelerate your business through Big Mobile Data.
Data and how you derive insight from it is one of the key drivers of strategic advantage for companies today. As much as 33% of the digital data landscape will contain information that might be valuable if analysed, according to IDC.

From now until 2020, the digital data landscape will double approximately every two years, with mobile contributing to significant proportion of this growth. This new frontier presents many challenges, but it also presents unique opportunities to accelerate your business.  
 
Join Dhiraj Rajaram, CEO & Founder at Mu Sigm, Luke Janssen, Founder at Tigerspike and Chris Hampartsoumian, Technology Evangelist at Amazon Web Services at this this exclusive event, ask your burning Big Data and Mobile questions and learn how you can you use data to gain an unfair advantage over your competition and drive transformational business change.
---
Agenda
5.00pm 

 Registration & Refreshments 

5.10pm 

 Welcome from Tigerspike

5:15pm

 

  Luke Janssen, Founder & Executive Chariman, Tigerspike
 The Big Mobile Data Opportunity: How to use Mobile Data to drive Intelligent  Business  Decisions 

5.25pm
 

 Chris Hampartsoumian, Technology Evangelist, AWS 
 Best Practice for Collecting, Controling & Analysing Big Data 

5.35pm
 

 Dhiraj Rajaram, CEO & Founder, Mu Sigma
 Big Data in Action: Strategic Executions and Big Success    

6.00pm 

 Question & Answer 

6.30pm 

 Event ends
---
Who Should Attend
Senior Data & Operation Managers: CIO, CTO, Senior Data Scientist 

Senior Mobility, Product, Digital and Marketing Manages 
---
Speakers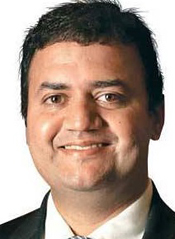 Dhiraj Rajaram, CEO & Founder at Mu Sigma 
Follow Dhiraj on LINKEDIN I TWITTER

Dhiraj C. Rajaram is a Founder of Mu Sigma Inc. and serves as its Chairman of the Board and Chief Executive Officer. At Mu Sigma, Mr. Rajaram is responsible for its vision and strategic direction, building teams, aligning organizational resources to a customer centric vision and delivering profitable growth. Before Mu Sigma, Mr. Rajaram advised senior executives across a variety of verticals as a strategy consultant at Booz Allen Hamilton and PricewaterhouseCoopers. Mr. Rajaram holds an MBA from the University of Chicago. He also received an M.S. in Computer Engineering from Wayne State University and a Bachelor's degree in Electrical Engineering from College of Engineering Guindy, Anna University.

Luke Janssen, Founder & Executive Chairman at Tigerspike 
Follow Luke on TWITTER I LINKEDIN

Luke is the founder and Executive Chairman of Tigerspike; setting the company strategy and direction and overseeing company growth and development. Luke founded Tigerspike in 2003 and grew it from a three person mobile technology company in a sunroom in Sydney, to the world's leading enterprise mobility software company with over 200 people across offices in Singapore, Sydney, Melbourne, London, Dubai, New York and San Francisco and Tokyo. Before Tigerspike, Luke completed a degree in Computer Science from Kings College, London and then qualified as a Chartered Accountant with KPMG, where he worked for 7 years in London and then Sydney. In his spare time Luke sails competitively, completing the Sydney to Hobart yacht race in 2004. Luke is also the 2009 world whistling champion.

Chris Hampartsoumian, Technology Evangelist at AWS
Follow Chris on LINKEDIN I TWITTER

Chris Hampartsoumian is the Technology Evangelist at Amazon Web Services (AWS). Prior to joining Amazon, Chris has been working in the technology sector of companies in his home city of London including Sun Microsystems, Barcalys Capital and the publisher of The Times & The Sun Newspaper, News UK. He has spent the past six years working with broadcasters & operators in the evolving video OTT space including suppliers to BBC, ITV & Channel 4 in the UK, 2 years in Sydney Australia with FOXTEL and a further two years based in Singapore, where he had been working on the Astro-on-the-Go OTT service (via Irdeto) and also projects for Celcom also in Malaysia.
---
About Tigerspike
Tigerspike is a global technology company specialising mobile and digital products. Across eight markets, Tigerspike works with Fortune 1000 companies to define, design and deliver engaging digital experiences for their employees and customers.
From strategic consulting to custom and ready-made software solutions, Tigerspike is renowned for delivering solutions that improve people's lives.  
With over 60 awards in 11 years, Tigerspike has a reputation for innovation that creates long-term partnerships. Its customers include AMEX, Shell, Emirates, Standard Chartered, Kaiser Permanente, Woolworths, Westfield, News Corporation, Direct TV, Novartis, ADP and Vodafone.
Find out more about Tigerspike.

About Mu Sigma
Mu Sigma, one of the world's largest Decision Sciences and analytics firms, helps companies institutionalize data-driven decision making and harness Big Data Analytics and data-driven decision making have been well recognized as a distinctive competitive advantage in a world of Big Data and increasing business complexity. However, organizations are challenged with scaling the use of analytics and making it an integral part of all business decisions. Mu Sigma addresses this critical need and enables organizations to institutionalize analytics and Decision Sciences in a sustainable manner.
Find out more about Mu Sigma.

About AWS
In 2006, Amazon Web Services (AWS) began offering IT infrastructure services to businesses in the form of web services -- now commonly known as cloud computing. One of the key benefits of cloud computing is the opportunity to replace up-front capital infrastructure expenses with low variable costs that scale with your business. With the Cloud, businesses no longer need to plan for and procure servers and other IT infrastructure weeks or months in advance. Instead, they can instantly spin up hundreds or thousands of servers in minutes and deliver results faster.
Today, Amazon Web Services provides a highly reliable, scalable, low-cost infrastructure platform in the cloud that powers hundreds of thousands of businesses in 190 countries around the world. With data centre locations in the U.S., Europe, Brazil, Singapore, Japan, and Australia, customers across all industries are taking advantage of the benefits.
Find out more about AWS. 
Big Data to Big Insights Q&A Session
Event Venue