Driving your target audience to the registration page is a good strategy, but it's not enough if you want to get maximum attendance. A reliable tool that facilitates convenient online registration and allows tracking results is what an event marketer needs to capitalize on registrations.
The functionality of the modern registration software changes over time and can entail promotional tools, modules for interaction with registrants, and many other "work miracle" features. Let's find out how you can make them boost your event registration rates.
Who needs an online event registration software, and why?
It could be you, it could be me. Really, with an easy-to-use registration software, you need no training or coding skills to set up event registration online. But how is it, actually, better than the simple website registration strategy? To answer the question, we'll pitch some of the core benefits here. The conclusion is for you to make.
Integration with social media. By aligning the platform with the process of online registration for events, you encourage buzzy sharing and increase your chances for success.
The convenience of payment. Boost your ticketing revenue by incorporating payment methods of all types and flavors into your registration platform.
Data analytics and workflow customization. With an online registration software for events, you can track the behavior of registrants, record their ticket and payment preferences to adjust the strategy for future success.
How to set up online event registration?
So, how do you make headway in online event registration? Here are 10 simple steps that will help you reach destination:
#1. Study your audience and your goals. Why are you running the event and how should it benefit you? Who are the people you want to see at your event? Only after answering these core questions, you can move forward to choosing an event registration platform. A clear definition of your objectives will give you an understanding of the features that your target audience will be interested in.
#2. How to choose event online registration software? Matching your event goals with the tools that you can leverage on a registration software is the core strategy here.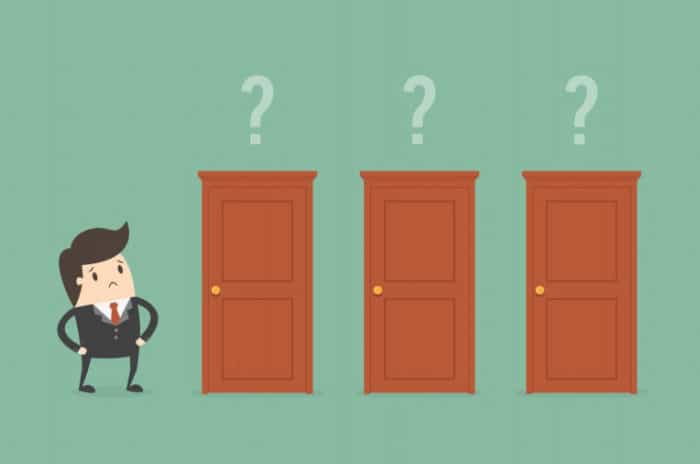 Add convenience in use + customer support benefits to the mixture, and you'll get your perfect software for event registration.
GEVME online event registration software. This is an end-to-end platform for event marketers that target both small and large event organization. The app is your one and only choice in case the following features match your needs:
– flexible event ticketing system facilitated for all types of paid events;
– integration with onsite registration system.
– pre-population of data used to accelerate the process of registration;
– multiple options for online and offline payment;
– secure access to system logs and 2-step verification;
– workflow customization to manage requests and team tasks;
– integration with intelligent data analytics.
The other online events registration platforms. You can find an abundance of alternatives on the market, each of which can become your choice, depending on your goals. Thus, with Eventbrite, you can set up registration for any event, from an international conference to a school workshop. Eventleaf provides convenience in terms of name badge management online and communication between registrants. Good luck with finding your perfect match!
#3. Create an account. Made your choice? Then it's the right time to create an account and start registration setup. It couldn't be easier than with Gevme, you just provide the basic contact data and then login by typing in your email and password.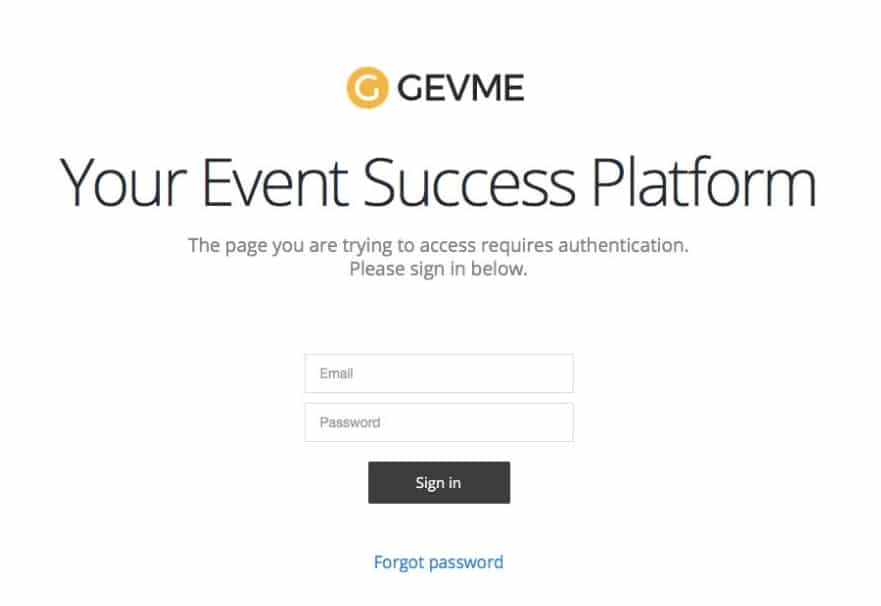 #4. Create event landing page. Set up the major parameters on an event landing page. Try to be as specific as possible and don't leave your audience in the dark about event details such as address or start date.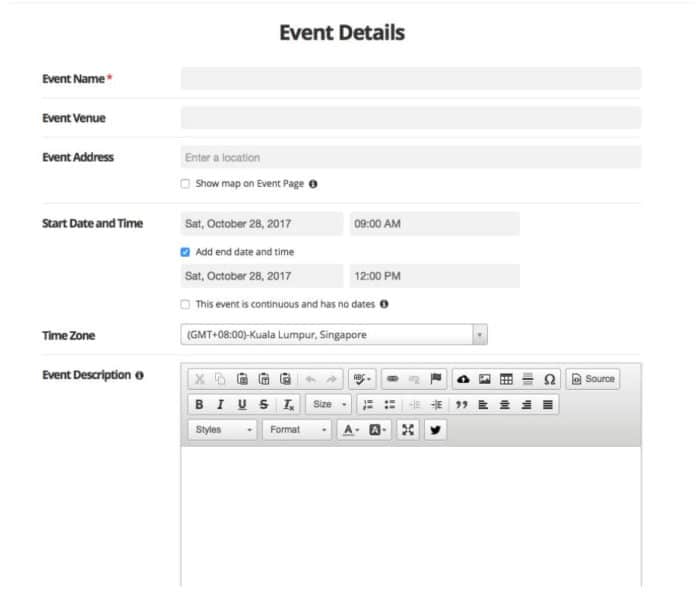 #5. Set up your tickets. Once you're done with the basic event details, move to the ticketing system to establish the ticket types, prices, and the quantity available. Platinum rule: the more field customization features – the better.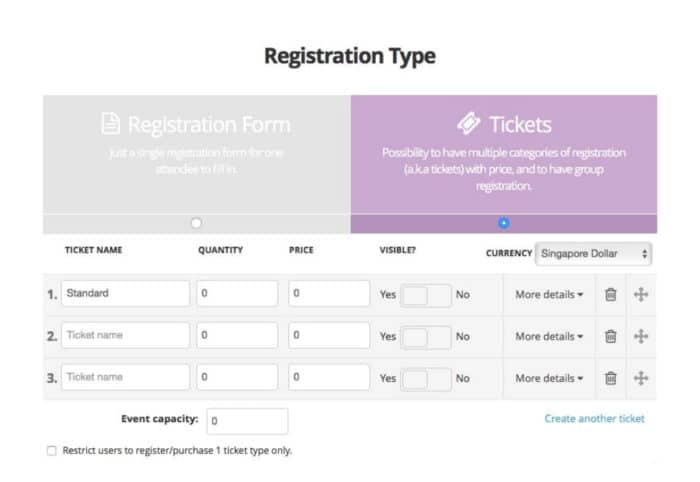 #6. Set up a payment method. To capitalize on registrations, you have to give people multiple payment options. Think of both online and offline payment channels to flip the odds in your favor.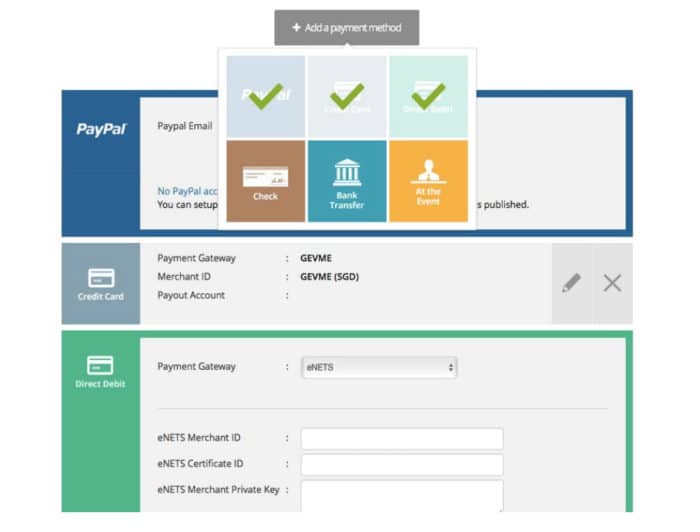 #7. Registrate attendees. Time to give your target audience leverage. Direct your prospective event attendees to the software, encourage them to engage, and don't forget to analyze performance!
#8. Promote your event. To capture as many interested minds as possible, you have to ensure that your event will be discovered. Use social media networks and email marketing to establish a top-notch promotional strategy.
#9. Manage your attendees. Your promotional strategy, as well as the registration system, can't be one-size-fits-all. With intelligent analytics, you can create personalized messages and make sure that the right people get the right contents and, ultimately, convert into registrants.
#10. Build your brand and trust. If your registration software has been a success the last time, keep it going! To retain clients, you have to nurture the value of your brand and maintain meaningful relationships with registrants by sending post-event emails, inviting them to join social media communities, and providing giveaways.
How to increase registrations for your event
What are the chances you hit a "sold out" bar at your paid event if you just sit there and wait for registrants to come? Well, unless you organize an Oscar, – pretty low. Here are the tips that help you drive traffic and attract maximum attendees to your event:
Bead with content. Leverage blog articles, striking visuals, video marketing, press releases, and their impressive content formats to get your event discovered.
Kill with promotions. Make your winning mixture of promotional agenda by using CTAs, reaching out to influencers, and creating content virality on social media.
Impress with signup page. It should make people want to click on the button. Use contrasting colors and provide clear information to feed registration intention.
Don't let go. Follow-up communication matters if you're looking for long-term success. Facilitate email connections, use reminders, and nurture attendee interests to retain clients.