TIP: NO SUNSHINE REQUIRED!!!
It might be freezing, dull and gloomy outside but don't let that stop you from throwing a winter party or planning an event especially on one of those winter and snowy days.
But, first thing first, getting the right venue is a pretty important task. Depending on your budget and the kind of party or event you're organizing, you should then decide whether you want to go all out or simply, keep it modest and memorable. If you want to hire a venue, then you have to check your local venues listings and pick the one that suits you best. Prices are usually fairly reasonable, so it's totally worth doing your homework to see what you can find.
The Ski Chalet theme
A ski chalet is what most people think of when you talk about a skiing holiday. It's that magical feeling of coming home to a lovely, warm chalet after a day out on the slopes, sinking into a big comfy sofa in front of a crackling log fire. So why not replicate the whole concept in your chosen venue? This theme definitely evokes the wintery feel while you and your guest can be warm and cozy by the fireplaces (make sure your venue has one). You can incorporate natural rustic pieces and sophisticated wooden accents to make your surrounding more believable.
2. The White Winter Wonderland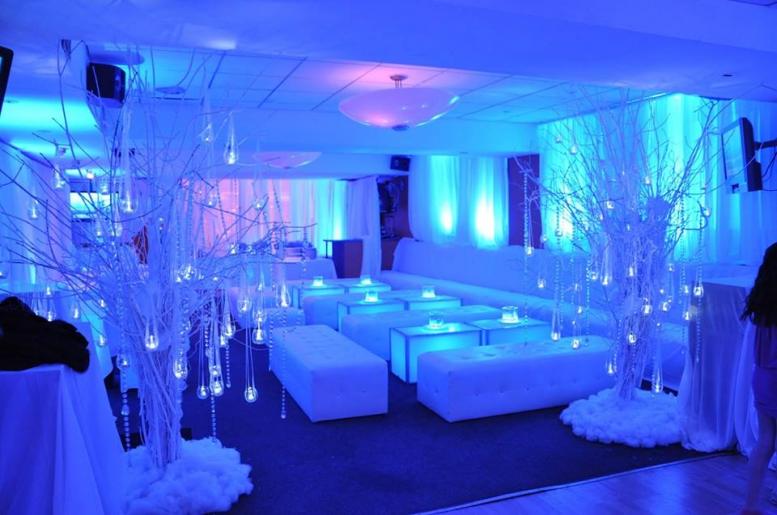 Even though it's cold and gray outside, winter has got to be the most wonderful time of the year, it is magical, beautiful and full of festive fun and joy; so who wouldn't want to enter a winter wonderland complete with reindeer and snowmen. Winter Wonderland party is a very elegant and sophisticated theme which immediately makes us think of Christmas holidays. Therefore, your venue has to be white, white and more white. White décor, white flowers, white tablecloth, white cake and white place settings will make your evening an instant success. To make your venue room come to life, you can entice your guests into a magical fantasy through snow icicles from the ceiling and a misty haze with ultra-blue and white lighting effects. Just make sure you also have some white wine to spice up your party and ask your guests to wear white if you want to go extreme! Well, why not?
3.  The Fire and Ice theme
The fabulous juxtaposition of fire and ice is a great theme to warm up a cool winter's evening! This sultry winter party theme incorporates vibrant flame reds and icy whites, to create an idiosyncratic mix of depth and color. Now it's up to you to choose how you want your venue setting- whether you want to convert one large marquee into two contrasting rooms or have two separate marquees or simply have a mix of both in one place. The largest factor for the creation of fire and ice themed events is the lighting. For the fire side of the event, you will require a combination of red RGB  lights against walls, subtle props, and a dark ambiance. The blue side of the event is a little more innocent with dark blue RGB  lights, a more lit up room and blue touches such as a glowing ice bar or glowing ice statues. So, enjoy the heat and cold in one place and soak up the atmosphere around you – it will be one fiery and cool night!
4. The Black and white timeless party
This theme focuses on the concept of time to evoke good wishes for the upcoming year. Therefore, it's perfect for a new year's eve dinner party. Black and white can be merged to create a very elegant and tasteful feel to the party. An equally delicious meal such as mashed potatoes and roasted beef tenderloins could be served but that's entirely up to you. Make sure to incorporate clocks, watches, timepieces and another anything that is time-related into the décor. If it's within your budget, you can also place furry blankets, seat cushions and pillows across the room to make it functional and warm for the guests. Also, asks them to come all glammed up for this timeless evening. Chic and classy are the keywords- I am sure you get the gist, right?
5. The Winter outdoor party
 Although the cold weather so frequently makes people want to stay indoors, these outdoors party ideas might change your mind. In this case, the perfect venue can be the comfort of your very own garden. Agreed, it's chilly and perhaps snowy but if you're the outdoor and adventurous type, then this is exactly what you need to enjoy a cold night out with friends and families. Follow our little guide to throwing the best winter party, outdoors! It's a MUST that you provide your guests with blankets upon their arrival. You also have to ensure you have enough comfortable seating such as chairs and cozy places to sit throughout the party. Now, if you happen to have a relatively large garden, it's recommendable to offer a fire area where your guests can sit around and enjoy some mulled wine while chatting to each other. Light up your garden for the perfect magical winter setting. Hang fairy lights, lanterns, and candles on your trees (if you have any) or simply have lanterns and candles scattered around. Also if you have extra time, line the garden paths with a little sparkle to bring a special touch to your party. For the dress code, your guests simply need to turn up in their most cozy sweaters, scarves, hats, socks and welly boots while admiring the white and rustic colors of their surroundings. Spark some fireworks to finish off the night (well only if you have a safe spot for that)!