The warmest family celebration of the year is almost here! As the sounds and flavors of Christmas slowly fill the streets, we can't stop thinking about the best ways to spend this family event. There's a rich variety of wonderful Christmas celebration ideas from a trip to Santa's House to a ski-themed party. In this blog post, we've collected the top 5 jolly event suggestions that each of your family members will enjoy.
Why should you organize a family-friendly Christmas event?
The traditions of Christmas Eve that are beloved in any part of the world always involve a family getting together. Be it a gift-exchange dinner or a destination event, Christmas is a holiday gathering family members in one place. Although many people see it as a challenge to organize a celebration that keeps both kids and adults engaged, creating jolly ideas for family celebration is essential.
The best 5 Christmas party ideas for a family
To organize Christmas event for family, you have to unite at least two generations through engaging activities and a party spirit. Here are some festive ideas that all of your family members will love:
Christmas Karaoke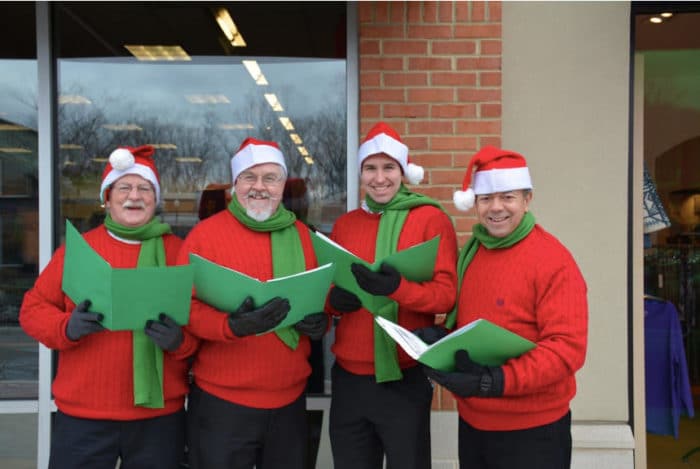 The beauty of Christmas carols can't leave anybody cold, despite their age. With the help of a home karaoke system, a well developed list of holiday tunes, and some treats, you can throw a super-warm Christmas party.
Start with the development of a song list and make sure you include both carols for adults and Christmas kidsongs for the youngest partiers. It would also be a great idea to include songs with fun animal sounds to entertain the kids. As an alternative, you can turn song selection into a lottery by creating cards with the song titles.
Prepare Christmas gifts for the most active volunteers or set up public voting to pick the best singers. Finish up with a festive dinner and family singing at the table.
Sledding party
What can be better than outdoor fun with a family in the season of fluffy snowflakes? If you're lucky enough to have tons of snow behind your house near Christmas time, you can't miss the chance to organize a sledding party!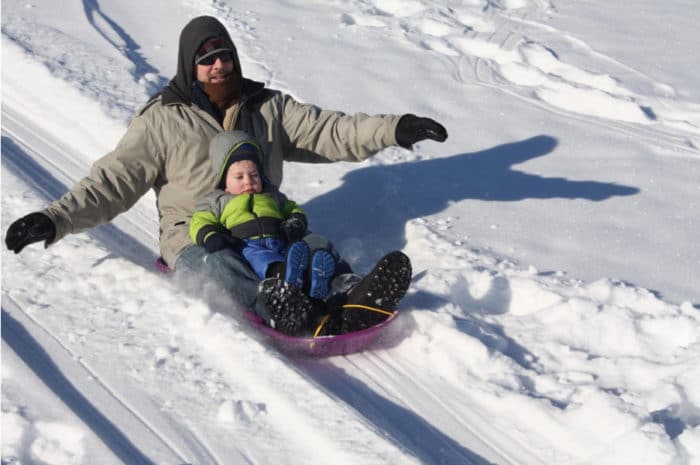 If you wish to turn sledding into a real family race, it's a good idea to set up an event with several families participating. Get the kids to prepare party invitations in the form of snowflakes or sleds. This will build excitement and make your kids buzz with "whens" and "hows." Select a venue that is safe enough for kids and get going! To wrap the race up, award the winning family and treat the participants to some hot chocolate, candy canes, and Christmas cake.
Experience the Magic of Polar Express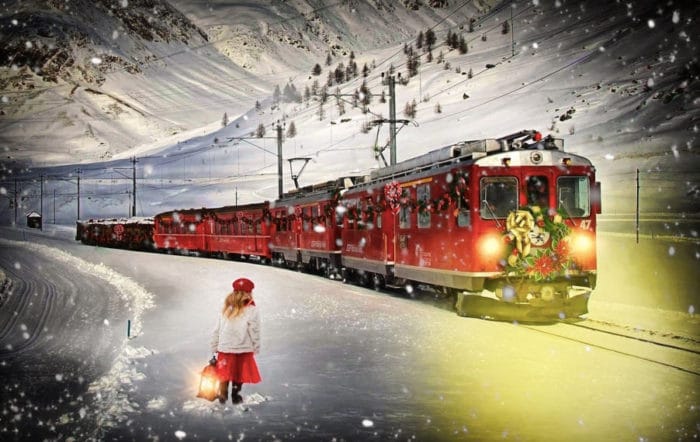 If you want to revive the genuine spirit of Christmas for kids, jump on a Polar Express train! To recreate the magic of The Polar Express, which is the beloved Christmas story about a boy traveling to Santa, hundreds of cosy Polar Express trips have been launched across the globe. Going on a Polar Express trip is a fascinating experience for any family if you set the right event tone. Use the music from the original film to revive the authentic atmosphere, serve Coca-Cola, and wrap it up with meeting Santa.
Run a Movie Marathon
Watching Christmas movies is one of the must-have elements of any family celebration. "Love Actually" for adults and "Home alone" for kids are the wonderful mood boosters! So why not combine this favorite activity with game ideas for family Christmas party?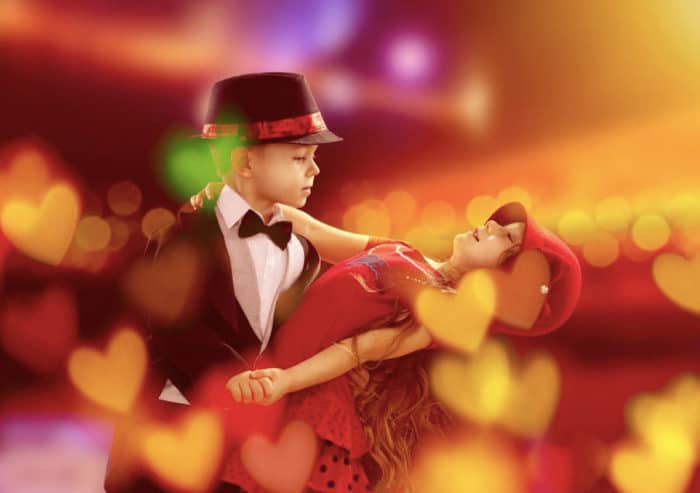 To organize a family-friendly movie marathon, ask all the family members to recreate the images of their favorite Christmas movie characters with the help of costumes and makeup. Spice the party up with some family party games ideas for Christmas. Here are some of the great game options:
Christmas movie trivia. Split the participants into teams and test their knowledge of popular Christmas movies.
Stocking guessing game. Prepare cards with the names of Christmas movie characters and engage everyone into a big lottery.
Who am I? Ask the participants to explain the qualities of some of the movie characters present in the room without words.
Gingerbread house decoration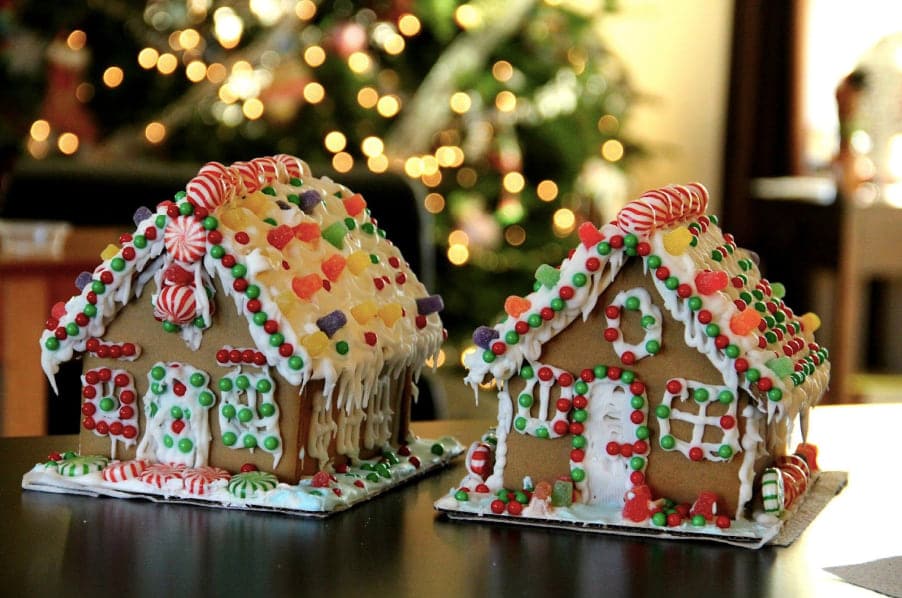 A party without a gingerbread house isn't a Christmas party! Host a fun family competition, in which all family members have to create and decorate their own gingerbread creations. Don't set any particular rules; let them be as creative as possible! You can finish the contest by staging a family exhibition, inviting friends to pick a winner and eating the delicious houses together.
How to organize a Christmas event: Tips and tricks
The ideas for family Christmas party never end. With the rich macrocosm of Christmas-related family traditions you can make each celebrating unique and engaging. To get the most out of the Christmas party planning, leverage the following tips and tricks:
Ask for preferences. Families are different: some people prefer active events, while the others adore a relaxed atmosphere at the holiday time. Before doing any planning, inquire which preferences your tribe has to set the right tone for an event.
Make your budget stretch. Family-friendly Christmas parties are pretty much about creating things together rather than having something created for you. Therefore, try to go for engaging experiences without exhausting your group's budget.
Automate event organization. Be it a multi-family celebration or a small and cosy Christmas event, having a reliable platform for event organization is a big advantage. Use software for event management to keep track of the core planning processes, monitor the engagement, and capture honest responses.
Conclusion
Christmas is the time for magic! By utilizing the best Christmas party ideas for family you can unite family members of any age in an exciting celebration. Get started with Gevme to set up an automated event for family joy!