You've more than likely attended a workshop before, although it may have been called something else. The meetings and events industry is buzzing with terms like symposium, conference, workshop, training…we could go on and on. To avoid any confusion, it's critical to understand that a workshop is any part of an educational program that caters to a specific audience. Logically, a clear objective is the main part of workshop planning.
In this blog post, you'll find a roadmap that should help you get from a great workshop goal to a well-planned event:
Before the workshop
Workshop organisation begins long before you actually get to meet your audience. In fact, it starts even before you even begin attracting this audience. This pre-event guide will tell you why setting your goal first is the key to success and how you can make sure your workshop runs smoothly months before it starts:
Identify your goals
Because the quality of the workshop is always determined by your audience satisfaction, here's rule number one: Never start with your own goals. Instead, invest your efforts into clarifying how you can help attendees find answers to the questions they have. This context should be really helpful in terms of goal setting.
Let's say you've been invited to run a workshop within a fintech conference. Of course, your plan will largely depend on what your expertise in this field is. But try to start your tech workshop planning by asking yourself what the conference attendees might want to learn instead of thinking of what you can offer:
Dive deep into trends and new solutions emerging in the market. Is it blockchain? B2B lending? Bank acquisitions? Decide what the most exciting topic is that you could touch upon.
Explore the rest of the program. Especially if it's not a stand-alone event, you don't want your workshop to spend a great deal of time talking about things that have already been discussed elsewhere at the conference.
Catch up with the other stakeholders. You might want to discuss your ideas with people in charge within one-on-one discussions or a group meeting. We recommend scheduling your stakeholder meeting at the early stages, ideally, not later than 12 months before an event. A last-minute change of a workshop theme is a fun experience but way too risky.
Once you know what people should be able to achieve within your workshop, start working on your personal goals. Set the metrics in terms of the number of attendees, qualitative outcomes, and other aspects that are important to you as a workshop organiser.
Pick a format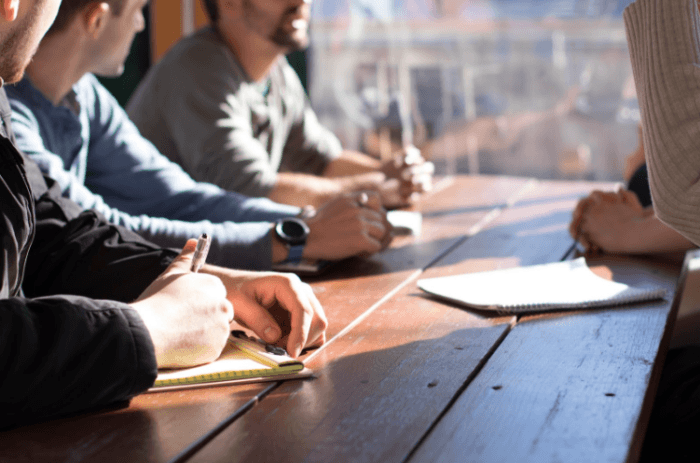 The goal of your workshop should dictate the format that helps realise this goal. Here are some criteria that will help you weave a workshop idea into an engaging experience:
Length: It can be a single session or a program involving multiple workshops, each of which should be dedicated to a specific theme. The average length of a single-session workshop is 45–60 minutes, and we definitely don't recommend making it longer than three hours per session.
Engagement: You can plan a participatory workshop that allows for extensive discussions and Q&A practices, or you can focus on presenting materials to your audience.
Follow-up. Usually, workshops are self-contained events, which means your audience should learn here and now. The alternative would be acquainting people with some topic or teaching them basic skills during a workshop and then encouraging them to learn from this experience in the real world through follow-up assignments.
Decide who should attend
People are the key piece of the puzzle when it comes to workshops. Not only does your audience impact the format of the event but it also determines the materials and content you should use.
In the context of a workshop, there are two key scenarios for audience analysis: 1) If it's a stand-alone event, use analytics to explore your target persona in the real world, and 2) if it's a workshop within a conference or a seminar, cooperate with stakeholders and use survey tools to find out as much as possible about the people attending the event.
Depending on the goal of your workshop, you should also determine the size of the audience. For educational events, "the more, the better" principle usually works well. But if you're aiming to solve a problem within a workshop and you want to make it highly participative, limit the audience to 10–15 attendees.
Choose the location
Depending on the circumstances under which people are attending, event organisers will either have to search for a stand-alone venue or, if it's a part of a larger event, choose a strategic spot within the given space. Make sure you can accommodate the expected number of attendees; if the space is limited, the number of registrations should be limited as well. If your workshop is held within a conference, think about ways you can soundproof your room to prevent noisy intrusions.
Build agenda
Without building a detailed workshop schedule, you can't claim to have created the full picture of an event. Not only does it serve as a great source of information for attendees but it can also be a very helpful action plan for organisers. What's more, by publishing the workshop agenda on a website, you create a space for interacting with the target audience about the workshop far in advance.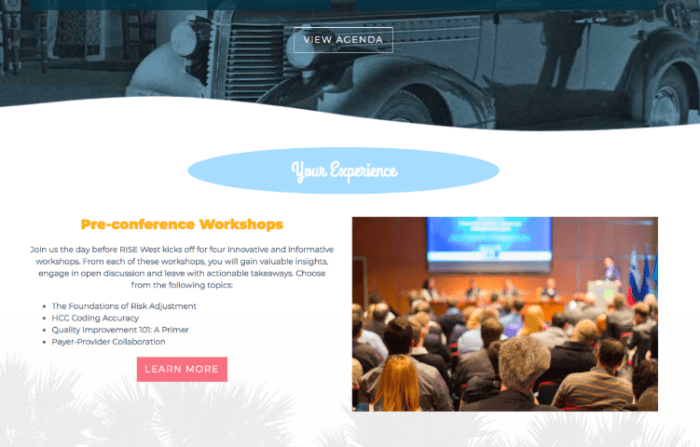 This helps people understand event goals, prepare questions, and get to know other people who are planning to attend.
Choose efficient workshop management software
When it comes to a workshop, communication is the key—not only the interactions that happen within the event but also those that take place far in advance. To make sure you stay connected to your workshop attendees, we recommend using a software system for automated email communication and registration. A nice perk would be a flexible tool for survey management to help you tap into attendees' experiences and clarify expectations.
Market your workshop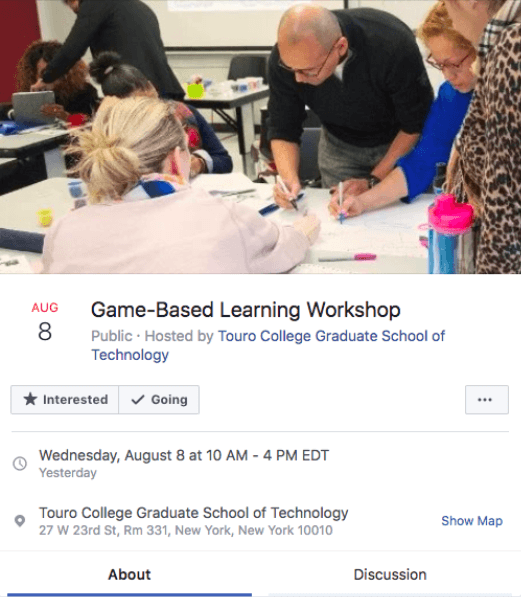 Even if you run recurring workshops that are well recognized in the target niche, don't rely on word of mouth alone. Start with an announcement notice on the website, and send personalised email invitations to people you think could be interested. If you want to tap into the larger audiences, plan a couple of social media activities for pre-event, during event, and follow-up engagement by using Facebook Events or another relevant tool.
During the workshop
At the next stage of workshop event management, your number one goal should be to keep people involved in the learning process. Here are several tips on how to make this happen:
Take your time to clarify a workshop plan and the rules for participation. For instance, depending on the format, you might allow questions to be asked throughout the event or you may allocate some time for Q&A in the end.
Provide necessary materials like paper and pencils if you expect your audience to make notes or record any ideas.
If it's a large workshop, try to incorporate some tools for mobile interaction. Event apps and social walls could be the perfect fit in this case.
After the workshop
The quality of learning experience is the key priority at all stages of workshop organisation, including after the event. Shop around for effective evaluative tools for workshop event management that will help you measure the learning value of a workshop. Whether it's a survey, a poll, or a platform for analytics, focus on exploring how well your audience interacted with the workshop content.
Conclusion
A professional workshop is one of the best mediums for sharing expertise or teaching a specific skill. With a reliable workshop management software and a detailed plan for each stage of event organisation, you can create a valuable learning experience for your target audience.