If you want to organise a corporate event that is widely spoken about and unforgettable, you will need to utilise some unusual event format ideas or innovative event ideas. Here, we've compiled the most innovative meeting format ideas that have been seen at recent international corporate events arenas to boost your bank of ideas. With this guide, you will learn how to invite the right people to your event, promote it with attractive content, and create a highly optimised online registration page to attract more visitors.
Why are new formats more successful?
You should carefully consider the format of the event since the format will determine the final product. There is a range of new format advantages. They include the following:
Increase creativity

Help in teambuilding

Generate new ideas

Stimulate discussions

Form a community

Educate, etc.
Do not forget to add some new formats to refresh your events. You can turn ordinary conference session formats into something like these:
Inspirational tours

Internal conferences

Campfire
Co-working

Start-up events

Hackathon

Open space, etc.
In addition, you may separate ideas into those for specific events:
For corporate events

For conferences only

For business events

For meetings only, etc.
The sky is truly the limit for creative event formats.
Brand new interactive event format examples
To more deeply understand what innovation formats are, you are welcome to look through some of the fresh ideas that have been recently implemented in different events all over the world. The most successful of these will be a flashing beacon for every event organiser. Let's take a look!
"Yellow Brick Road" in a digital format
A 136-meter installation of LED cubes that guided the participants of the event to the main screen reacted to their movements by changing colour. It was incredible!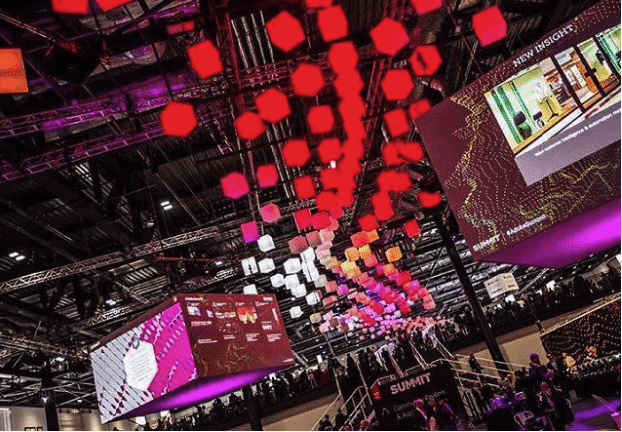 Case: Adobe Summit, London ExCeL
Cafe with an alternative payment
The cafe concept is based on "exercise for payment", where visitors can pay for their food and drinks by performing exercises on various simulators (gym trainers, sports mats, etc.).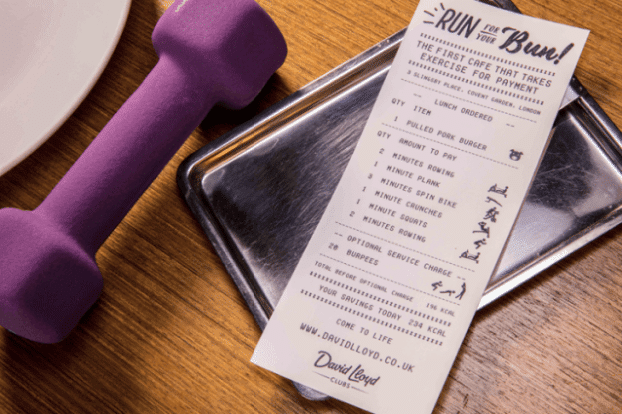 Case: David Lloyd Leisure, Run for Your Bun Café, London
This bar offers ice cream of unusual varieties, for example, ice creams that features the flavour of popcorn, Jack Daniels whiskey and vanilla, and their specialty: nitrogen vapor "dragon breath".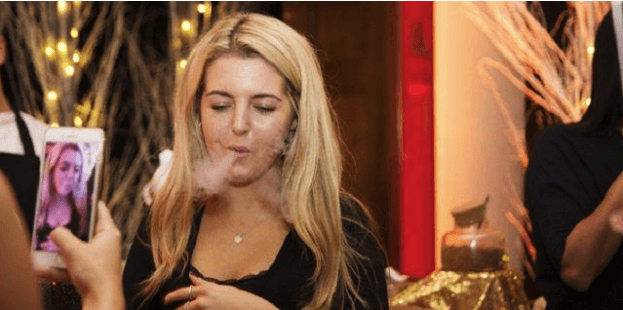 Case: 8 Northumberland Avenue 2017 Christmas Themes Launch, London
Projection showing scenery
The screen and 18 additional LED panels served as a canvas for the presentation of each of the forum speakers.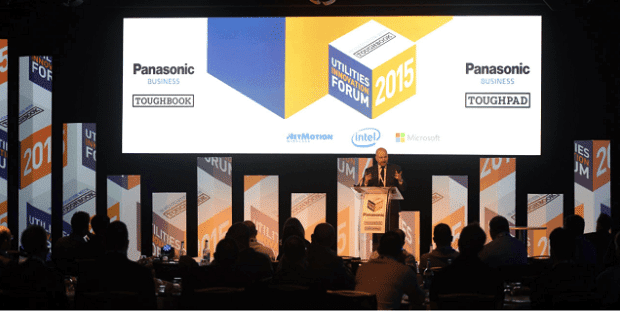 Case: Panasonic Toughbook Innovation Forum, Liverpool
The 2016 Holland & Barrett conference began with a vigorous morning carnival procession that led the guests to the main hall. Undeniably original!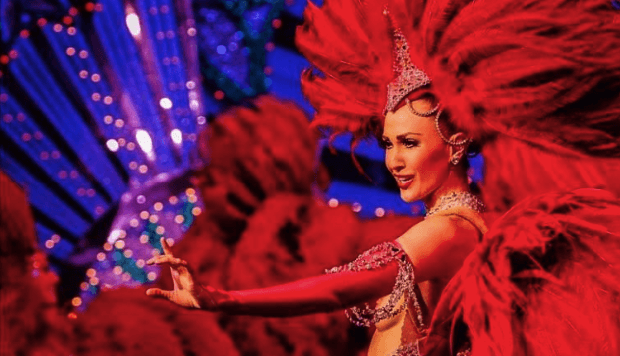 Case: Holland & Barrett Conference, Minehead
Hundreds of white oblong-shaped air balloons were hanging from the ceiling of the Design Miami Pavilion.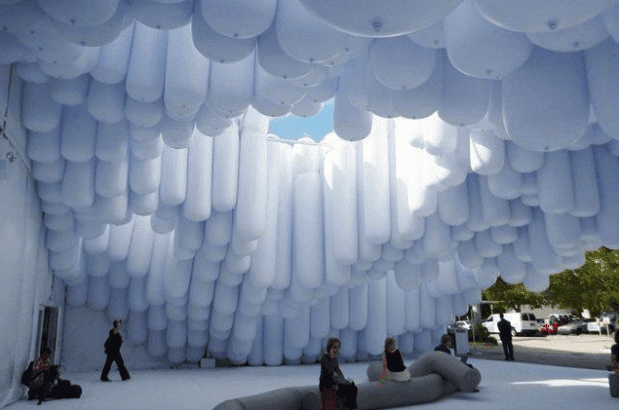 Case: Design Miami, Miami
Cater Tonic presented interactive stations based around a "Theory of Food" and scientifically-based nutrition concepts, including "levitating" petri dishes made from pasta, tomato water bubbles, and salty candies have frozen right in front of the guests!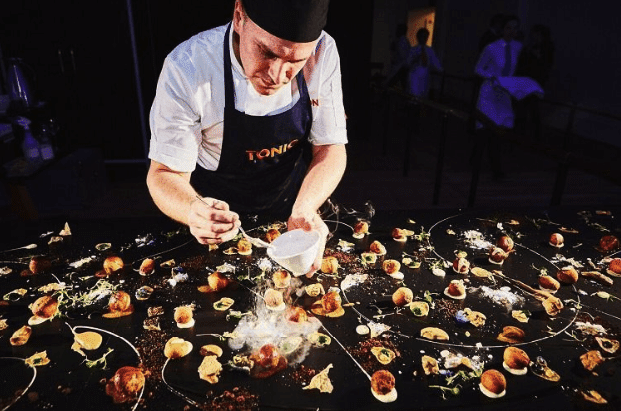 Case: Wonderlab Launch @ Science Museum, London
Table with floating décor
A 16-foot table on which elements of décor floated in the water was created in Georgia, USA. The event took place in the aquarium.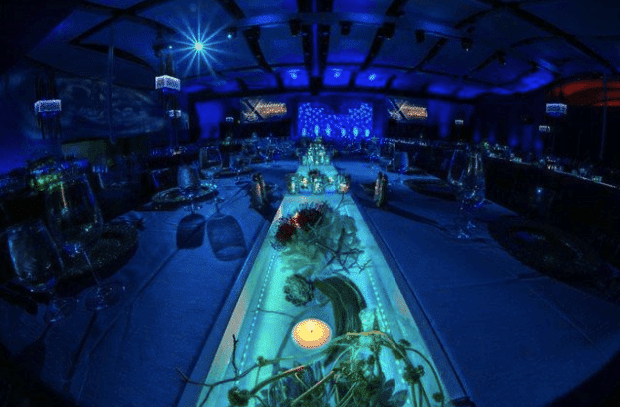 Case: Allie Awards, Georgia, USA
The Hyatt Centric pop-up vending machine offered over 1,600 road prizes to passers-by if they posted their favourite Instagram post with a special hashtag. So brilliant!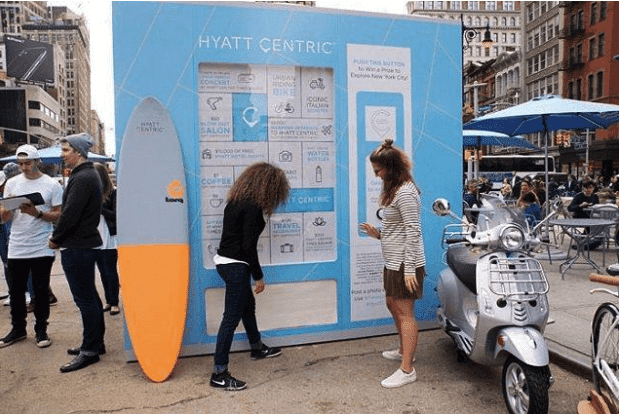 Case: Hyatt Centric "Sunrise to Sunrise" campaign, New York
A corporate poem performance
A poem created from parts written by hundreds of Astellas employees was created and was collected into one grand story by the poet LionHeart.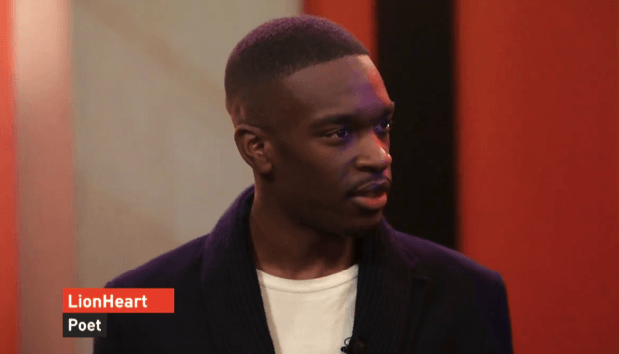 Case: ONE Astellas Live, London
A giant geodesic dome with 360-degree projections in which the guests embarked on an exciting gastronomic journey was created and installed in Melbourne.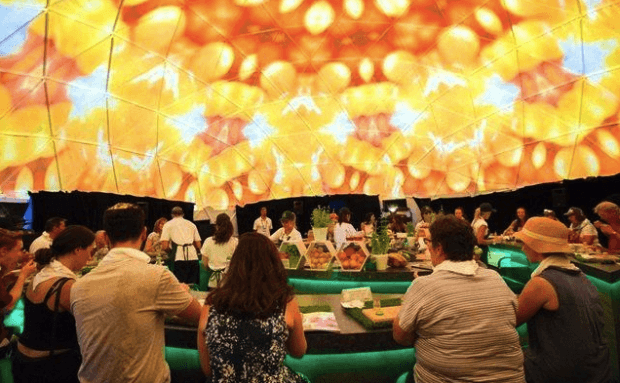 Case: Woolworths Summer Sensorium, Melbourne
Cocktails were served in bags containing vodka with lemon, strawberry, cucumber, and lychee juice.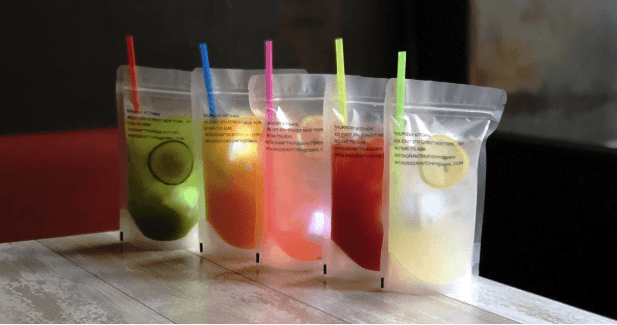 Case: Thursday Kitchen, New York
A 16-meter inflatable igloo with LED lighting bars, furniture, and inflatable Chesterfield sofas was installed in Manchester.

Case: The LADbible Christmas Party, Manchester
A parade of Triumph Bonneville Bobber motorcycles took place at the Printworks in London with racing legends such as seven-time world champion Carl Fogarty MBE and an international team of motorcycle journalists.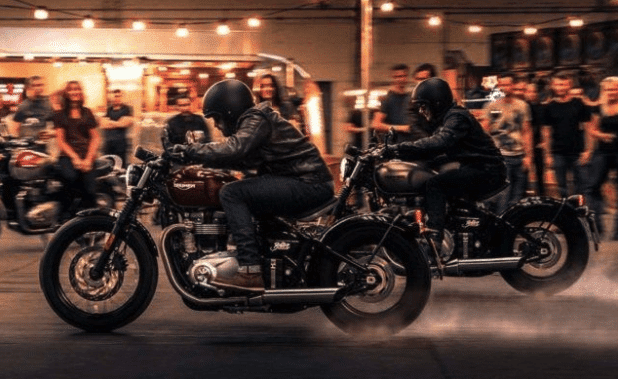 Case: Triumph Bonneville Bobber Launch Event, London
Conclusion
There are so many incredible event formats and memorable format ideas for all types of event formats that you haven't tried yet! Invent some ideas, and implement them to achieve an incredible event organisation experience. Feel free to contact us if you are lacking in creative ideas.
Leave your craziest event format suggestions in the comments below!