Setting goals are just a good habit to be in. When you've decided on your project, it's time to turn your attention over to developing a set of goals that will facilitate success.
Your team can focus on these established goals and make decisions based on them. With that said, having a set of unclear or actionable objectives can quickly turn event planning from a structured process to one of utter chaos, with unachievable, and uncontrollable milestones
Have you ever wondered why aspirations for success and achieving it are not always one and the same? The reason is that people don't take the proper time to plan for an event using a set of structured goals and milestones. With so many individuals involved in event planning, it would be easier to run into trouble without clear, specific, and actionable guidelines.
SMART goals to the rescue! No one ever complains about achieving success, but it doesn't just happen randomly. It takes planning and disciplined guidance to achieve goals and success.
What is a SMART Goal?
Setting goals means that they must be powerful and S.M.A.R.T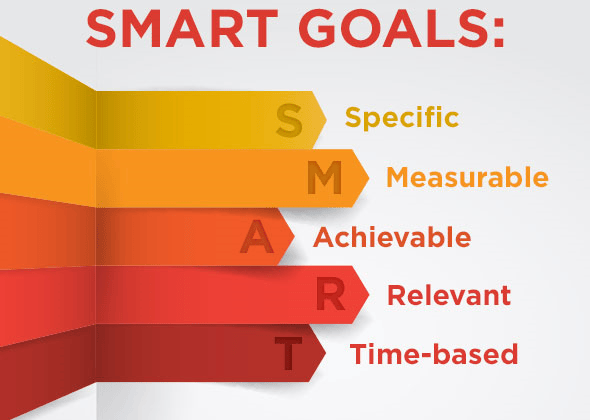 Goals must be well defined and clearly stated. A particular target makes it easier to get the results you want. By making each goal a positive statement of success.
Precise dates, amounts, people, etc.  Don't be vague with measurable goals. Second guessing costs time and money. Make it easy for a group of individuals to work together with measurable results. It also gives everyone in the program further affirmation that they are progressing in the right direction.
Set goals that are attainable, even if they're challenging. Be realistic and ensure that there is a balance. A  major point here is to make sure that the bar can be raised, or lowered, very quickly without causing problems in all the other event goals. Personal satisfaction comes into play with this part of the goal setting; attainable goals only work if you have the right person on the task.
Goals must be relevant to the outcome, to save time and keep abreast with event dynamics and success. Focus on the bigger picture and don't sweat the small stuff.
Goals must have a deadline.  To measure success and achievement, you need a timeline. By monitoring time-based goals, it's much easier to fix a problem before it gets out of control. It also keeps a team focused on time-bound priorities taking precedence over the non-essentials.
Benefits of SMART goals
If something might go wrong, it will – MURPHY'S LAW
In the case of event planning, goal setting is fundamental to the success. With so many "moving parts" (people, things, more people, and more things) the benefits of having a clear cut set of objectives with timelines, team members will be johnny-on-the-spot and not wandering around wasting time waiting for things to happen and someone to give them directions.
Communication time is halved when people have a clear set of guidelines and achievable goals. They will know what to do if something does go wrong. Everyone must be on the same page when planning an event. Having a set of  SMART goals for continued referral give the added security blanket.
How to use SMART Goals
When it comes to writing goals for your event, be prepared to ask yourself and team members a lot of questions. The answers will help define the strategy and ensure the goals are attainable. Being realistic with SMART goals means setting out and writing each goal with a positive attitude. It's something that you want to achieve, so keep the what-ifs and maybes to the discussion group and leave them off the goal list.
It can be an illuminating experience. Using a SMART goals model or template to keep on track. It's very easy to get sidetracked when writing goals. Make sure that everyone on the team is included and remember to make the goals attainable within the specified timeframe.
How to set up
Ask the question: What's the purpose of the event? Some goals are the reason your event exists; to inform, to persuade, to include, to educate, etc. The roadmap you design for achieving success means that the objectives must be clearly defined in detail using the SMART goal set-up format.
The Essentials:
Name: is your event name memorable, clear and uniquely described in the title? Make it easy for people to know what the event is about
Date:  This sounds simple, but double check to make sure there are no competing events taking place on, or near, the date you're planning. No major religious holidays, bank holidays, etc.
Location: Before you book a venue make sure that the dates and accommodation availability correspond. Is it within budget as well as easy for attendees to reach. Does it fit with your brand, budget, and will it be a good experience for all parties concerned?
Even for finalizing these three essential factors, a smart plan can be put into action. We have incorporated all you need to know.
Example
Let's have a look at the SMART Objectives for Event Management:
Increase the attendance of the SOFTWARE conference to 500 guests by getting another 100 attendees. Email them. Communication must happen four weeks before the event.
Improve company landing page so that it is more conducive to attracting attendees to the conference.
Conclusion
Use the SMART model to achieve this one simple but very financially rewarding project to improve an event. It has all the attributes to make even the simplest tasks measurable and attainable.
One of the most important things to remember when you're working with a team is the kudos. People love it. It leads to job satisfaction.
Having a set of SMART objective goals gives people a clear understanding of why they're doing something, where they are headed and how they are being measured. Success breeds success.
Have a clear action plan, write it down and stick to it – real events depend on it. Get started with smart event planning from the first step.