The one thing that has bothered most event organizers is how to invite customers to an event. Although this may seem like a pretty straightforward thing, it's actually something that most organizers fail to effectively execute.
Nevertheless, thanks to technology, inviting customers to an event has become even easier. Technology has enabled event organizers to reach a wide audience, in the most convenient way possible.
However, as easy as it is to send out invitations using technology, it's just as risky since a single mistake can jeopardize your reputation among a large customer base within nanoseconds. So read on to find out how you can effectively invite customers to your big event.
How to segment customers
To begin with, it is highly important that before you start to create a customer event invitation, you segment all your customers according to various appropriate factors.
For instance, customers can be segmented according to demographics, taste, personality type and much more.
You could begin by segmenting your customers according to demographics.
This means that you will need to categorize your customers into different groups according to a certain innate parameter. For example, segmentation by age is a common practice done by most marketers when segmenting according to demographics.
This is important since customers of different age groups will prefer different event invitations in terms of content.
Furthermore, sending custom event invitations conveys a message that the invitation is not just an automated email sent to every other person on the email list.
Rather, it makes the customer feel valued and makes him/her more curious to attend the event.
This brings us to the next step, which is related to creating different event invitations for various customers.
Prepare different invitation letters for each segment
An event invitation for a customer who's a teenager needs more graphics and should have a much livelier content than an invitation that is being sent to an adult.
Most of you may be wondering as to what the significance of doing all this is. Well, sending an invitation which is tailored according to the age of the recipient will not only make sure that the recipient more strongly relates to the event, but will also compel the recipient to visit.
In our example, a teenager will relate much better to an event invite which contains more visuals and is more vibrant, while an event invite sent to an adult needs to be more professional and contain more details to make him or her consider your event as worthwhile.
Software platforms like Gevme can help you to segment your target customers and allow you to understand more about their behaviors deeply so that you can segment more accordingly and therefore send out the most relevant messages.
After you've identified the different segments to which your customers belong and have prepared the right type of message to send, the next thing is to come up with a killer subject for the invitation.
How to write a good subject for the invitation?
Writing the subject line for an invitation can be a really tricky task since you only have a limited amount of words that you can use to entice the recipient into opening your message and reading it.
So here are some tips on writing great subject lines:
Make it short and spark curiosity
The shorter the subject line, the better. This is because recipients may lose interest when reading longer subjects. Also, a shorter subject is optimized for different devices. That is, the recipients will be able to read the subject in full, even on the limited screen of a mobile device.
Furthermore, ensure that the copy of the subject elicits curiosity and enthusiasm.
One thing that does need mentioning is that subject lines may differ for different customer segments.
It is recommended that you personalize your subject lines as much as possible. This may be done easily enough by including the name of the recipient.
However, this doesn't mean using excessive emoji. Most emails contain subject lines with irrelevant emoji's and this prevents the subject from conveying the real message.
What to write in the body?
As mentioned earlier, the content of the invitation email should be tailored to the characteristics of the customer segment to which your customer belongs.
Next, make sure that the relevant details of the event are mentioned first. This includes the date, time and venue of the event and a link to register.
You may then write something about the relevance of the event and how it will help the recipient.
Lastly, end your body with a warm salutation and perhaps personalize it even further by adding the name of the recipient.
Examples
Below are some great examples of an event invitation email. They contain the right type of visuals with the important details given first, and briefly, explain the purpose of the event to the relevant audience.
They also have clear call-to-actions at the end through which the recipients can easily register.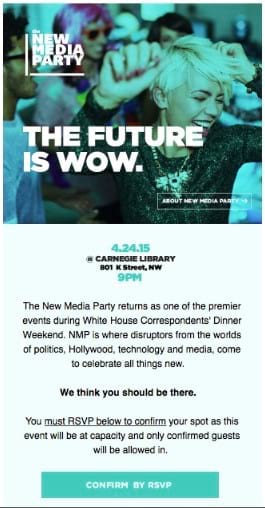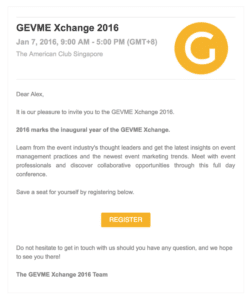 Conclusion
In conclusion, an invite to an event needs to be carefully crafted so that it specifically captures the attention of the relevant audience and allows you to brand your event at the same time.
You can use Gevme to get the right tools and guidelines to create the perfect event invitation that your customers will love.
Automate your event planning with the use of customized invitation letters from GEVME Email marketing.