There are many reasons to hire a food truck for events. Business meetings, conferences, and presentations often take place over a long period of time. Sometimes they take a whole day or even more than one day. Often, guests and partners from other cities and countries are invited to the event.
Whatever your particular case may be, food truck catering for events is a great idea. If you plan an event for even a few hours, it is appropriate to divide up the time with coffee breaks. Naturally, attendees should not have to buy coffee for themselves. Even if there is a coffee machine nearby, you shouldn't rely on that. Small tables at a buffet with cookies, sweets, and cheeses and large thermoses with tea or coffee machines look nice and cozy and relaxing. That is why food trucks to rent for events are something each event manager should consider, especially those who invite business guests to their occasions.
Also read about how to start a home-based business party.
How to hire a food truck
Food trucks are very popular among event organizers, and knowing how to hire a food truck for an event is an important issue. So why are they so popular?
First, this business does not require a large investment, which allows for low catering costs. Event enthusiasts try to handle food calculation but often fail because event organization and management take too much time on their own. Food trucks offer more catering options and menu solutions so that you do not have to spend your spare time thinking about food in addition to everything else. Top popular options include the following:
Coffee and hot chocolate

Barbecue

Tacos

Hamburgers

Sandwiches (Some trucks specialize in a single type, like roast beef or grilled cheese, while others focus on a variety of sandwiches.)

Hot dogs

Macaroni and cheese

Pizza

Shaved ice

Ice cream

Smoothies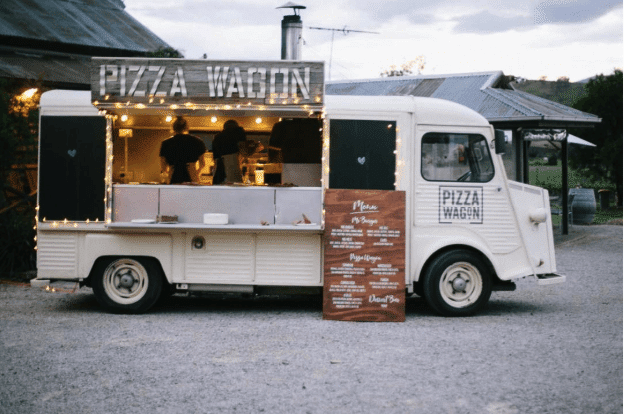 Second, the food truck itself is a kitchen with culinary treats for any occasion. Thus, food trucks for corporate services may offer some sophisticated dishes, depending on the event:
Sushi

Chinese and Korean dishes

Greek or Turkish food

Smorgasbord, etc.
Professional restaurateurs may be too picky, expensive, and sophisticated because of higher service standards, their price policy, etc. Food trucks are mobile and do not require much fuss to hire, and they regularly participate in large-scale events.
Before you get food trucks to service your event, you should do the following:
Set up your budget

Decide on the menu, how much food you need, what kind of food, etc.

Choose the best venue for a truck
Determine where attendees can eat, etc.
When you have done these things, you are free to search for and hire the food truck you like and which fits your budget the best.
How much does it cost to hire a food truck for an event?
You can probably cut costs up to $20–$25 for each guest if you hire a food truck for the event. For example, if you host 168 people at your awards ceremony (which is the current average), renting a food truck would probably cost you around $3,360–$4,200 compared with approximately $11,400 for traditional food catering. That's an impressive saving, isn't it?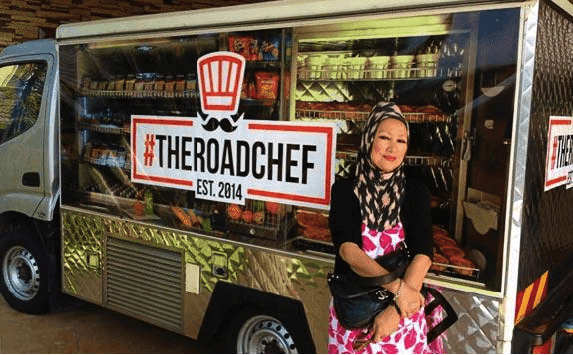 Tips for successful managing of a food truck
Since you're wondering how to get a food truck to come to your event, look through some tips for successful food truck management:
If the coffee breaks are not enough and the conference is delayed until after dinner, it is important to feed the guests. To do this, arrange a lunch at a nearby casual establishment, or order the services of a catering company.

Catering to the conference is when a restaurant delivers food in a convenient place for you. Wouldn't it be easier to hire a food truck, which is actually a restaurant on wheels? You can enjoy a pleasant service, a beautiful design, fresh and tasty dishes, and fun.

Your attendees will definitely feel more positive towards you if they do not have to sit hungry all day long at your event. If you opt for dinner in a restaurant, most likely it will be a traditional meal. If you organize catering at the event, a buffet table will be more appropriate.

Avoid alcohol during lunch. This can literally relax your guests too much, and the conference objectives likely won't interest anyone after that. The best solution is light dishes that can be eaten fast, such as fresh sliced vegetables instead of salads, a selection of meats, non-carbonated drinks, some dishes for vegetarians, fruits, and desserts.

Avoid plastic plates or paper cups,  use materials of a premium quality.

Mind the timing for each meal. Do not make a feast out of the conference. Ask your food services to come in advance as well.

Organize a separate parking lot for each food truck you invite, and set aside a space that is about three parking spaces wide for a crowded line, etc. If you have more than one truck at your event, it is best to assign their parking locations ahead of time.
Conclusion
When you're planning an event but do not know how to organize food or how to hire a food truck, these food truck tips will help you get it right. Thanks to a variety of affordable food trucks and catering services, you can provide meals for events of any format and scale. Stay with us for more industry updates. Don't forget to leave your comments!