Event reality won't hold up for long unless it's altered that is. With the breakneck progress of augmented reality development, the future of SMART events is going to be quite exciting.
It's unbelievable how many event goals can be reached through the assistance of apps for augmented reality: event engagement, traffic boost, sales increase, effective showcasing of products and services – these are only some of them. So, what will the future of augmented reality technology in event planning really look like?
Definition of augmented reality and how it works?
Augmented Reality (AR) is the technology that adds graphics, sounding, video or haptic feedback to the natural world. As computer graphics become more sophisticated with the time and, it crosses the borders of screens and gets integrated with the real-world settings. This creates imaginative immersive environments, which can put a new perspective on conventional event realities.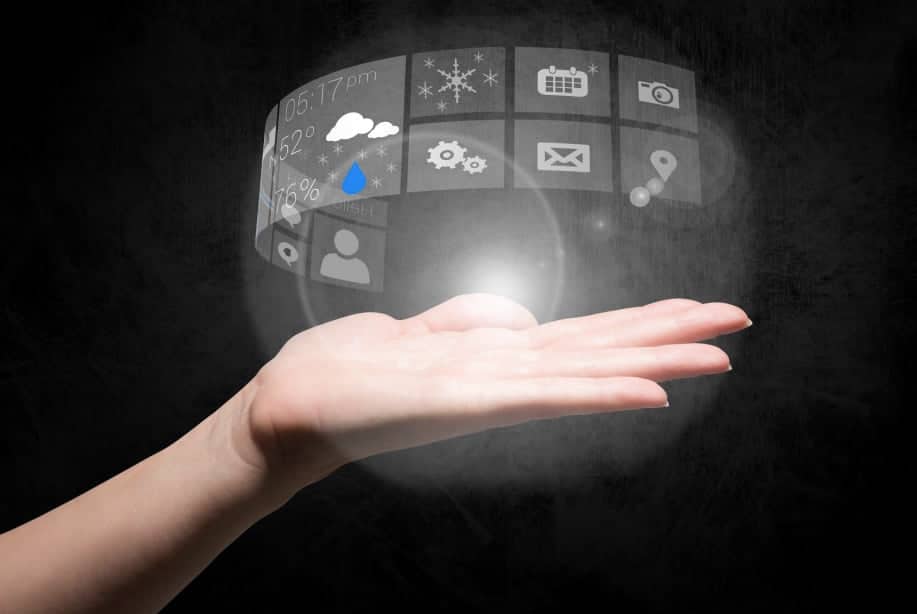 The adoption of AR solutions for an event requires the use of some tech tools such as mobile devices, PC & connected TV players, glasses, lenses, and head mounted displays. In contrast to virtual reality, which offers full reality simulation, the use of AR technology only adds some artificial imagery to the real settings.
Types of augmented reality for events
Here are 4 great augmented reality forms that can drum up interest for events.
#1. Wearable AR.
An augmented reality headset is believed to enable the most immersive experiences for attendees. With wearables, a person can view diverse artificial elements, while the real environments are visible too. Wearable AR maintains the simulated experiences even when a person moves.
Takeaway: may be applied for viewing event exhibition objects that entail altered-reality elements.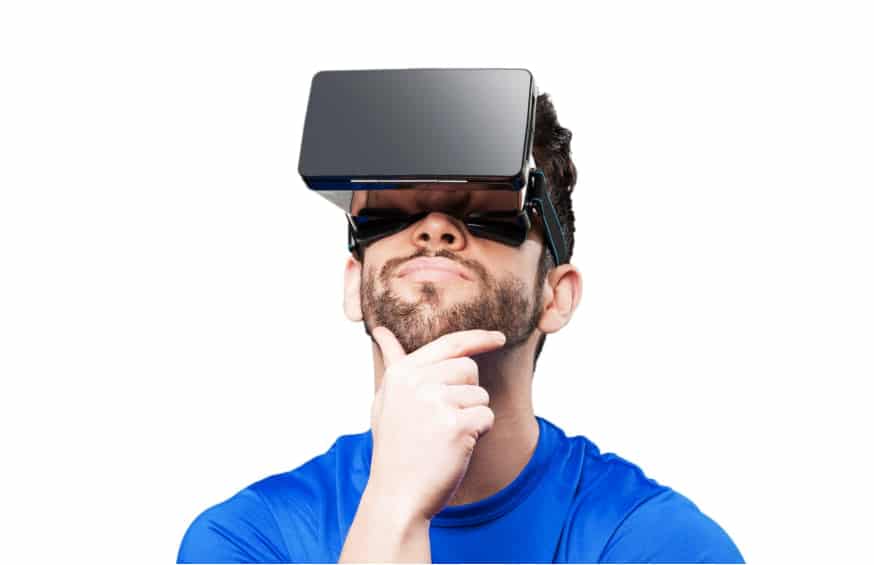 #2. Device-based AR.
Event visitors can tap into augmented reality through the screen of a tablet or smartphone. Device-based AR, which can become a part of an event app, and allows using a device camera as a viewfinder for artificial reality objects.
Takeaway: AR on devices is a great way to trigger AR experiences around the event venue.
#3. Mirror AR.
What can amuse an event attendee more than an augmented image of one's self? Mirror AR is the type of simulation that interacts with a viewer and is mostly used for trade shows or the so-called "onsite theater."
Takeaway: you can let event visitors try on diverse looks or get the real touch of exhibited objects with Mirror AR.
#4. Transparent AR.
Setting up transparent displays at event venues is a new way to exhibit large devices in a three-dimensional virtual environment.
The key benefit: transparent AR excludes the need for providing all visitors with devices for accessing AR images.
Ways you could use augmented reality at events
Event planners have some new horizons to explore with event technology. So, what are the actual ways and purposes of applying AR? Let the expertise of augmented reality apps answer this question.
Visualize your dream. AR allows completing the image with artificial elements, which means it can be used for visualizing the surroundings. With the AP planners like Amikasa, the exhibitor can allocate some venue spaces to visualization, which means that the attendees will be able to approach it and fill the blank spots with the specific objects. Great for design planning and architectural projects!
Let the journey begin. The employment of augmented reality gives you a chance to relocate your attendees to the new places. Of course, without letting them leave an event venue. The great example was provided by Noonah Experiential, which in the frames of the partnership with Cambridge University, presented an onsite event activity that let people take a photo of themselves and appear at Cambridge University. The AR photo booth also enabled moving and walking through the artificial venue.
Information is gold. Let your event attendees find out more about the exhibited product or service than they can see with their eyes. With AR apps like Layar that scan the print sources or identify the objects and can align them with any relevant sources on the Internet, your attendees won't be left in the dark about event contents.
How Pokémon can drive traffic to your event or non-profit
You know exactly what it's about. Pokémon GO. The mobile app that brought back the hype around our old Japanese chums –  the anime character from the 90s.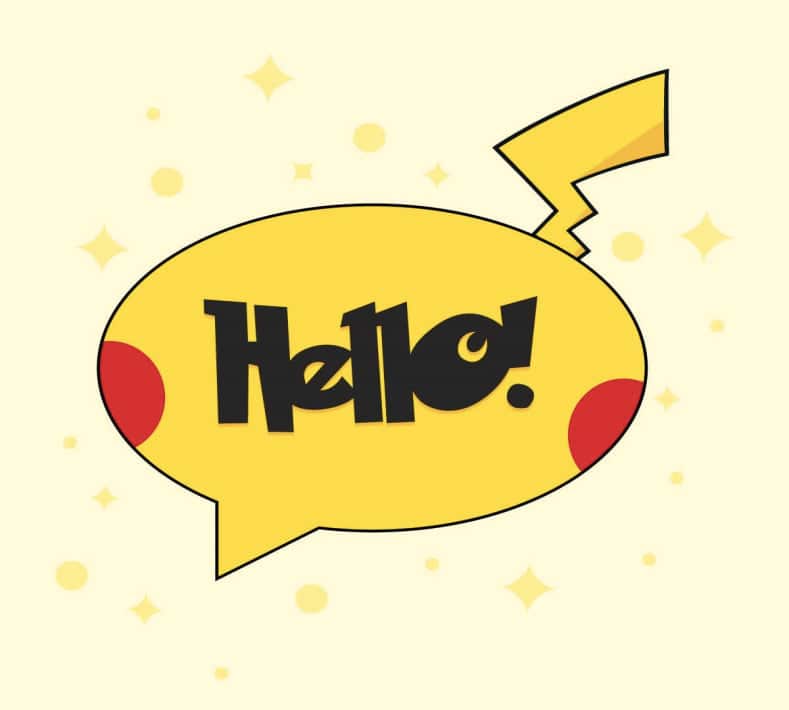 Ok, so how can event planners benefit from this skyrocketing AR game? The main task for the Pokémon GO players is following their Pokémon through real places. Why not give them a chance to catch a Pokémon at the event venue?
There is the concept of a PokéStop in the game that defines a specific location, where free items (lures) that provide benefits to a player can be found. If an event manager purchases one such lure and locates it at the venue… Right, new walk-ins – new audience!
The key takeaway: don't underestimate the power of gamification. As the Pokémon GO story reveals, augmented reality + a treasure hunt can grow your attendees' number.
How AR is driving event traffic
Pokémon GO isn't the only tool that can help you get more event traffic. If you need some food for thought while integrating your event planning strategy with augmented reality working, check out these ideas:
Tango. The AR platform launched by Google that offers a great exploration experiences through the smartphone screen. With the use of Tango, a person can look deeper into the exhibited object, get some additional information about it, as well as games. Great for being used in museums, Tango can also be adjusted to any event format, in case you aim at delivering maximum thematic insights.
Seek. Inspired by Pokémon GO, the creators of Seek app augmented reality took the same algorithm of virtual treasure hunting and launched an event-focused application. The users have to find the so-called treasure chests that can be located anywhere around the venue. This way, the exhibitors that place treasure chests in their booths have a chance to get more traffic and increase sales.
Future of AR for events
Augmented reality production stimulates the development of innovative solutions across the event industry. Taking into account the current trends that have evolved in AR sphere, we can start activating our futurologist power and tap into the future of SMART events:
Physical objects will be excluded and substituted by AR/VR visuals at exhibitions.
Testing the features of presented devices in the natural settings through virtual reality.
The opportunities for full-value virtual presence at events.
The list is definitely to be continued. The great way you can tap into the augmented reality future is capturing some inspiration at GEVME Xchange 2017 – the conference that will take place in Singapore on November 26th and will focus on the most recent SMART event trends.
If you want to automate your event planning process, request a demo for free now.