Event planning isn't only about throwing fabulous Gatsby-style parties. In case you consider taking the path of an event manager, you must understand that the art of planning events is an intricate occupation requiring dedication and self-education.
So, let's discuss the pitfalls of the profession, or rather how to avoid them and become a professional who's always one step ahead of the others. Warning: no tricks and shortened routes here! Only zealous and enthusiastic learning from free online event planning classes will create a winning event manager.
Reasons to become an event planner

Getting an event planner education is definitely worth it if you want to be the best planner possible. There are also numerous reasons why you should make event planning part of your life. Variety is certainly one of the most attractive reasons to be an event planner. Each event is unique, and you will meet many new people, have the opportunity to visit many different places, improve your communication and managerial skills, gain publicity and recognition, invent and implement something new, and so much more!
Event planners certification

In addition to taking part in event planning training courses, it is advised that you finish your education and gain an event planning certification, which will provide you with a higher level of trust and responsibility in the international event organisation market. The higher your professional level is, the better offers you will receive in the future. From developing a unique theme for a party to coming up with an affordable decorating solution that meets a client's small budget or organising large-scale events, both creativity and your event planning skills are essential when planning an event.
Event planner profile
If you ask someone who has used the services of an event manager at least once about the definition of this mysterious profession, you'll hear something like: "Well, it's the one who makes things work."
Strange as it may sound, the definition is pretty accurate. An event planner is a person, who's supposed to create program, message, and impression for the event. In other words, you have to be able to turn a client's idea and resources into a well-organized celebration, meeting or conference.
Courage plucked up? Great! Now switch to the next level of starting your career in event organization: choose the type of events you want to work with.
#1. Leisure events.
If you're fond of sports contests or want to dive into the atmosphere of concert organization, go for leisure event planning.
#2. Cultural events.
Are you persuaded that enriching local cultural narratives is your mission? By leveraging cultural events, you'll have to handle inspiring cultural programs, get a grip of rich artistic approaches, and cooperate with public and state services. Quite the challenge, but a result is worth the effort.
#3. Organizational events.
Building a marketing strategy for a product-launch event, taking charge of political and charitable meetings, implementing communication between attendees – that's what you sign up for when you take the path of organizational event planning.
#4. Personal events.
Weddings, birthday and anniversary parties need individual approach. If you think you're that event planner-psychologist who can meet personal expectations in the best way – this must be your route to take.
For a detailed guide on how to become a winning event planner, check our blog post.
Online-based learning for event planners
"You have to run fast, to stay where you are."
Lewis Carroll.
Whatever event planning path you choose, get ready for self-education mode. The unrelenting digital progress and innovation in each sphere of event organization won't let you stay at the same place. To bring out the winning expertise in yourself as an event planner, lifelong learning is the one you must make friends with.
Where should you go to educate yourself on event planning innovation? Go online. The virtual space thrives with free event planning courses for you to level up your proficiency every day.
We've collected the web-sources, accredited event planning courses, you can attend to if you want to grow in your role.
Free courses
Coursera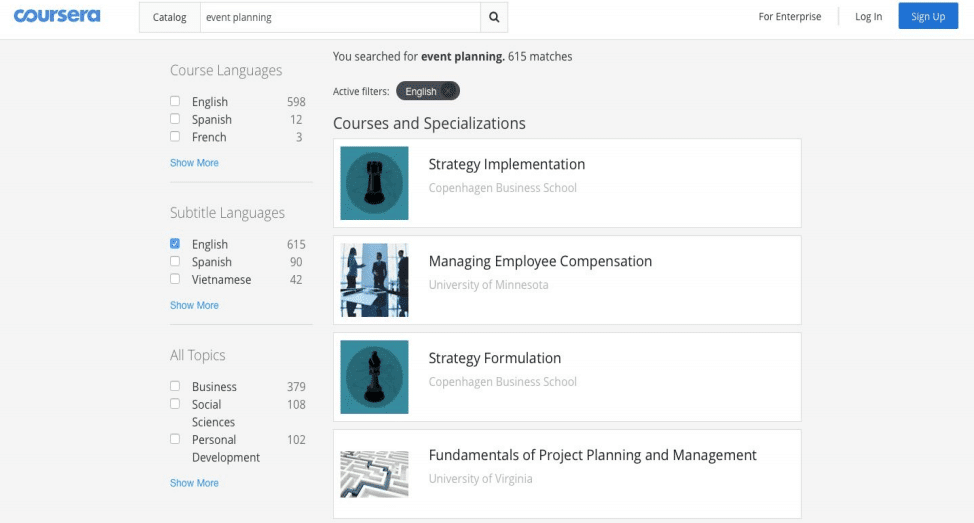 The famous platform that collects wisdom from various world universities.
Main advantages: the large database of free courses, easy navigation, very flexible deadlines, and peer-review system.
As an event planner, you can benefit from a range of specialized and interdisciplinary event planning courses that'll help you peek into the art of successful product branding for the event, understanding client behavior, negotiation techniques, and much more!
Class Central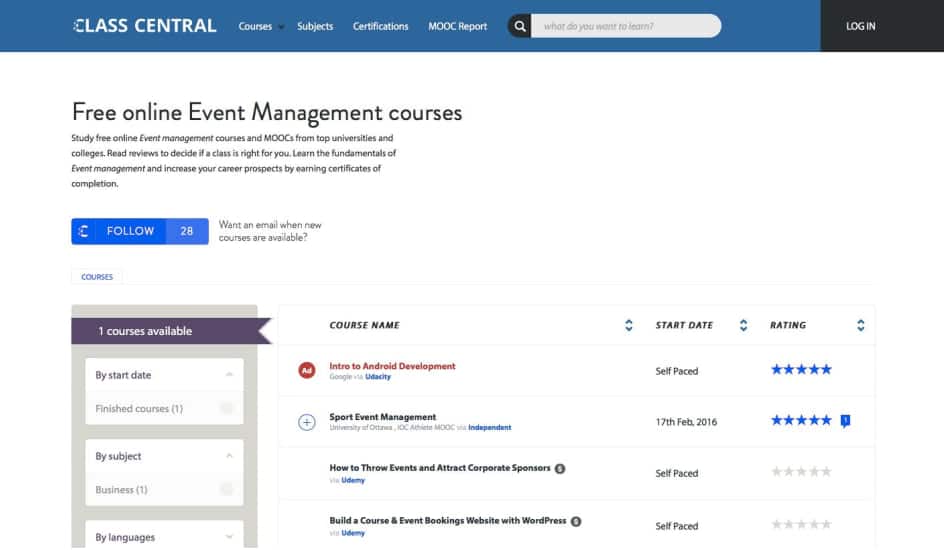 The most popular search engine for online courses, according to Alexa rank. Although the platform hosts a big number of paid courses, we've also found some free opportunities for boosting your event planning prowess. In particular, if you're interested in sports event management, here it is: a 5-star course on the subject is awaiting you. What's more, with Class Central you can also earn credentials that'll compliment for your career.
edX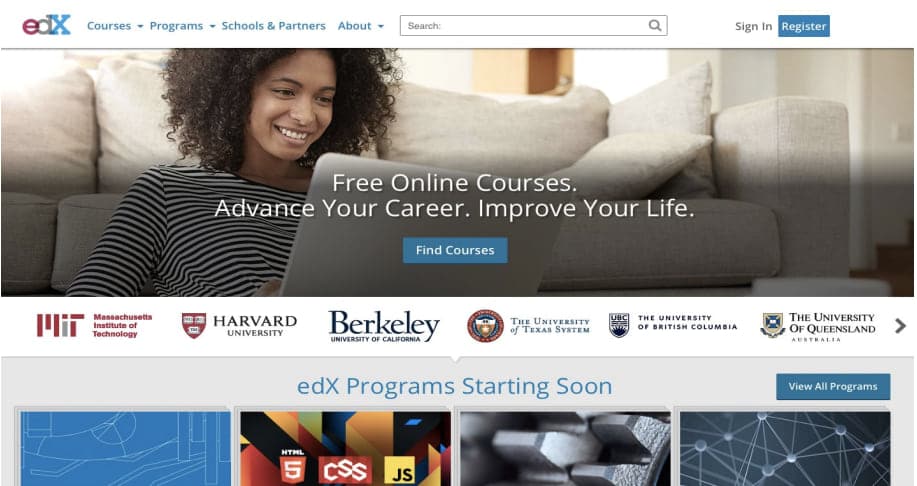 One more platform with free academic courses from the top universities. With very strict and focused quizzes, edX is great for those who need some "heat" to stay tuned throughout the learning. The platform won't be useful for event managers, who seek some general instructions on throwing a corporate party, but rather for deep divers who look for insights into tech innovation. Great for boosting your expertise in terms of hardware facilities and optimizing logistics.
Oxford Home Study College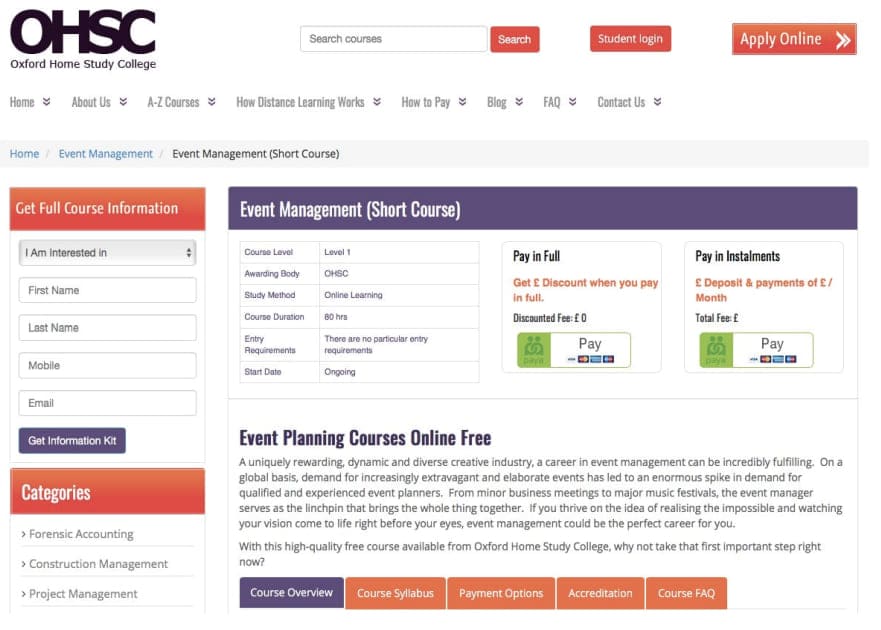 http://www.oxfordhomestudy.com
A leader among the UK providers of online courses for distance learning. For the newbies who're on the verge of challenging themselves in event planning, there's a short introductory course that you can access for free and see whether you have what it takes to become a one-in-a-million event profi.
Free books about event planning
Books don't get outdated, they just go digital. With the possibility to enrich your knowledge with the help of free event planning books, you ride a wave. Check the list of useful eBooks that were made to help you reach the top:
Professional Event Planning Guide. 2-in-1 solution: a workbook and a handbook for event planners that walks you through all stages of organizing a spotless event step by step. Great for beginners, just as for specialists who want to discover new helpful tools for event management.
You can learn more about paramount event planning aspects here.
In case you seek insights into the real narratives that feature successful implementation of event planning innovation, check out GEVME Academy. This is a platform listing the practical case studies, success solutions, eBooks, and other free resources that show the excellence of tech-oriented event management.
Free training about event planning
Inexhaustible online resources can do true magic for your success. With event planning training and webinars accessible online you can get instructed on event organization for free, without leaving your house.
Check the online training from Event Planning Blueprint and you'll dive into the world of advanced attendance-boosting techniques and learn how to avoid tricky online service schemes that may devour your event budget in one second. You'll also get professional advice on venue and food selection on top! A true godsend!
Webinar sessions are event planning training that drives self-improvement by letting you attend to updates in the world of event organization. You can check our success-oriented web session on event lifecycles to see how it works and make a closer acquaintance with the nature of a seamless event.
YouTube Channels about Event Planning
You shouldn't underestimate the power of YouTube when it comes to self-education. The buzz around video marketing proves that the latter becomes a great platform for capturing the latest innovation and expert opinions.
Here are several impressive YouTube channels that you should leverage to keep pace with event planning innovation.
Tips on how to choose the right course to become an event planner
"How do I become an event organizer?" This question is often asked by young people who are looking for an interesting job without prior work experience. Being an event organiser is a profession that helps you get a lot of work and life experience, but not many universities train students for  this profession. Free courses may be not enough. That is why the best tip will be to start at a school that trains event managers and helps those who want their future to include organising events to get an event planning degree, continue improving their skills, and do their best at work.
Pro Tip: Study hard at school, and learn the secrets of effective professional events to become an event manager.
Conclusion
To power the events of your dream you should grow and nurture expertise in yourself with maximum dedication. Luckily, it gets much easier with the abundance of tasty free resources on event planning that you can access anytime.
Think that we've missed something? Please feel free to share any online tools that you use to boost your event planning performance in the comments. Help us make the list super-rich!