Table of contents:
What is event signage?
How can it be used?
The benefits of using digital signage
The top 10 event signage placement ideas
Handmade stage

Live displays

Social media walls

Photo zone

Outdoor displays

Barriers

Floating signage

Original registration booths

Indoor navigation signage
How signage affects attendee experience at your event
Conclusion
You can't deny that signage is crucial to your event in order to attract the attention of attendees and shape their impressions about the event. As an event manager, you must find a smart balance between the functionality of signage and its potential for being memorable. The best way to do this, of course, is to add some tech.
We've collected the most creative event directional signage ideas that will teach you how to turn digital signage into a win–win for both event organisers and visitors.
What is event signage?
Any combination of signs, symbols, and design elements that you use at an event can be called event signage.
The most common mistake that event organisers make when they choose event signage is that 90% of their attention is on the image. However, signage is less about a unique or trendy image than it is about supporting the needs and interests of event guests via practical visual elements and tools. This explains why displays and digital signage and technologies are so widely used on site.
From sports tournaments to large-scale conferences, digital signage is now used at countless events to engage, entertain, and update people on the latest news or event-specific matters.
How can it be used?
You can get some inspiration from case studies on creative event signage use, or you can follow your own vision, matching event branding with digital solutions. Here are some strategies you might want to make use of:
Facilitate live Internet streaming of news, video, or sports, depending on the themes of your event.

Employ multi-touch interactive content to entertain the audience.

Create capabilities for product presentations and entertainment using VR/AR technologies.

Use digital venue boards to share information in real time.
The benefits of using digital signage
As we've mentioned before, it's not just about a nice image. Using digital signage at events helps organisers solve a huge number of practical problems. Check out the core benefits of using digital signage at events:
Design made easy. With digital tools helping you build signs and content based on pre-made templates, you'll have no need for a graphic designer at your event.

More space for content presentation. Using digital tools, you can schedule your activities flexibly and provide attendees with multiple messages during an event.

Information on request. User-oriented digital signage is interactive, which means people get the information they need when they need it.

Great use of trends. Social media and gamification can easily be embedded into your event program with the help of digital signage that helps event planners make use of the latest activities and trends.

Facilitate networking. Smart name badges and interactive apps make it possible to interact more efficiently at events.

Going green. Obviously, digital signage significantly reduces paper waste and helps you make your event greener.
The top 10 event signage placement ideas
Event signage is fundamental, but that doesn't mean it should be exhausting or invasive! Get motivated by these wonderful instances of event signage placement to add a bit more flavour to your event!
The primary reason for event signage is to make the participants' adventure around your event less complicated. Event wayfinding also comes with a lot of marketing, advertising, and sponsorship opportunities for your occasion as well. Here are some placements that will guarantee visitor focus on your signage.
Check out our top 10 examples of event signage use, and pick the best creative signage ideas to implement in your event.
Handmade stage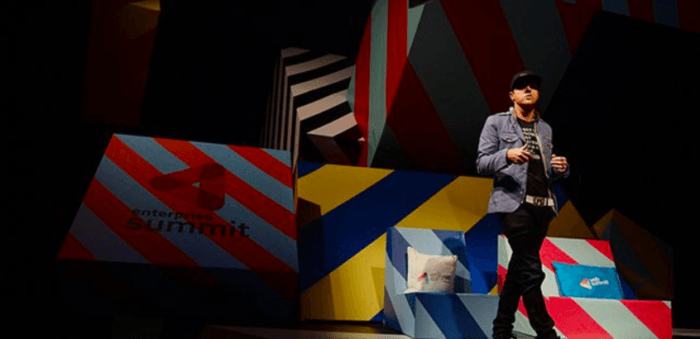 Remember how important it is to make event signage functional? We couldn't find a better example than this. Using nothing but interconnected cubes, Web Summit organisers built a creative, unique stage for the Enterprise Summit in 2014. Not only did it resonate with event branding, but the installation perfectly complemented the needs of both the interviewers and guests on the stage.
Live displays
By sharing the day's agenda, generating new revenue through a partner screen, and showing real-time updates, live displays have a huge variety of functions. The great thing about live displays is that they can be streamed or projected onto as many walls and screens as you want.
Social media walls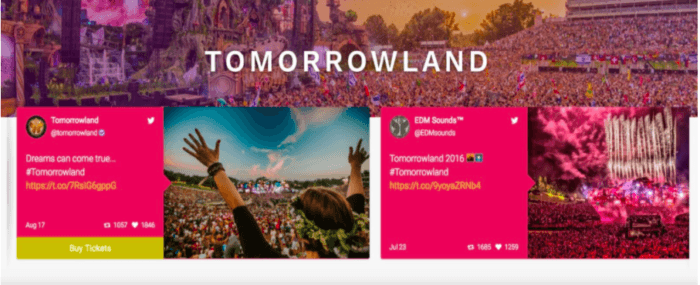 With solutions like Eventifier, you can interact with your event guests by displaying up-to-date, real posts from social media on site. Using social media walls is the best way to let people create event-related UGC and then share it with others to see the event buzz on a single screen.
Photo zone
Here's a good example of a fully recyclable photo zone that was recently installed at the AFLW Awards: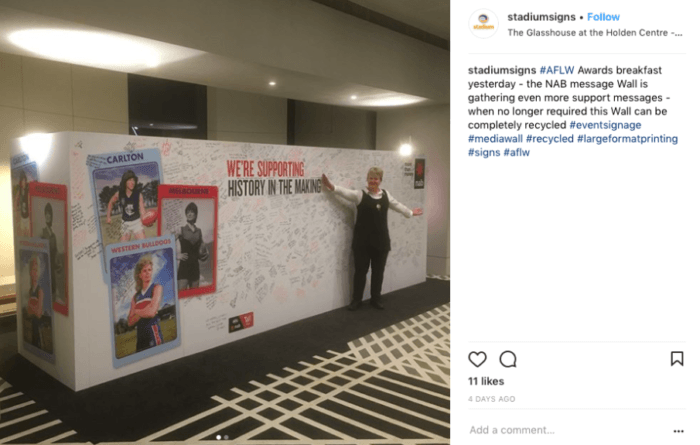 The advantage of this kind of signage is that it creates excellent promotion possibilities even after an event when hundreds of selfies and event-related hashtags plunge into social media at the end of the day. Ensure your photo zone has a clear message and visuals that reflect your event branding to make the most of follow-up UGC activities.
Outdoor displays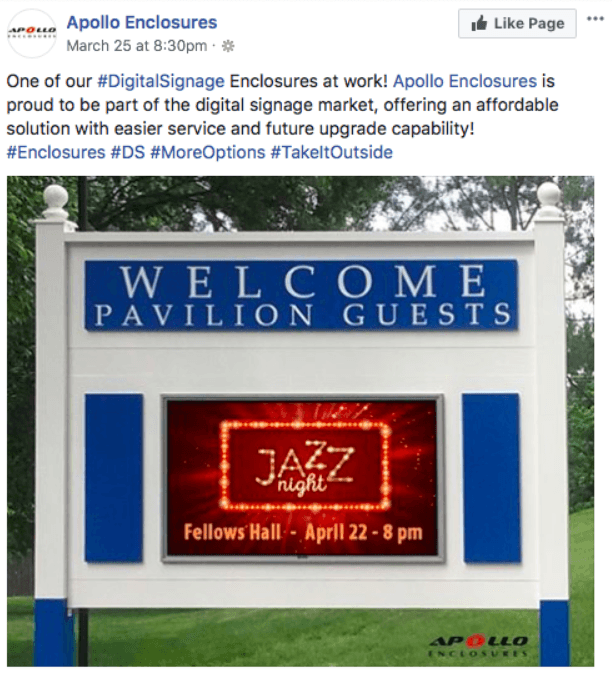 Digital signage for outdoor use can be a great instrument for giving your event guests a warm welcome, showcasing the key dates and details, or encouraging someone to attend your event. Use digital signage to maximise your chances for drawing in random visitors, just like this outdoor display for the upcoming Jazz Night event.
Barriers
In some cases, instead of destroying event barriers, you have to create them! Start entertaining your guests the moment they enter your venue. To avoid the risk of having irritated attendees waiting for their turn to check in, you can build in fun activities that will keep them entertained along the way.
Floating signage
Among outdoor event signage ideas, swimming pool signage is one of the best. If you have such an option available, make extensive use of pools, fountains, and other water features by providing floating signage. You can opt for something obvious like an event title, award, brand, organiser/sponsor name, or something else that goes with the theme or general event ethos.
Original registration booths
Making use of event registration areas ensures that signage is well seen, right from the start, in the official welcome zone. This is useful for advertising and sponsorship openings and is regularly a territory where individuals will stay nearby or possibly line up. Marked enrolment stalls give a decent chance to tradable signage. For multi-day events, you could even change the structures on different days to make the welcome extra special.
Indoor navigation signage
According to Octink, when it comes to onsite conference signage ideas, the best navigation idea is to use everything around you that you can brand, from floors to windows. If there are any stairs at your venue, leverage branded stair wraps; for outdoor events, showcase a message on the sidewalks.
Light-up tubes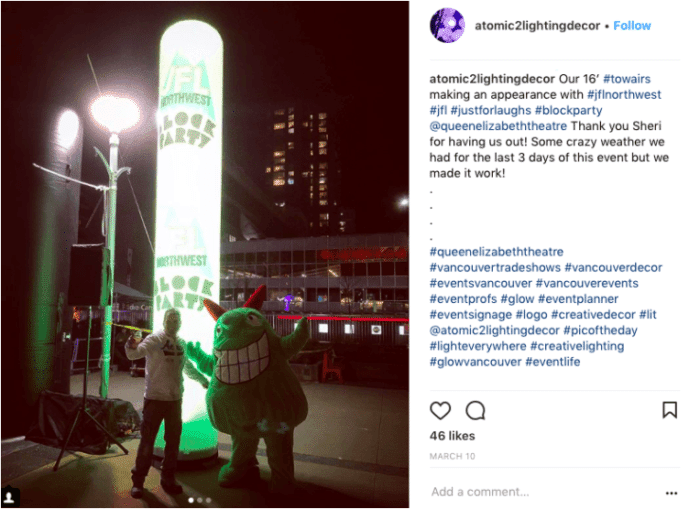 Play with lighting to showcase your event branding, facilitate navigation, or just entertain the audience. The benefit of using light-up tubes is that they are great attention grabbers and can be installed anywhere—outdoors, at the entrance, on the stage, etc.
How signage affects attendee experience at your event
If you collect the experience of those who frequently organise events and ask what deserves your attention, the answer will be signage as it prevents visitors from getting lost and also helps them keep sight of your brand. Be sure that your event will be in demand!
It's important to understand whether the audience needs the idea that you are trying to convey to them. Decide on the type of event and then make original signage to understand whether this problem is relatable to people and whether the event theme promises to help with that issue.
Conclusion
With a huge variety of creative event signage examples spanning the industry, you have many resources to help you get inspired. While employing extensive digitalisation in event design, ensure that you make good use of digital signage, like social media walls and live displays, to maximise on-site engagement.