If no one heard about your event, it never really happened. Event marketing is your lifesaver when you need to explain to the world why you haven't been getting a good night's sleep for the last few months. But it's obviously not the only reason you should fall in love with event marketing.
A strong event promotion strategy will help you drive event registrations, establish brand recognition, and build a contact base. Event marketing isn't only about a one-day show going viral. These events actually generate real revenue for businesses and build client loyalty. As statistics reveal, 87% of consumers purchase products or services of brands after attending the brand's event.
So how do you ensure your event organisation efforts aren't all for naught? The short answer is communicate. Successful event marketers start their journey by building a content strategy that covers a range of messages. Social media, blogging, email campaigns—the list of channels that can be utilised to communicate a message is endless. Since a targeted timeline and logical sequences are critical here, consider using a marketing checklist for events to keep things under control.
Why do you need an event marketing plan?
CoSchedule developed a great vision of event marketing by comparing it to the concept of an apple.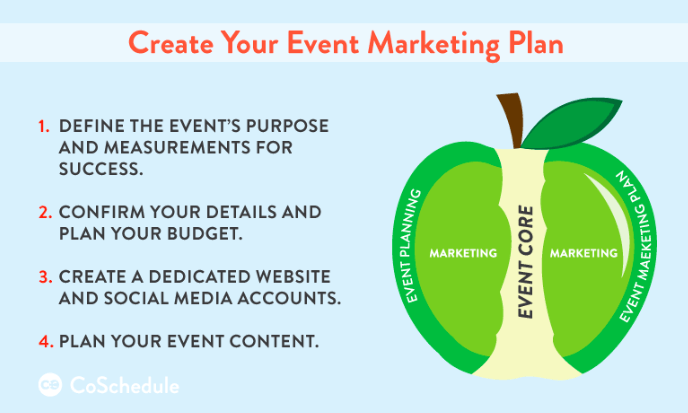 While an event itself can be presented as the core of an apple, marketing is everything that surrounds the core. Obviously, it's impossible to reach the core without eating the apple first. Thus, building an event marketing plan means paving the path for your target persona.
Make the most out of your marketing plan. Check out 11 hacks on how to boost your event marketing efforts here.
The key elements of an event marketing plan
Now it's time to understand what the apple should taste like. Depending on the activities you decide to run, there might be many options for organising your event marketing plan. However, some elements are fundamental:
Goals: Determine the whys of your event marketing activities. Is there a clear reason you're planning to send this email campaign? What do you expect to achieve by launching a social media contest? Here's what the founder of MailTarget.co, Yopie Suryadi, says about the goals of email marketing at events: "We want to understand our users, how they behave, what their interests are, and so on and so forth. For example, at the APMF event, we arrange a campaign and newsletter based on what class they took and their attendee status, so we're not giving them an irrelevant message." Targeted goals give birth to targeted action, which generates targeted results. Embed marketing goals in your plan to build your path to targeted results.
Personas: Next, deal with who. Different activities can impact different people in unexpected ways. Integrate the profile, or profiles, of your target persona into a marketing event planning checklist, and align the activities with the real audience.
Schedule: Plan the touchpoints based on the stage of event organisation and the goals you want to reach at this particular stage. A detailed timeline will help you track the progress more efficiently.
Metrics: Lastly, add the measures that will be taken at each stage so that you can evaluate your marketing performance. From the number of email registrations to video views, choose the metrics that will give you insight into each activity.
Event marketing plan checklist
If you need a simple framework to get the idea of the key event marketing planning steps, you've landed in the right place. Here's the basic event plan checklist template you can use:
Marketing objectives
Ticket selling goals
The impact of specific activities on event revenue
Sponsorship targets
Social media engagement
Post-event sales estimations
Target persona profile
Basic details like age, gender, and location
Preferred social media platforms
Possible reasons for attending an event
Learning opportunities
The best ways to connect
Marketing activities to use at each stage of an event
Pre-event:
Email campaigns: messaging, goals, scheduling, and blasting
Blog posts on relevant topics: writing and posting, according to the schedule
Pre-event Facebook advertising activities (contests, giveaways, scheduled posts, etc.)
Promotion campaigns on other social media platforms
Co-marketing initiatives with sponsors
Creation of print materials
Partnerships with influencers
At event:
Live interaction activities (live streaming on social media, real-time Q&A sessions, etc.)
Social media posting
Email campaigns: messaging, goals, scheduling, and blasting
Real-time survey management
Event app interaction: real-time posting, tracking, and answering questions
Interviewing activities
Video and photo activities
After event:
Thank you emails: messaging, goals, scheduling, and blasting
Collection and management of event visuals
Preparation and posting of wrap-up materials (social media, blogs, emails, and industry-related media platforms)
Post-event surveys: creation, management, and collection
Touchpoint mapping
Activity → Marketing channel → Number of touchpoints → Scenarios
Timeline
Activity type
Date and time
Follow-up scenarios
Implementing your own event marketing plan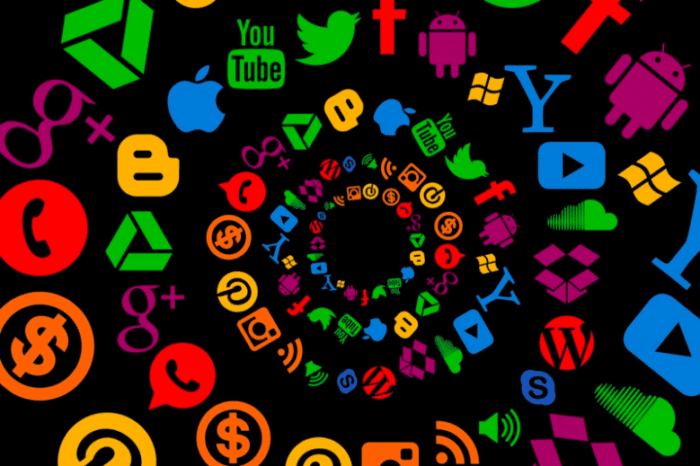 There might be many aspects you'll need to change in your particular situation. Whether you use a pre-made event marketing plan example or build your checklist from scratch, here are three recommendations:
Build separate content groups. Trigger desired actions by creating different types of content. For instance, with buzz content, you'll be reaching out to new audiences. Informative content will help you keep registrants tuned in, etc.
Invest in email segmentation. The best messages are useless if they are not personalised. Use segmentation tools to filter recipients based on jobs, age, interests, etc.
Share your plan with an event team. Even if you're the only one in charge of marketing, ensure your event team is acquainted with the plan. This way, your team members will be prepared to respond to ongoing marketing issues during an event.
Conclusion
You might have a stunning idea, but it's useless if you don't know how to sell it. An event marketing plan is a bridge that connects your event and your target audience. We hope this event marketing plan checklist will help you pave the right path on your event journey.