If you thought that corporate marketing and mouth-watering cupcakes had nothing much in common, you couldn't be more wrong. Edible marketing is a recent innovation that brings together these two seemingly unrelated disciplines in one delicious concept: it's business branding through biscuits, and corporate communications through cakes.
In the face of fierce competition, business promotional campaigns are being forced to come up with ever more creative solutions to stand out from the crowd. As consumers, we've seen it all, heard it all and got the Meerkat soft toy. What's next?
Edible marketing is multi-sensory; it appeals on a very primal level. Whether you're attending a networking event, looking for maximum customer brand engagement, a birthday cake to celebrate a certain milestone for your company or simply want to thank your customers for their loyalty, delicious baked goodies are sure to tick all the boxes and leave a lasting impression.
Here, Dakota Murphey; independent content writer who specialises in the corporate marketing sector, gives 5 particularly scrumptious branding exercises that worked a (sweet) treat.
1. Chocolate Flyers
As a bold attention grabbing way to advertise SureSlim weight loss programmes in South Africa, the company devised an edible chocolate flyers with a coupon incentive to increase take-up of their classes. The flyers were distributed via grocery stores, health food outlets and wedding fairs.
The flyer itself was a paper sized bar of chocolate, wrapped in clear plastic, with the words: 'If you're serious about losing weight, bring this delicious chocolate bar to any SureSlim branch and receive 20% off.' Upon opening the wrapper, the message on the reverse said: 'We see you've given in to temptation. Don't worry, we'll help you with that. Bring what's left of this chocolate bar and we'll give you 1% off for ever block you haven't eaten.' Genius.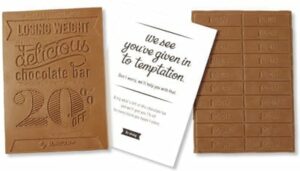 http://dcvg4glo24bax.cloudfront.net/content/FrontBack_Card.jpg
http://www.themarketingsite.com/news/41278/publicis-machines-breakthrough-sureslim-campaign
2. Business Card Biscuits
If you really want to stand out in the business world, edible business cards are a fantastic way to market yourself. Cookies or biscuits can be printed with your company details, and they come in different flavours too.
Why not present your professional credentials etched into sumptuous Belgian milk chocolate, or laser printed onto sugar coated crackers, or simply transferred onto edible paper? It's a gimmick that is sure to be remembered.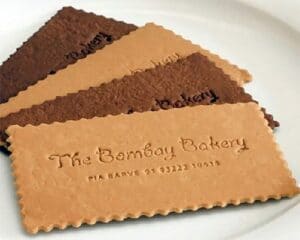 http://cleverbusinesscards.com/wp-content/uploads/2015/05/cookie.jpg
http://cleverbusinesscards.com/cookie-business-card/
3. Giant Cake Billboards
Trust good old Mr Kipling to execute an exceedingly good advertising campaign! The company used a huge billboard advert made almost entirely out of cake to spread the message that 'life is better with cake'.
Upon closer inspection, the billboard consisted of lots of individual cake squares that consumers were encouraged to help themselves to via social media.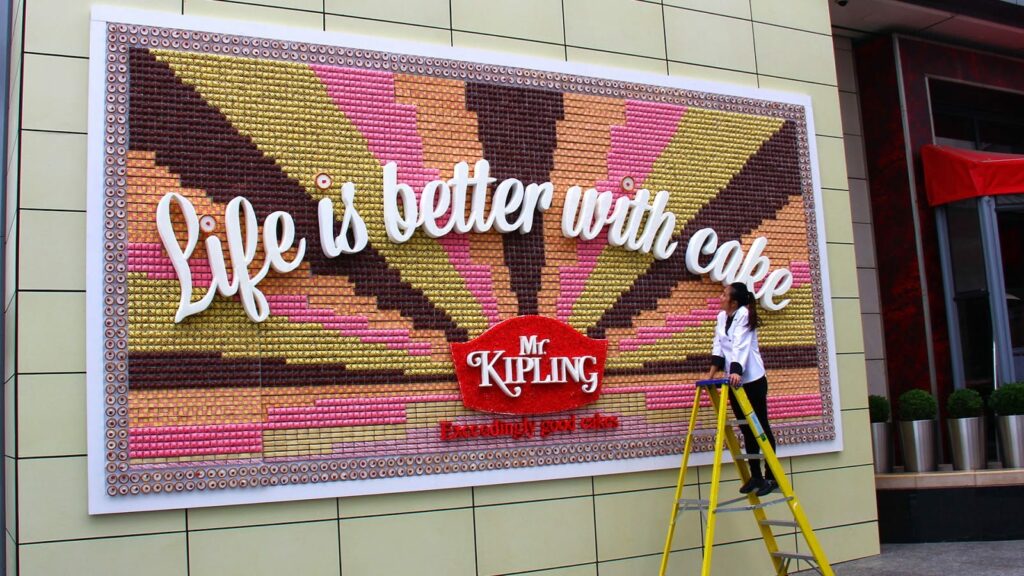 http://1.bp.blogspot.com/-HuHCS5_ST74/VAwPUcn72BI/AAAAAAAADM8/QDoaEjG4BMw/s1600/final-4.jpg
http://blog.michellesugarart.co.uk/2014/09/mr-kipling-edible-cake-billboard.html
4. Scannable Oreos
US advertising agency RedPepper used their creative genius and 441 original and golden Oreo sandwich cookies to create an edible QR code as part of an innovative social media marketing campaign. Combining internet technology with the favourite biscuit brand was hugely successful.
Edible QR codes are also a speciality of German company QKies, who will deliver them printed onto cookies – giving a new meaning to the term 'tech crunch'.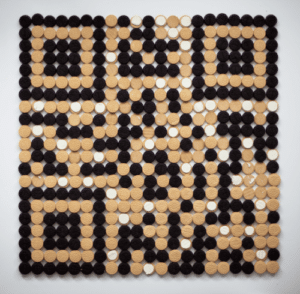 http://laughingsquid.com/wp-content/uploads/qureo.png
http://laughingsquid.com/qreo-a-scannable-qr-code-made-of-oreo-cookies/
5. Edible cups
KFC Seattle's Best Coffee range was introduced to the UK using a takeaway cup made out of edible material. With the help of food scientists The Robin Collective, inventors of the 'scoffee', the cup was made out of biscuit with an outer layer of sugar printed to resemble a real takeaway cup, with a white chocolate coating on the inside.
For good measure, the cups were infused with the scents of summer, with aromas including freshly mown grass, coconut sun cream and wild flowers. Delicious!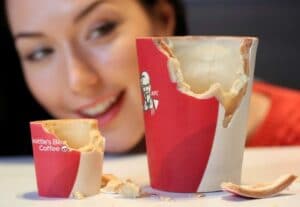 https://cdn.psfk.com/wp-content/uploads/2015/02/scoffe-cup.jpg
http://www.psfk.com/2015/02/kfc-scoffee-cups-edible-coffee-cups.html
Get started to launch your tempting event promotion strategy for free.
This article was written by Dakota Murphey, (BA Hons) marketing graduate and independent content writer.