The power of social media networks is huge, and the online community continues to grow rapidly. According to Statista recent research, the number of social media users is expected to reach about 3 billion by 2020. Pretty impressive, isn't it?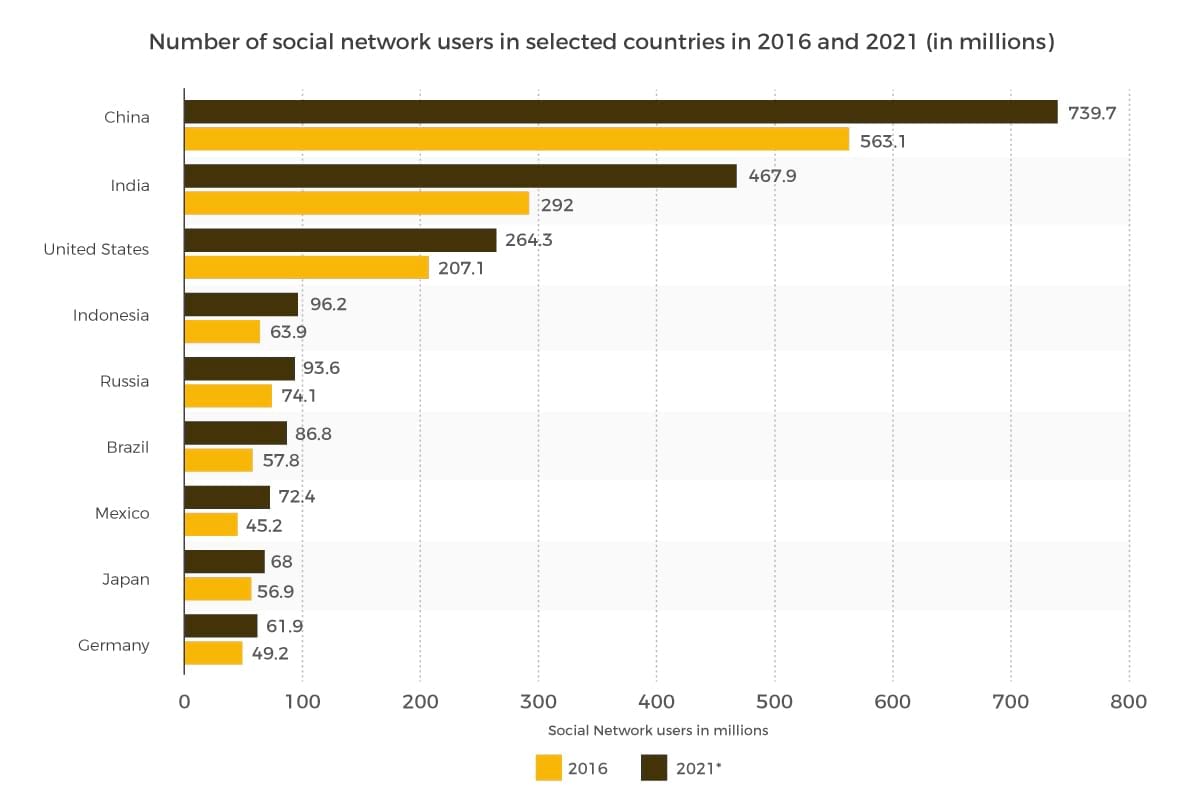 Real life has not only shifted online. It's moved to social media. People make new friends, read news, look for events and even fall in love, all in social media. Moreover, events in social media almost replaced all other sources where people get their information about upcoming events.
So, let's figure out how we can use ads in social media for the events to drive ticket sales.
Type of social media where you can advertise
1. Facebook
If you're going to hold an event and want to reach a large audience for a cost-effective price, Facebook event advertising is a must. Facebook is considered to be the market-leading platform with more than 1.71 billion monthly active users. Facebook events are ubiquitous. Facebook users can see what events are held near them and events their friends are going to. Thanks to Facebook events become social like never before.
There are several options how you can promote your event and drive tickets sales via Facebook:
Create and advertise an event on Facebook
Facebook lets you create a separate page for your event, where you can see how many people are going to attend your event and how many of them are interested in it. Here you can add a full event description, images, maps and any additional information including video and comments from users.
Facebook ads for event promotion
Facebook provides a wide range of tools to promote your event. Through ads on Facebook, you can target a specific audience, set its demography, interests, the level of education and income. There are several formats of ads on Facebook how you can promote your event. We will talk about them further in this article.
2. Twitter
Being limited to 140 characters for each post, Twitter nevertheless can be an excellent promotional tool for your event. It has large audience coverage all around the world, and it's most popular among US users. It's a good idea to use Twitter event advertising if you want to create buzz around your event and then receive a lot of event mentions. Also, the search engines index messages from Twitter, that's good news for you. You can add the call-to-action in your tweets and sale early-bird tickets for your followers.
3. LinkedIn
LinkedIn event advertising is an effective way to reach the relevant audience from specific industries and drive registration to the event.
LinkedIn is the world's largest professional network with more than 400 million members. This platform gives you the possibility to reach your audience by age, job title, seniority, and location. You can promote your business events in a status update and longer articles on the company's official account or create events page on LinkedIn. On your LinkedIn Events Page, you can share your event and promote it on LinkedIn as well.
How to choose best ads format for your event
Each platform offers a variety of ad formats. Recent research in the field proved, a video is the most popular type of content among social media users. The views of video are constantly growing, in 2016 they reached 70% of overall traffic.
Let's overview the ad formats in each social media network.
The best Facebook ads formats for the events
1. Event ad
You can advertise the page with your Facebook event.
This type of ad allows you to place the call-to-action button in the lower right corner. This button helps increase the conversion rate and tell people what you want them to do when they see your ad. Your event ad can have two variants of call-to-action depending on the selected objectives.  If you want your ad to drive event responses, the CTA on your ad will be "Interested." If you create an ad to drive ticket sales, its CTA will say "Get Tickets." These CTAs are crucial, and they help drive a targeted audience to buy tickets and attend your event. Your ad will look different depending on user's device.

2. Boosted posts
You can promote a certain post. This post can contain links to an event landing page, video or image. Boosted posts appear in the News Feed and on Instagram, and are labeled Sponsored.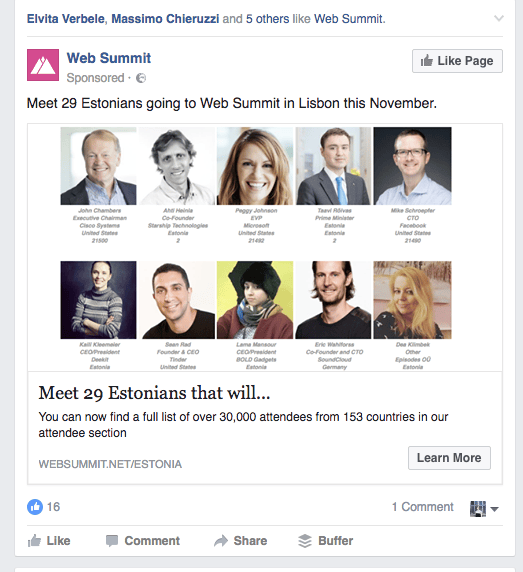 3. Video Ad
The video ads appear fairly large in the user's news feed and are more engaging than static posts. According to TechCrunch, there are about 8 billion videos watched on Facebook every day. Please note, the shorter your video the more completed views you get.
The best Twitter ad formats for events
Twitter proposals are similar to the Facebook ads formats.
1. Tweet promotion
To raise awareness of your event on Twitter, you can promote your tweets (plain text or text with an image). Note, tweets with an appealing image increase your event visibility and as a result its engagement rate. Tweets with the image can get 150 % more retweets.
2. Promoted video views
If you want to get more people to watch your videos, you should advertise them. Your videos will auto-play on a scroll, reaching the targeted audience. It may be a short video about the upcoming event or even a personal invitation from the event's host.
The best LinkedIn ad formats for the events
LinkedIn offers unusual for other social media formats of ads.
1. Sponsored InMail
This format allows you to send personalized messages to the people who are the desirable guests at your event. You can boost event registrations sending personalized invites to your audience through LinkedIn messenger.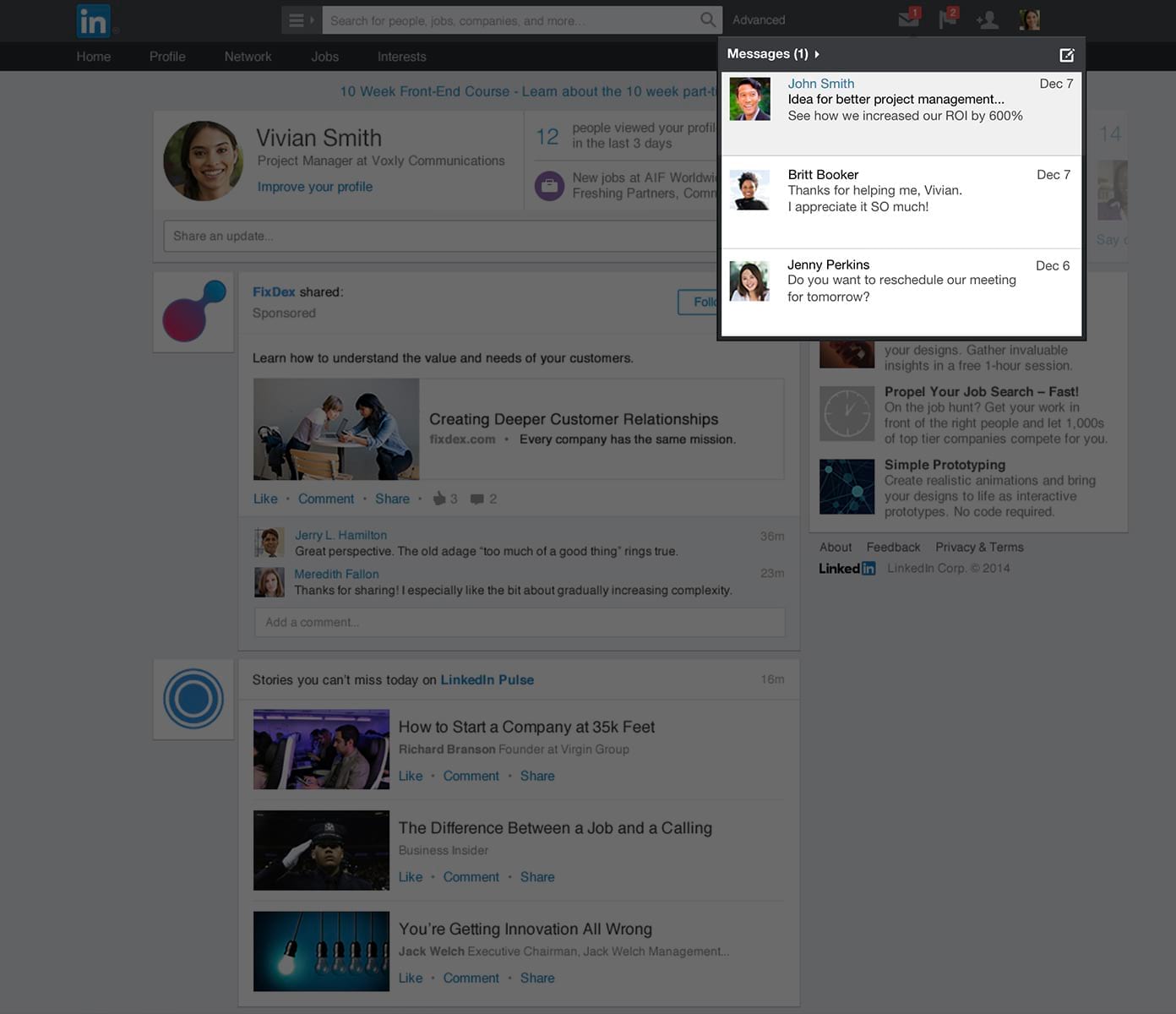 2.Text Ads
This simple format will tell about your event to the professional audience you want to reach. Text ads can redirect the users to your landing page where they can buy tickets or join the event.

3. Sponsored Content
It's native advertising. Your ad appears directly in the LinkedIn feeds of professionals you want to reach. You can use different types of content (appealing images and videos or even links to articles about your event) to engage more people.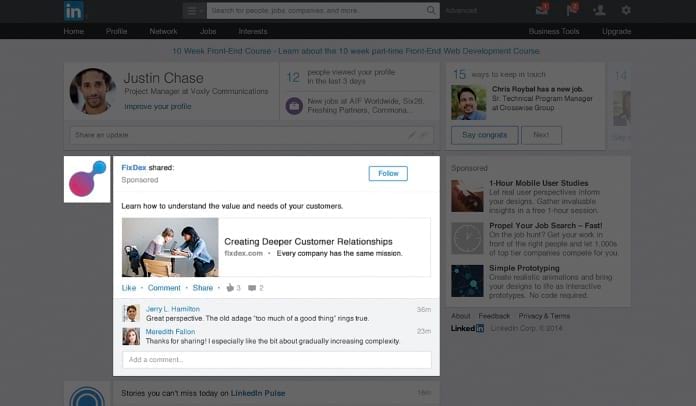 How to create ads for event advertising
To create an ad for an event you should go through a few basic steps which are almost the same for all these social networks:
set up a new ad campaign by selecting the audience
set the budget
choose the ad format
Choosing the right target audience is one of the most crucial components for successful advertising in social media.
Facebook
It's easy to create event ads that drive responses or ticket sales, just follow the steps described here
Note, your event can have two variants of call-to-action depending on the selected objectives. If you want your ad to drive event responses, the call to action on your finished ad will be "Interested." If you create an ad to drive ticket sales, the call to action on your ad will say "Get Tickets."
Facebook allows choosing the interests, level of education, job title and many more specific filters to target the audience. Also, you can choose the type of connection with your audience and show ads to your contacts, website visitors or app users.
When the users join your event, it will automatically be added to their calendar on Facebook.
Follow these simple bits of advice to create ads that work:
Use active verbs and clear call-to-actions in your copy
Use bright eye catching colors in your image
Use images based on the target audience's needs
Use video from past events
Experiment with ads budget (bigger budget allows to cover larger audience)
Twitter
Twitter provides very cool and extended features to target relevant audiences. Besides traditional demographic targets, you can use additional audience features. Such as:
You can target users who tweet with words you enter.
This feature allows targeting of users with interests similar to followers you enter in this field.
It helps increase potential reach. You can target users interested in any of the categories you enter in this field.
This cool feature has no other equal in social media. It gives you access to people interested in global or regional events. For example, if the user is interested in IT conferences (not yours), you can reach him/her as well with your event promotion.
For example, you can reach the users who have ever visited your website.
The pieces of advice to create engaging ads on Twitter:
Create a unique event hashtag
Share visual content
Answer questions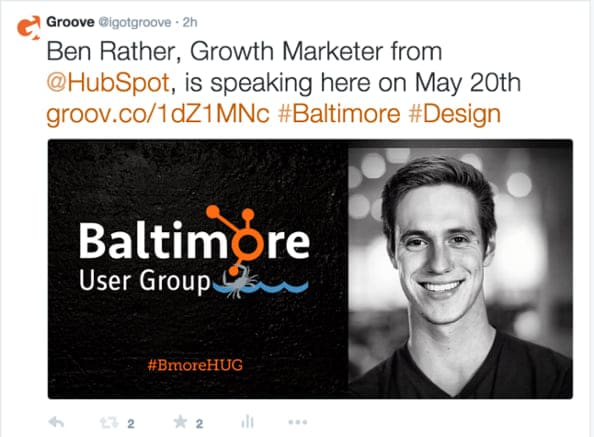 The main rule is to create a unique and memorable hashtag for your event and make your message as snappy and catchy as possible. The hashtag is the sharing power for your event. It's better if it has the same name as your event. Users can find your latest messages by hashtag and share their questions and comments concerning your event.
See full Twitter Ads guide here.
LinkedIn
The creation of LinkedIn ads for events is quite similar to other social networks. To launch your ad you need to have a company profile or create a separate page dedicated to your event. Then go to "Business services" and choose "Advertise." In LinkedIn Ad Manager you can create an Ad Campaign by choosing the format of your ad and other settings concerning its audience and budget.
How to track ad results
You can track all the ad results through campaign dashboard, where ad owners can see impressions, results (depending on the goals of campaigns), engagement rate and cost per result.
The most common performance indicators of your ads:
Impressions show a number of views of the targeted publication by users.
Results depend on the action that was established as the primary indicator for the campaign.
The engagement rate counts the number of impressions divided by the number of results.
The average cost for every chosen action (e.g. click) taken from the ads shows the cost per result.
Conclusion
Social media of all kinds became the lovechild of the Internet. A social media presence is a vital and undeniable thing for any business. Events always were a part of social life, but today they have become as socialized as never before. People are looking for events in social media and are jubilant to tell their friends that they're going to visit some special event.
Social networks give a wide range of opportunities and tools to let you talk about your event to as many people as it is possible.
At the same time, it's not rocket science to use ads in social media for the event. Don't be afraid and use our comprehensive guide to launch your ads and drive ticket sales via social media.
The event's hosts, who know how to use the power of event social media advertising, will hit the jackpot! Sharpen your ticketing strategy with several simple modules from GEVME Registration.