Working in a corporate world is not only about communicating with clients and business partners over the telephone or the internet. A significant chunk of regular corporate life is taken by meetings and business events. According to some estimates, middle-rank managers spend over a third of their time at work holding or attending meetings, and for executives, this figure can approach 50%! 
What image comes to your mind when you hear the words "business meeting"? Huge odds are that you will picture a gang of bored and consequently tired people trapped in a packed room having to listen to tedious edifications for hours. However, this appalling vision only pinpoints the inadequacy of the management. In fact, meetings can turn into a mighty tool of communication that will help to find a solution to problems, generate ideas, and boost the team spirit. One of the crucial things that can revolutionize meetings, turning them into a powerhouse of efficiency, is the meeting room layout.
The Importance of Choosing the Right Meeting Room Layout
Those who happen to frequent business meetings admit that they sense an unseen barrier between the speaker and the audience. Plus, there exists a psychological barrier between the attendees barely familiar with each other. Effective meeting room setup styles are able to overcome both barriers, make the attendees comfortable, promote communication, and encourage creativity, which will eventually enhance the meeting's efficiency. 
Meeting Room Layout Considerations
Before choosing one of the meeting room layouts styles it is necessary to consider the following important issues:
The expected number of attendees. Your ultimate goal is to find a seat for everyone, and with some setups, that may be a problem. Picking the wrong one may result in a too cramped area with seats far from the speaker and without wheelchair access. In case you anticipate some walk-ups to the event you will want a possibility to find additional chairs and space to place them to accommodate last-minute arrivals.

The space is available. The dimensions of the premises will also rule out some options from the

checklist for meeting room setup

. It is preferable to verify the numbers yourself and not blindly rely on those given by venues since they tend to exaggerate their virtues. 

Objectives of the event. You are to realize what the attendees will be doing. The activities may include just listening to the speaker or subsequent interacting within small groups. People may stay in their seats all the time or move around a lot, engaged in team-building activities. The event plan will substantially narrow down the choice of the layout.

Necessities. These include

furniture

, décor, and food. Will the latter be served, and if so, will the people sit down to eat or it is going to be a buffet-style lunch? How much furniture and of what type is available and can additional chairs and tables be obtained? Is the room light enough to enable networking or will the speaker's presentation require a darker hall? Answers to these questions will help you to opt for

different types of meeting room layouts

.

Safety. It is vital that the premises could be vacated on short notice in case of an emergency. So when planning the layout you must make sure it will keep free access to exit routes, refuge locations, and emergency assembly points.
Layout Bad Calls
Before figuring out what are good meeting room layouts it is important to realize the typical mistakes event planners and designers make:
Unfitting screen size. It should be big enough for those in the back of the room to be able to read the text without craning their necks. 

Inadequate space. If it is too small or too big for the headcount, it makes the attendees feel annoyed in the former case or intimidated in the latter. 

Excessive lighting. Lightning that is too harsh can be inconvenient for the people. Instead, you should consider installing a variety of light sources and let the visitors control the level of light through dimmer switches.

Inconvenient furniture. Opt for adjustable furniture to cater to people with different height and back health. 

Forgetting the fun or having too much of it. By making the meeting hall too stoic or too creative you will either bore the attendees to death or distract them from the event. Try to enliven the place without crossing the design sobriety limits. 
Meeting Room Layouts Styles
The most popular meeting room setup ideas include:
Theatre/Auditorium style.
In this classic setup, chairs are arranged in rows typically with an aisle in the middle. It is good for conferences, presentations, and lectures that last up to two hours since it allows to accommodate a large number of attendees with their maximum focus on the speaker or the screen in front of them. However, this layout permits minimal interaction between participants who, moreover, will have to push past other people to get to their seats. 
U-shape style.
The tables are placed end to end with one opening so that the shape of them reminds a horseshoe. This layout is excellent if you need to combine a presentation with group discussions like it happens at workshops and debates. The downside to it is that some participants will have to view the speaker from a sideways position, which may make them uncomfortable over time.
Banquet style.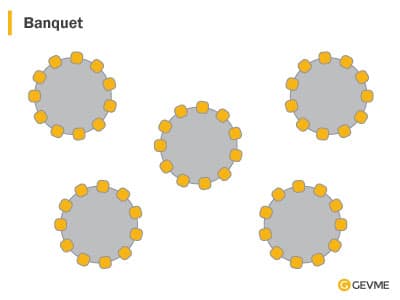 People are seated facing each other at round tables, which utilizes the space usage to the maximum and enhances networking within small groups. Such a setup is normally used for team-building activities, sit-down dinners, and award nights. However, since interaction with people at other tables is impeded, attendees tend to silo. 
Reception style.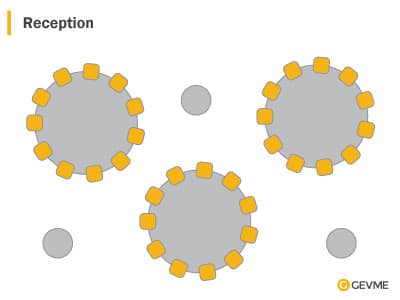 It is very similar to the previous layout but here several cocktail tables are scattered all around the room among the group tables. Cocktail tables that don't require any chairs are an excellent invitation to mingling and networking. That is why this setup with its opportunities for breakout chats is recommended for dynamic trainings with cooperative and team-building activities. 
Cabaret-style.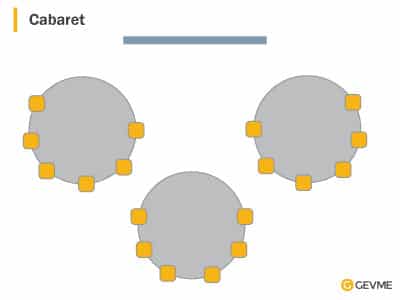 It is similar to the previous layout, for people are seated around the tables. However, as there is a stage in the room, the circle isn't complete and some space is left in front to let people see the speaker. Excellent for presentations combined with meals, this setup, however, is not as compact as the banquet style, so you will waste about 60% of table space.
Conference/Boardroom style.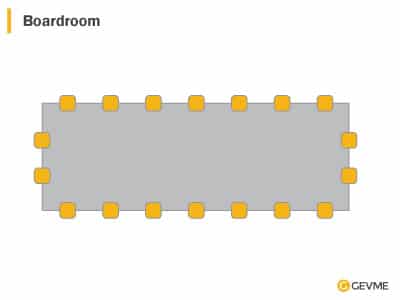 It typically contains a large rectangular table that can be manned by a couple of dozens of participants who can place laptops and other necessary equipment on it. This style encourages face-to-face interaction and can be used for committee meetings, team briefings, and brainstorming. Yet it is reserved for a limited number of attendees and the gadgets on the table may distract them from the speaker.
Classroom style.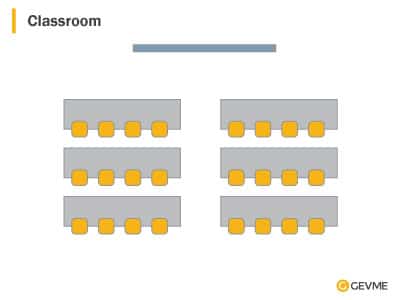 Tables with chairs are arranged in parallel rows facing the front, which enables people to take notes, use computers, and have meals. It is good for training sessions and lectures where the primary contact is between the speaker and the audience. Yet the interaction between the attendees is quite limited.
Herringbone style.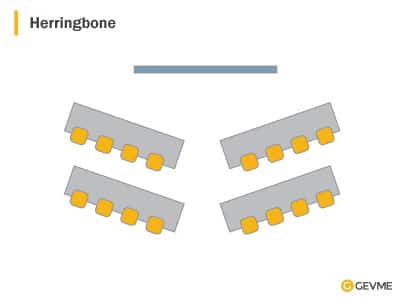 Also known as V-shape or chevron style, it is close kin to the classroom setup, but here tables and chairs are angled to allow a better view of the stage as well as a closer engagement of the participants with each other. Allowing for small group exercises, it is best for workshops, interactive meetings, and product launches.
Fishbowl style.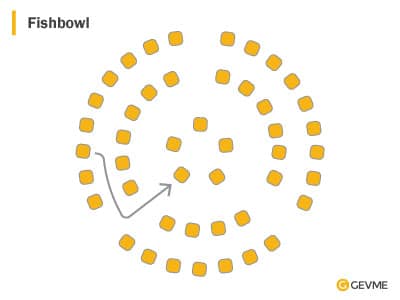 This arrangement typically excludes tables so it is best for discussion-type events. Several chairs stand in an inner circle while the rest are placed in concentric circles around them. The discussion is started by the people in the inner circle where one of the central seats may be left vacant for anyone from the outer circle to join in at will. Suitable for forums and large group meetings, this layout can, however, become a problem for diffident attendees who will be reluctant or afraid to participate. A good alternative for them may be placing chairs in one wide circle (open space), often used for team building and networking.
Layout Tips
Whatever layout from the offered meeting room setup diagrams you will choose, you may apply some simple ideas to display your creativity. You can use lighting and colors to separate areas with conspicuous hues, attracting attention to focal locations. Another way of visually dividing spaces can be achieved through a variety of table heights with tall tables sitting near the bar and short ones in the lounge area. And what can make your layout really unique is arranging tables in the shape of your company logo. One of the possible ways to have a perfect setup is to employ meeting room layout software. Professional templates provided by mobile apps can be customized to your needs and let you create a fitting layout project for your event. 
How to Get Your Room Design Properly Implemented?
Having a proper meeting room layout for your event is quite challenging. It starts with choosing a venue and discussing your priorities with them. Then you are to select a layout design suitable for the meeting objectives. And finally, you must flesh out your plans without leaving any minute detail outside the focus of your attention. Sounds daunting, doesn't it? Well, you have an alternative. By using GEVME Seating Plan App,  you will secure an integrated approach to event management with the complete event lifecycle process being managed by an efficient team of dedicated professionals. 
How to find the right meeting layout?
Business meetings make up a significant part of the working experience. But it is not only the content of the meeting that ultimately determines its success. An adequate meeting room setup can promote interaction between the speaker and the audience and enhance attendee engagement, thus drastically improving the efficiency of the event.