Despite what sceptics may believe, impressive lighting design is an important part of your corporate event atmosphere. The common mistake many event professionals make is viewing lighting as simply an embellishment that doesn't play an important role in the event's performance. The truth is, creative lighting solutions for events can be the perfect tools for guiding your audience's attention, presenting information, and transforming the venue space. We've compiled a list of the top five lighting companies for corporate events that can do all of that and much more.
Why do you need high-quality lighting services at your event?
With modern tech-driven solutions like 3D effects and VR environments, event professionals have everything they need to wow the audience with their lighting design. But this is not limited to a wow effect only. Here are the key benefits of using high-quality lighting at your corporate events:
Put a spotlight on the presenter. Through the management of stage lights, you can direct the attention of your audience to the current speaker.
Project a corporate logo on venue walls. Use gobos to strengthen your marketing efforts. This is the best way to raise awareness about a company or to advertise your sponsor's signage in a creative way.
Showcase products through projection mapping. Through moving graphics and animation, you can bring massive objects to life at the event. This is a great solution for exhibitors.
Create a light show. If you don't know how to entertain your audience, lighting can come to the rescue.
Mix sound and light. By aligning special sound effects with lights, you can get the effect of an interactive venue space.
Types of lighting you can use at a corporate event
Before choosing any specific equipment for your corporate event, create a detailed lighting plan, and think about the atmosphere that you want to foster through lighting effects. Explore every corner of the venue, and clarify any questions about equipment in advance. Next, sit down with your client and create a lighting vision for the corporate event together. The lighting formats you can employ are the following:
Uplighting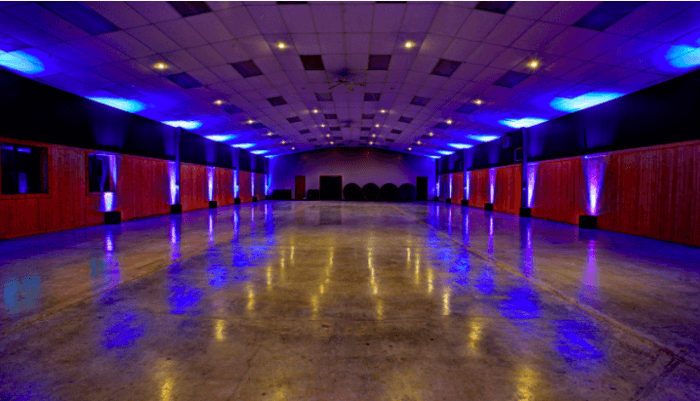 Whether it's an indoor conference or outdoor party, ground-based uplighters can be used at both. Empty venue spaces like galleries or ballrooms can benefit from uplighting in terms of creating a dramatic atmosphere and adding some warmth. Based on your preferences, you can either choose single-colour uplights or LED uplights that will allow you to play with color.
Types of corporate events where you can use uplighting:
Holiday celebrations
Incentive trips
Appreciation events
Conferences
Gobos
This one is the top pick for corporate event planners organising on-brand meetings like product launches or opening ceremonies. Through the use of moving gobos, you can beam corporate logos or any signage into the space. Using gobos gives you a great deal of flexibility since they can project onto any surface and can incorporate very detailed imagery.
Types of corporate events where you can use gobos:
Trade fairs
Product launches
Conferences
Appreciation events
Pinspotting
Pinspotting is the lighting technique that is most often used to highlight small details through narrow beams of light. From a table with giveaways to flower arrangements, you can put an emphasis on anything.
Types of corporate events where you can use pinspotting:
Holiday celebrations
Appreciation events
Conferences
Charity galas
How to choose lighting equipment for a corporate event
Striving to make the best impression on your audience through lighting techniques is a go-to strategy for a success-oriented event professional. However, what many event planners might be unsure about is how to pick equipment that will be the right match. Here are a few simple tips on how to achieve ideal lighting effects at your corporate party:
Relevance goes first. Imagine you attend a product launch event. Your goal is to understand more about the new solution that might be useful for your business. Suddenly, the only thing you can concentrate on is the colourful beams of light on your face. When choosing your equipment, don't forget that lighting should support the mission of an event, not overrule it.
Cherish connections. If you've partnered with reliable event agencies before, you could get some valuable recommendations from them. A consultation with experienced event lighting designers is always a good idea at the equipment selection stage of event planning.
Consider an age factor. It's very likely that 70-year-old guests won't be happy with bright FX lights. For millennials, you can keep them wired through the use of 3D projection mapping. Always think about the age category your event is catering to.
Ensure it doesn't get out of control. Once you have the equipment, set up a good control mechanism. Whether the natural light is changing or attendees are getting distracted by bright hobo beams, there should be a good way to customise illumination in real time.
The top three lighting providers for corporate events in Southeast Asia
The evolution of lighting technologies embraces many global trends. This requires maximum flexibility from the modern lighting services used for corporate events. We've picked the top three event lighting providers across the Asia Pacific that can provide you with the most up-to-date expertise:
With 35 years of experience delivered by the best event lighting designers in the industry, Staging Connections has grown into the largest provider of lighting services across the Asia Pacific. The provider operates in more than 100 locations across the world, which makes the expertise of the company truly international.
Solutions: stage washes, gobos, festoon, LED, pinspotting, projection mapping, outdoor lighting, uplighting, profile lighting, and more.
Originating in Hong Kong in 1990, Creative Lighting Asia (CLA) is another industry leader offering advanced lighting products as well as technical and engineering support. From mock-up design to installation and testing, CLA takes charge of the entire journey. Deep technical expertise and unique programming solutions are definitely its biggest advantages.
Aligning local experience with the world's best event organisation practices, Encore is an innovative agency that powers events on multiple levels. Audio-visual services are just one of them. 3D mapping, custom projection screens, and progressive LED solutions are also managed by Encore's team of lighting designers and technicians daily.
Conclusion
An efficient lighting design for events is much more than just a wow factor. With the strategic use of illumination, advanced light and sound techniques, and a strong mechanism of control, you can complement your goals for your corporate meeting.