Promotional tools for event marketing are powerful assistance for your event marketing. They help to save time and efforts during the event promotion. You are welcome to look them through and pick the most effective apps for your marketing needs from our top 12 marketing tools list.
Reasons to use event marketing tools
Nowadays, marketing specialists need to learn about new tools, develop new skills, and adapt to a fast-changing environment.
The modern marketer should know how to:
build the website
write the copy
create the eye-catchy design following the brand guidelines
run and analyse the paid campaigns
organise events
plan the budget
run PR campaigns
understand both offline and online channels. etc
David Ly Khim, a growth marketer from HubSpot, wrote in his article "T-shaped marketer" about the skills modern marketer are expected to have:
We bet if you are the event marketer who works under time pressure with multitasking, these top 12 online event marketing tools will help you to power up the online event marketing. Set up event marketing automation, run social media promotion, create designs asap without  any design assistance, and more with the help of the top event marketing tools.
Top 12 best event marketing tools for 2019
There are a lot of interesting examples of marketing tools for an event that come in handy while preparing for events. Here is another top-quality tool list that features the recent best event marketing tools for 2019.
1. Hubspot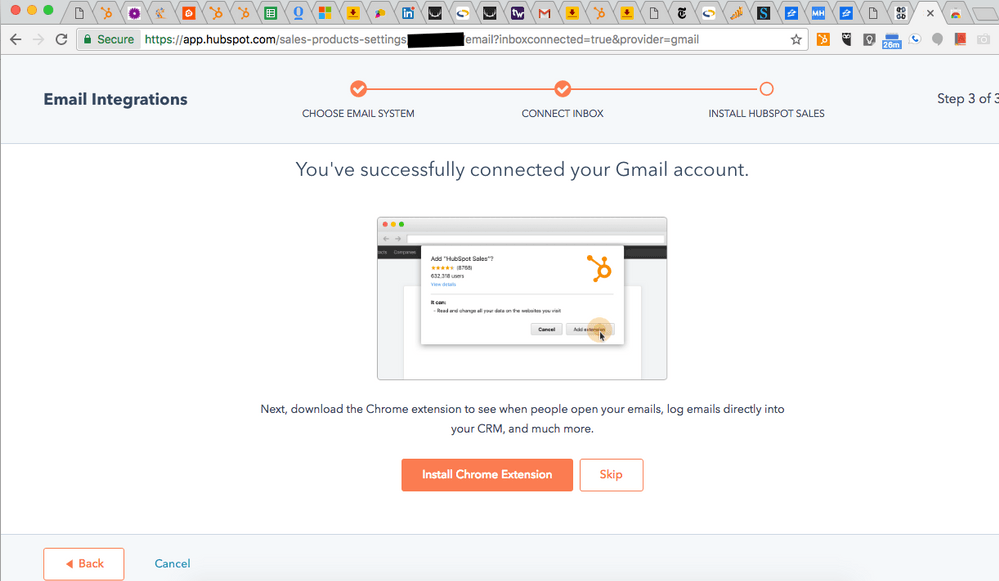 About: Hubspot is a marketing automation tool with an easy-to-use CRM system that eliminates much of the manual work and helps your sales team to sell.
Features:
Calendar/reminder system
Document storage
Email marketing
Lead scoring
Marketing automation integration
Segmentation
Task management
Pros: Free version available and Online business hours with 24/7 (live rep) support
Cons: No social media integration
2. GEVME Website Builder

About: This is a cloud-based solution for your event marketing and management needs.
Features:
Event  website template samples
Variety of presentation layouts
Advanced speakers listing feature
Agenda listing integration
GEVME Website Builder's Media Gallery
User-oriented CMS
GEVME Website Builder CDN
Registration form & SEO integration
Integration safety
Pros and cons: Free demo is available and online support.
Cons: Contact us to get a free Demo.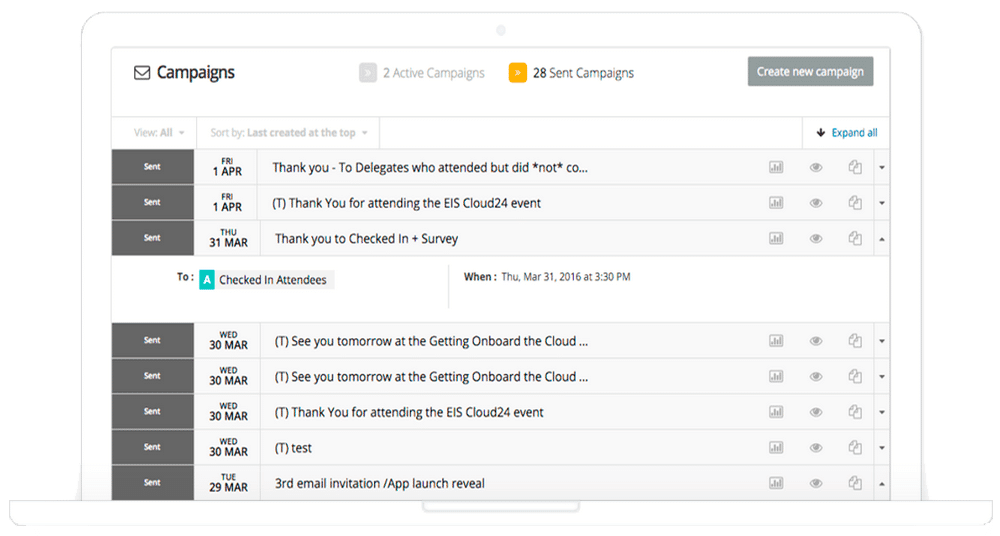 About: A marketing tool from GEVME that organises Email campaigns, is well integrated with other GEVME apps and available both like a separate marketing tool and like a part of the all-in-one platform GEVME.
Features:
Email template gallery
Custom email design
Advanced SMART Campaigns
The large volume of emails in one campaign (100,000+ emails)
Personalised follow up
Integration with other GEVME Apps
Live online support
Pros: Free Demo is available.  Contact us to get a free Demo. GEVME makes event management and marketing easy.
About: GEVME's survey app. Engage and follow up your potential or current attendees, collect meaningful insights about your attendees to run smart promo campaigns.
Features:
Surveys & feedback
Integration with other GEVME Apps
Live online support
Pros: Free demo is available.
Cons:  Contact us to get a free Demo.
5. Judgify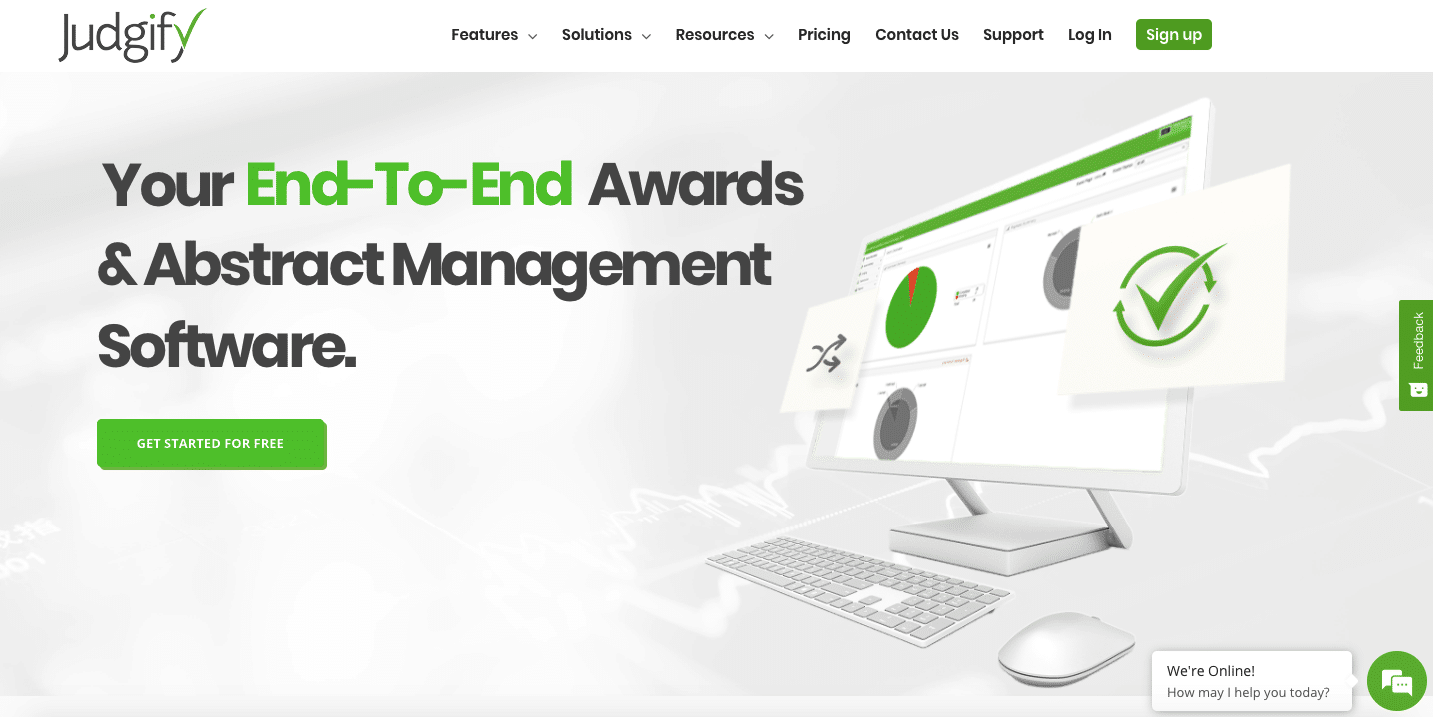 About: This is an online event management platform with a judging module that collects submissions and manages online judging for multiple types of awards events: conferences, trade shows, corporate and educational events, contests, academic conferences, and more. Run awards, contests to engage your attendees and create buzz around your event at the Pre-event stage.
Features:
Awards and contest planning
Online judging and scoring
Public voting through social media accounts
Enterprise features
Pros: Judgify will allow maximum involvement of visitors. This is an all-in-one solution for your awards which offers a free Basic plan for free awards.
6. Rainfocus
About: Another platform that provides software solutions to understand event data, enhance sales, and help event marketers with their marketing reach.
Features:
Global customer engagement
Global sponsor management
Content management, etc.
Pros: Allows marketing teams to operate by intelligence rather than instinct; request demo is allowed.
7. BrightTALK
About: BrightTALK makes various experiences online much easier with the help of unlimited webinars and other videos, including events via modern HTML5 players.
Features:
Social media promotion
Customisable branding
Live chat
Multiple hosts
On-demand webinars
Polls/voting
Q & A
Pros: Free demo allowed, training, documents, webinars, live online 24/7 support
Cons: Starting price is $350.00/month
8. Walls.io
About: An easy-to-use social media wall tool that allows collecting and displaying various content from multiple social media platforms on the digital screen at your event.
Features:
Keyword filtering
Multi-account management
Post-event scheduling
Analytics
Automated publishing
Contact management
Content management
Pros: Starting price is $100.00/one-time. Free trial available. The easy-to-use social wall that allows you to collect, curate, and display content from multiple social media platforms; allows you to embed your social feed on your website or display it on a screen at events, hotels, restaurants, shops, offices, etc.
9. Buffer
About: An intuitive, streamlined social media management platform for social media content publishing
Features:
Multi-account management
Post-event scheduling
Content management
Analytics
Automated publishing
Pros: Free trial and free version are available. Starting price is $15.00/month. Online support is available.
10. Canva
About: Canva allows you to design presentations and social media graphics faster without special skills by using a graphic design tool with drag-and-drop functionality and professional layouts.
Features:
Read- to-use design templates
Graphic design editor
Most popular image formats and resizes
Presentation features  
Organisational chart features  
Pros: Templates that are ready-made, great looking, and easy to edit.
Cons: The starting price is not provided by the vendor.
11. Certain
About: Certain is a tool that helps advertisers and events experts coordinate their event sales and transform them into great showcases of deals, sales, and marketing results.
Features: Certain has a few features which event marketers can value while running event promotion:
Attendee Management
Ticketing
Badge Management
Vendor management
Sponsorship management
Surveys & feedback
Room block management
Pros and Cons: Certain supports marketers with the technology they need to unlock customer insights. Online business hours with 24/7 (live rep) support.
12. Attend
About: This tool is designed for  event coordinators, sales representatives to manage the event attendance, but it also can be helpful for event marketers  to promote events and drive more traffic.
Features:
Attendee Management
Badge management
Customizable Registration & Invitations
Access to real-time registration data
Social media promotion
Pros: Free version, free demo, Cloud, SaaS, web versions, training, Live Online 24/7 (Live Rep) support.
Cons: Starting price is $200.00/month.
What to look for
There are plenty of instruments that can help the event advertisers work more effectively. In any case, there are a few attributes you should search for in a marketing tool based on your marketing needs:
Functionality
The product should empower the event executive from start to finish yet be sufficiently adaptable to work in the same manner you do.
Integration
Your tools used in event marketing must be associated with other key frameworks in order to limit the copying of information and reduce manual procedures, thus decreasing the human factor. These include announcing, funding, CRM, and sales computerisation applications.
Adaptability
It is especially important for midsize enterprises and bigger ventures for the product to be able to scale effectively, which will help the size and recurrence of the events your group overseaes.
Client support
"Expect the unexpected" is an event marketing motto. It is a cliché designed for event directors. Flights get dropped, shipments get lost, and reservations get stirred up. These things happen! Indeed, even the best programming is priceless without a devoted, responsive help group backing it (and you) up.
Mobility
Versatile usefulness, including mobile devices, allows events to be remote. Your executive event programming should bolster your requirements wherever you and your participants are on any gadget, even miles away. Clearly, the functions of event marketing tools shouldn't be limited to web versions.
Tips to improve your event marketing
To set up your marketing tools to promote an event successfully, follow these eight tips:
Choose tools with e-mail & content marketing options
Pick tools with social media options
Use free open and available tools
Read event planner blogs
Pay attention to design and website builder options
Use analytical frameworks
Use events to track user experience
Use the right marketing tools for event planners for each particular task.
A carefully thought-out marketing strategy is very important because when solving specific goals, you need an appropriate action plan and specific tools.
How to choose the right tool
Promotion of an event and brand on the Internet, in social networks, etc., via the top event marketing tools requires clear goal setting. Based on the final goal, you can develop an entire advertising platform and a campaign; therefore, you should clearly understand what you want to achieve through a specifically chosen event marketing tool.
After you choose it, ask yourself these questions: How does my event marketing tool cover my needs? Does it bolster my general advertising system and procedures? Does it help me to achieve the event goals?
Conclusion
Corporations and other enterprises can successfully introduce themselves via their events and find new customers, intermediaries, partners, etc. Also, thanks to a competent marketing tool, they improve their existing brand image and reputation, increase recognition, and so much more. It is important to be familiar with the best event marketing tools and choose the best instruments that perfectly fit your enterprise requirements.
Feel free to contact us or leave your comments below!