Over 50% of event revenue comes from registrations, and this is why the prime focus of any event strategy is getting people through the door. From highly-segmented event campaigns to aggressive social media promotion, it's all about selling tickets to the target audience.
While promoting signups is extremely important at the pre-event stage, the experiences that people have at the event are what matter the most in the long run. This is because your event starts generating real value for an attendee after he or she has entered that door.
The first onsite touchpoint is event check-in, and let's be honest here—that's a tough one. Whether it's a large-scale conference or a small business meeting, onsite check-in can either make it or break it. What's challenging about onsite registration is that you have to make many moving parts work together in sync, from hardware and software maintenance to name badge allocation.
Based on the experience of our onsite team, we've developed a formula that embraces seven core elements of a successful check-in process for events of any size.
Why you should hone your event check-in experience
First, let's deal with the whys. A stress-free event check-in experience is more than just a nice perk. With a strong mix of onsite technology and top-notch teamwork, you can attain a range of crucial goals:
Accelerate registration and prevent queues. Use advanced onsite check-in capabilities like self-registration and automated badge printing to speed up the registration process. Time is our greatest asset, and your guests will definitely appreciate it if you help them save some.
Personalise event experiences. Although it might seem impossible to give individual attention to 5,000+ event guests within a short time period, strong onsite tech can do real magic. You can easily segment name badges, assign seats, manage different attendance categories, and do last-minute editing with one just software platform.
Reduce the use of paper. Create a registration journey that doesn't involve any paper to facilitate convenience and demonstrate your brand's commitment to social responsibility. From electronic tickets to tablets and apps for events, building a fully paperless experience is quite simple.
7 ways to create a stress-free check-in experience
The seven tactics you'll find below can be customised based on what you have planned, but we recommend using all of them in one way or another to build a full-scale event check-in experience:
Provide check-in details in a pre-event email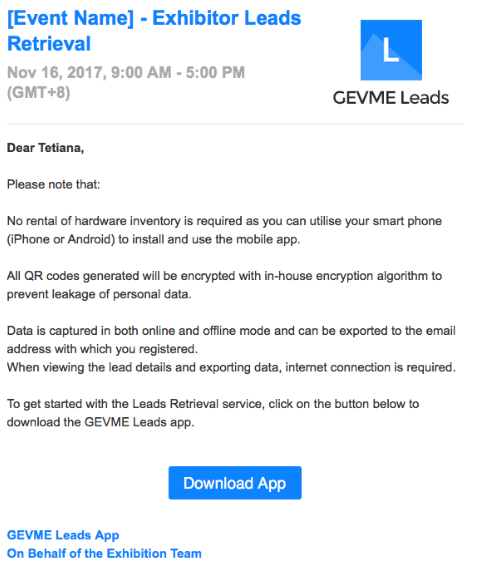 Your path to a seamless onsite check-in process should start even before an event. Create a personalised email campaign with check-in instructions for attendees. Incorporate a link to an event app, if relevant, and provide some insights into how the process will be organised as well as explain the details on personal data extraction and use:
Pre-event guidance will save you the trouble of explaining the process over and over on the ground since your event registrants will come prepared.
Use event software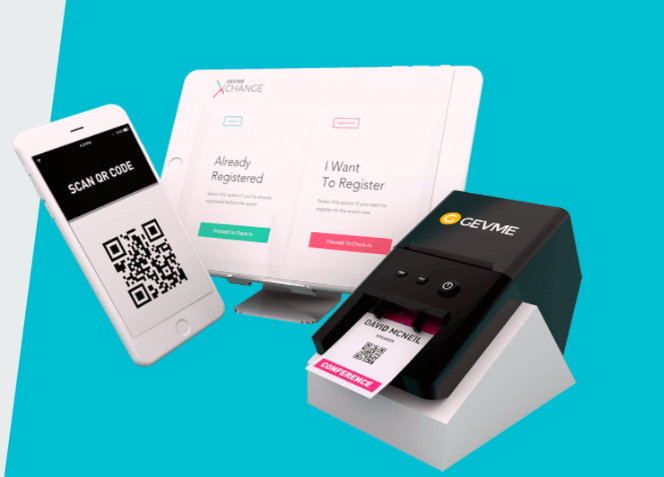 Even for a small-scale conference, handling registrants' data manually is bad manners these days. By integrating a good event management software into your event, you can easily sync registration data with your onsite technology, including check-in kiosks and event apps. To understand how you can build this synergy across multiple event processes with one toolkit, check out the GEVME Onsite Registration solutions.
Complement your event with advanced tech
According to Destination Hotels & Resorts, 60% of event managers claim that effective onsite technologies are vital to an event's success. There is a huge array of tools that can help you polish check-in through smart tech. Here's the short list:
RFID: These are chips that can be embedded in wristbands or name badges to enable attendee tracking and to simplify onsite interactions. From a super-simple "one-wave" check-in process to creating personalised suggestions in real time, this is a technology that offers perfect onsite control.
Face recognition tools: Although it's comparatively new, the very buzzy technology of scanning attendees' faces instead of tickets has already become standard with numerous check-in software platforms.
Wireless technology: To establish foolproof connectivity across diverse venue facilities, including outdoor spaces, you can take advantage of advanced wireless tech solutions like mesh networks, 5G, wearables, and more.
Well-trained staff
Technology can handle many issues. Still, there is a chance your event guests might have some extra questions or may face unexpected difficulties with registration on the ground. Building an onsite team that can respond to the ongoing issues efficiently will add a great deal of value to onsite experiences. Your staff should understand the check-in flow, hardware configurations, and logistics as well as the use of event apps.
Check-in kiosks
Self-registration kiosks enable fully independent check-in without needing the assistance of onsite staff, which is a great solution for registrants who have their QR codes and understand the process. Not only is it a perfect solution in terms of preventing queues but with self-registration kiosks, you can also minimize the use of manpower on the ground.
Personalised check-in
No matter how big an event is, your guests will attend it with the goal to derive personal value from it. To personalise onsite registration, make use of event apps by creating individual suggestions for guests based on pre-event surveying. Just imagine: You enter the venue and instantly get a message with a list of onsite activities that might be interesting to you.
If there are different attendance categories or you have to do seat assignments, use the idea of color coding from GEVME Onsite to personalise name badges in a few clicks: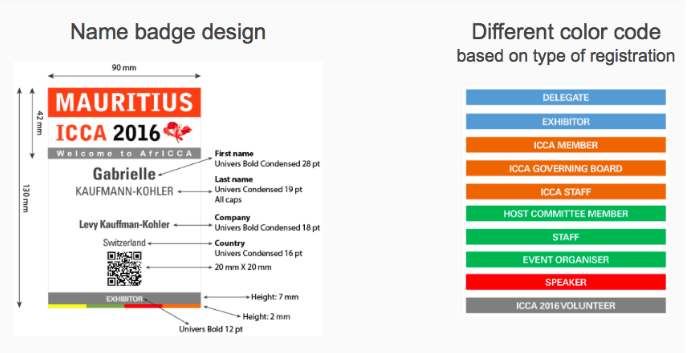 Special vibe
Last but not least, infuse your check-in stage with the right vibe. If the ultimate goal is to introduce a brand to your target audience, create an event check-in experience that is reflective of this brand. From branded hardware to special uniforms, the list of ideas can be endless. If it's more about entertainment, prepare some fun activities or prizes that attendees can win throughout registration. In other words, the goals of your event should dictate the vibe that you build from the start.
Conclusion
There are many ways to improve event check-in experiences that will align the smart use of technology with your attendees' interests. These seven tips will help you build a truly stress-free check-in journey that complements the mission of your event.