Transition Finance Towards Net Zero:
Scaling Blended Finance
---
OVERVIEW
Achieving net zero requires significant adjustments and adaptation in the world's economy, production and usage of energy and land-use systems. Mobilising capital at the scale necessary to facilitate this transition will require innovative financing structures, and collective efforts by the public and private sectors to catalyse investments. 
Themed
"Transition Finance towards Net Zero: Scaling Blended Finance",
the conference will support global efforts in galvanising public and private sector actors to mobilise transition capital, and focus on scaling up the use of blended finance to support the global net zero transition.
The conference aims to round up leading expertise and insights in financing the net zero transition and concrete plans for reaching a sustainable future, including:
What is the financing gap to reach a net zero world?
What are the enablers for a successful public-private partnership?
How do we make blended finance work at a level required to meet the Paris-aligned goals?
What are innovative ways to increase the pipeline of sustainable investments?
How can we scale blended finance in nature-based solutions and energy transition?
Vaccination checks (subject to any prevailing COVID-19 regulations)
As TFNZ Conference is a fully vaccinated event, vaccination-differentiated safe management measures (VDS) will be implemented. To attend this event, you must be fully vaccinated or exempted from VDS under the prevailing regulations. Please refer to the
Singapore Ministry of Health website
for more information on VDS.
Vaccination eligibility checks will be done prior to your entry into the event space. Please bring along either your mobile device with the updated TraceTogether (TT) app. Other Acceptable Documents can be found
here
.
For any enquiries, please contact the event organiser at :
TFNZ@mas.gov.sg
---
PROGRAMME
TIME 
 
PROGRAMME
 
8:00am - 9:00am
Registration


 
9:00am - 9:40am
Welcome Remarks & Opening Keynote Addresses

These sessions set the broad context for the issues the Conference will address. This includes setting out the global effort underway to meet the Paris goals, the necessary critical adjustments and adaptation needed for the net zero transition as well as the importance of and challenges faced in mobilising capital at scale through public-private partnerships to finance this transition. 

Dr Rania Al-Mashat

Minister of International Cooperation, Arab Republic of Egypt

Kristalina Georgieva

Managing Director, International Monetary Fund

Ravi Menon

Managing Director, Monetary Authority of Singapore 

9:40am - 
9:55am
Sizing the Financing Gap for Net Zero

This session will explore how much capital is needed to achieve the net zero transition, how much of this will need to come from private vs. public financing sources, how much private financing could be catalysed through blended finance mechanisms, and how blended finance can take lessons from other large capital programs throughout history to enable it to scale up to meet the challenges of the net zero transition. 

Oliver Tonby

Senior Partner, McKinsey & Company


 
9:55am - 10:10am
An Overview of Blended Finance: What is it and how does it work?

The power of blended finance lies in its ability to pool capital from public, private and philanthropic sectors to achieve superior development outcomes and contribute to the SDGs in developing countries. This session will introduce the concept of blended finance and demonstrate how, where and when this approach is best deployed. It will also provide an overview of the blended finance landscape and cover the role of the various stakeholders in the space. How does blended finance mobilize commercial capital by altering the risk and return paradigm? How can various stakeholders support a transaction whilst concurrently achieving their organisational objectives? These are some of the questions that this session will seek to cover amongst others.

Joan Larrea

CEO, Convergence 

10:10am - 11:15am
Keynote Panel: Public-Private Partnership for Net Zero Transition

Public-private partnerships can help ensure that capital is deployed at the necessary speed and scale to achieve our net zero ambitions. With numerous stakeholders such as financial institutions, multilateral development banks and national authorities involved, strong collaboration and coordination within the ecosystem is key to ensure synergising efforts in transition finance. 

The session explores ideas around the leadership required for successful public-private partnerships as well as to identify creative approaches for financiers to facilitate effective capital mobilisation. 

Professor Lord

 Nicholas Stern

Professor of Economics and Government & Chair of the Grantham Research Institute on Climate Change and the Environment, London School of Economics

Dr Rania Al-Mashat

Minister of International Cooperation, Arab Republic of Egypt

Tharman Shanmugaratnam

Senior Minister and Coordinating Minister for Social Policies & Chairman of MAS, Republic of Singapore

Moderator

Sven Smit
Senior Partner, McKinsey & Company

 
11:15am - 11:45am

 
Coffee Break
 
11:45am - 1:00pm




 
Panel: Making Blended Finance Work 

Blended finance has been identified as having an important role to play in terms of bridging the net zero funding gap. This panel discussion will focus on unpacking how this financial structuring approach can be used to catalyse capital towards the net zero transition. The panel will share their experiences and reflections on where the opportunities and challenges lie and what needs to be done to scale this approach and attract higher volumes of commercial financing. 

PanellistsAudra Low

CEO, Clifford Capital Pte Ltd

Fabio Natalucci 

Deputy Director, Monetary and Capital Markets, International Monetary Fund   

Hiromichi Mizuno 

Special Envoy of U.N. Secretary-General on Innovative Finance and Sustainable Investments

Kruskaia Sierra-Escalante 

Senior Manager, Blended Finance and Corporate Strategy, International Finance Corporation 

Omer Farooq

Global Head of Asset Finance, Bank of America 

Paul Bodnar

Global Head of Sustainable Investing, BlackRock

ModeratorJoan Larrea

CEO, Convergence 

1:00pm - 2:00pm 
 
Lunch


 
1:30pm - 2:00pm
Mobilising Capital for the transition to Net Zero

This session explores what new financial architectures can better raise, pool and leverage concessional and private finance at the scale needed to support the transition of emerging markets and developing economies.

Mark Carney

Co-Chair, Glasgow Financial Alliance for Net Zero (GFANZ)

Vice-Chair, Brookfield Asset Management

Special Envoy of U.N. Secretary-General on Climate Action and Finance 

InterviewerCindy Levy

Senior Partner, McKinsey & Company 

2:00pm - 2:15pm
The Power of Design Funding in Fostering Early-Stage Innovation

Design funding is a unique market acceleration program that provides early-stage grant funding focused exclusively on the design of innovative blended finance structures. This session will cover the various features of this program including what it aims to solve, how it works, and examples of key success stories aligned to green/climate finance. 

Leah Pedersen

Senior Director, Convergence 

2:15pm - 3:05pm 
Panel: The Challenges & Opportunities of Using Blended Finance to Support and Curate Early-Stage Innovation 

Despite having significant impact and financing potential, transactions that are at the early stage of their lifecycle face a myriad of risks including high cost to structure/launch and technical issues amongst others. Blended finance can make such transactions bankable by shifting and/or mitigating these risks. This session will cover various examples of this approach with a focus on challenges, lessons learnt and best practices. 

PanellistsLisa Genasci

Managing Director Sustainable Finance, ADM Capital

Maya Ziswiler 

CEO, UBS Optimus Foundation

Shilpa Gulrajani

Head of Corporate Development & Sustainability, APAC, BNP Paribas

Srini Nagarajan

Managing Director and Head, Asia, British International Investment Plc

ModeratorJoan Larrea

CEO, Convergence 

3:05pm - 3:35pm

 
Coffee Break

 
3:35pm - 4:30pm
Panel: Blended Finance for Nature-Based Solutions 

This session explores the key challenges in mobilising financing into nature-based solutions, how we are starting to see these systems quantified in terms of economic value, how blended finance can be applied to help them scale, and how these models can be accelerated. 

PanellistsAlejandro Litovsky

CEO, Earth Security

David Craig

Co-Chair, Taskforce on Nature-Related Financial Disclosures

Flora Ji

Vice President – Nature Based Solutions, Shell Group 

Kevin Tan

Founder and CEO, Tri-Sector Associates 

Martin Gahr

Head of Corporate Development, BlueOrchard

Moderator


Diaan-Yi Lin

Senior Partner, McKinsey & Company 

4:30pm - 5:20pm
Panel: Blended Finance for Managed Phaseout of High-emitting Assets
This session explores why managed phaseout of high-emitting assets (e.g., coal power plants) can be critical for the transition, what the key challenges are in achieving managed phaseout, and the potential unlocks, including how blended finance could help accelerate the timelines for this shift to happen. This panel will also discuss examples of where this has been applied, and the key challenges to unlock and accelerate these efforts in the region. 

Panellists
Ahmed Saeed
Vice-President, East Asia, Southeast Asia, and the Pacific, Asian Development Bank

Claire O'Neill
Former UK Minister for Energy and Clean Growth and COP26 President-Designate
Co-Chair of WBCSD Imperatives Advisory Board
Co-Founder of PPCA

David Wong
APAC Deputy Director, Glasgow Financial Alliance for Net Zero (GFANZ)

John Greenwood
Managing Director, Project, Infrastructure and Principal Finance, Goldman Sachs

Moderator
Vishal Agarwal
Senior Partner, McKinsey & Company

 
5:20pm - 
5:30pm
Summary and Way Forward

The closing session will provide a synthesis of the key discussions and outcomes, including how they support mobilisation of blended finance towards closing the financing gap for the net zero transition.

A broad roadmap for the next 3 years will be outlined, highlighting how this annual transition finance event will serve as a regular platform for key stakeholders to take stock of progress, diagnose further challenges, collaborate, and innovate on concrete solutions to scale transition finance. 

Kaushik Das

Senior Partner, McKinsey & Company
---
SPEAKERS & PANELLISTS
Welcome Remarks & Opening Keynote Addresses



---
Sizing the Financing Gap for Net Zero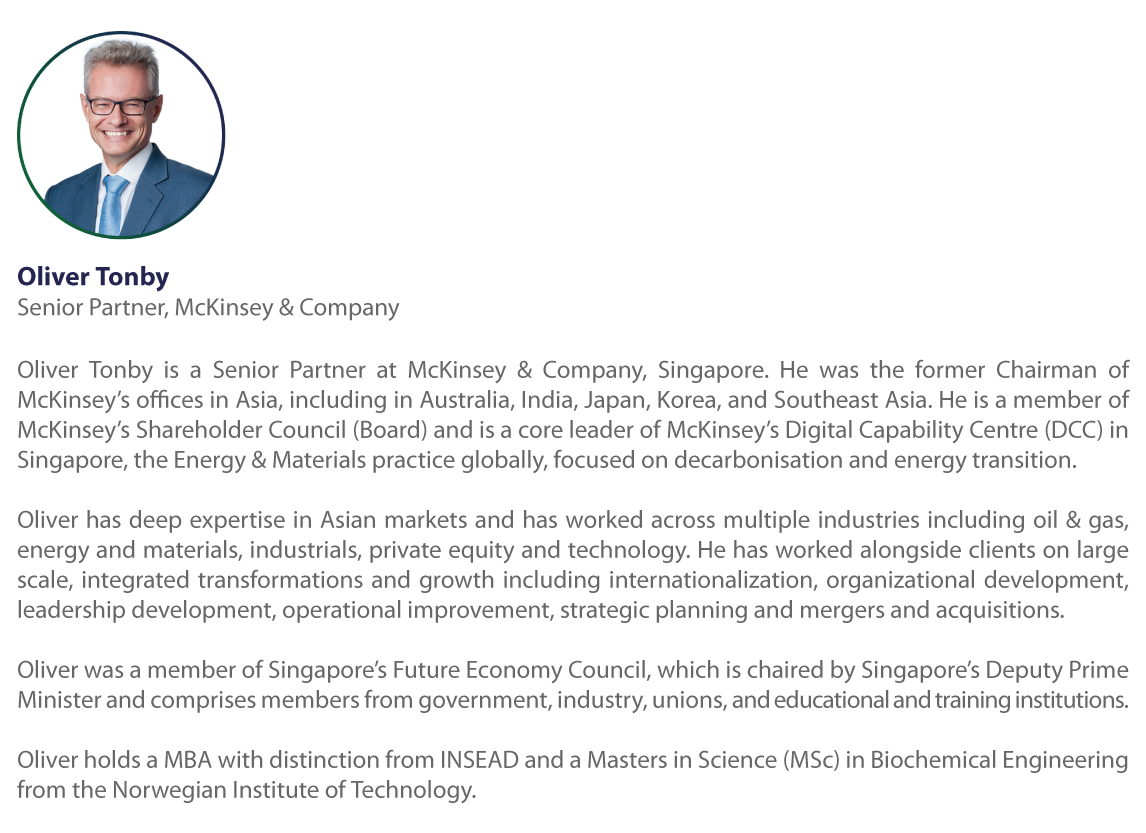 ---
An Overview of Blended Finance: What is it and how does it work?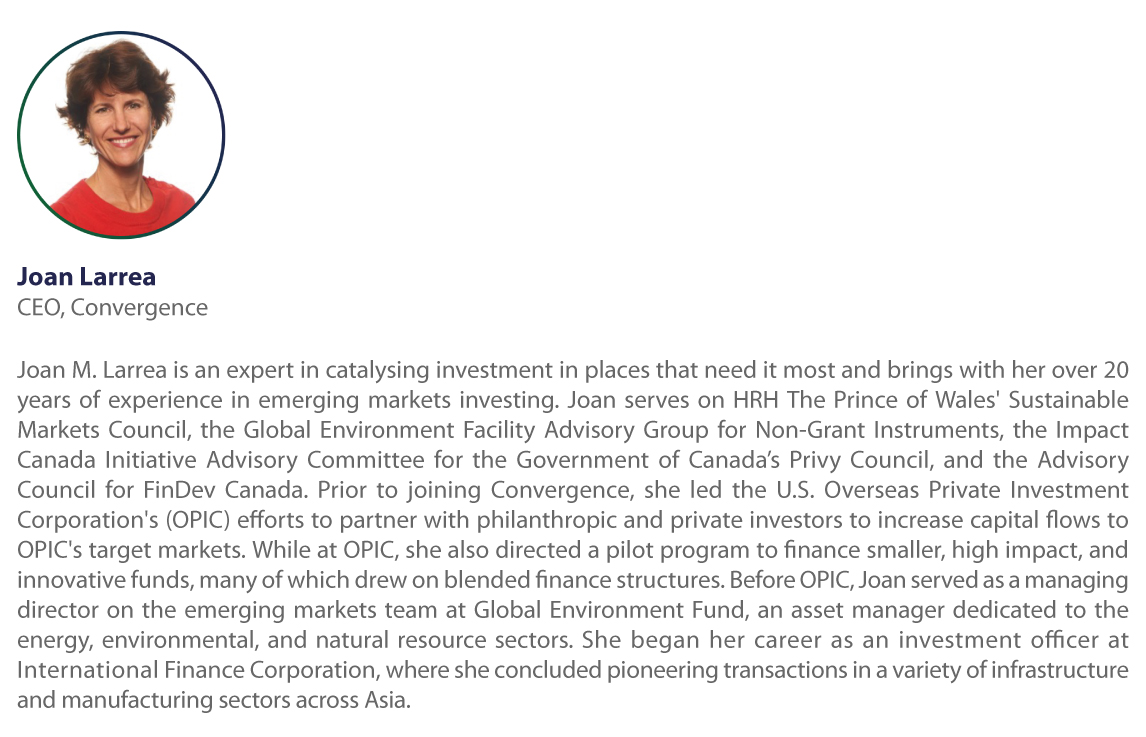 ---
Keynote Panel: Public-Private Partnership for Net Zero Transition



---
Panel: Making Blended Finance Work



---
Mobilising Capital for the Transition to Net Zero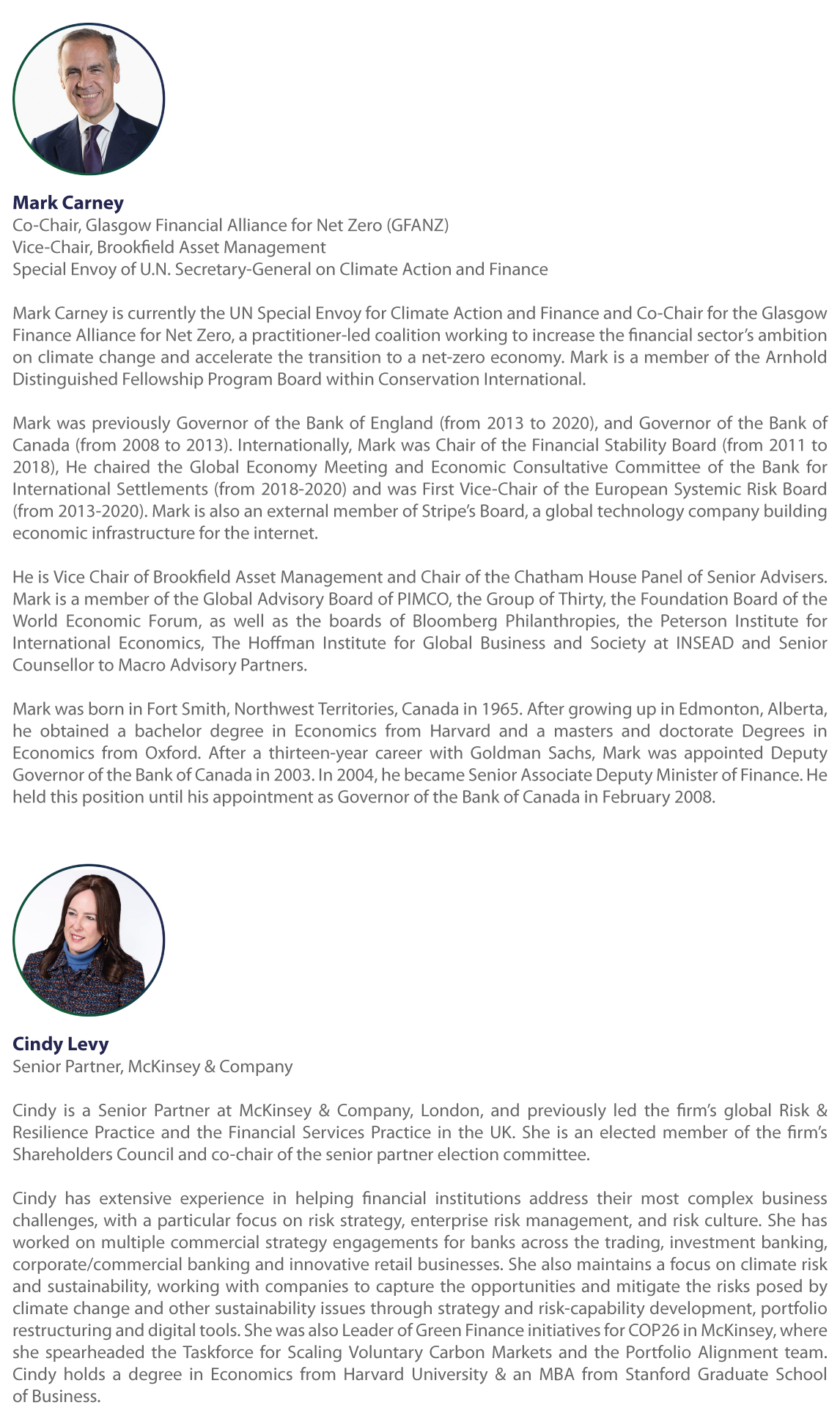 ---
The Power of Design Funding in Fostering Early-Stage Innovation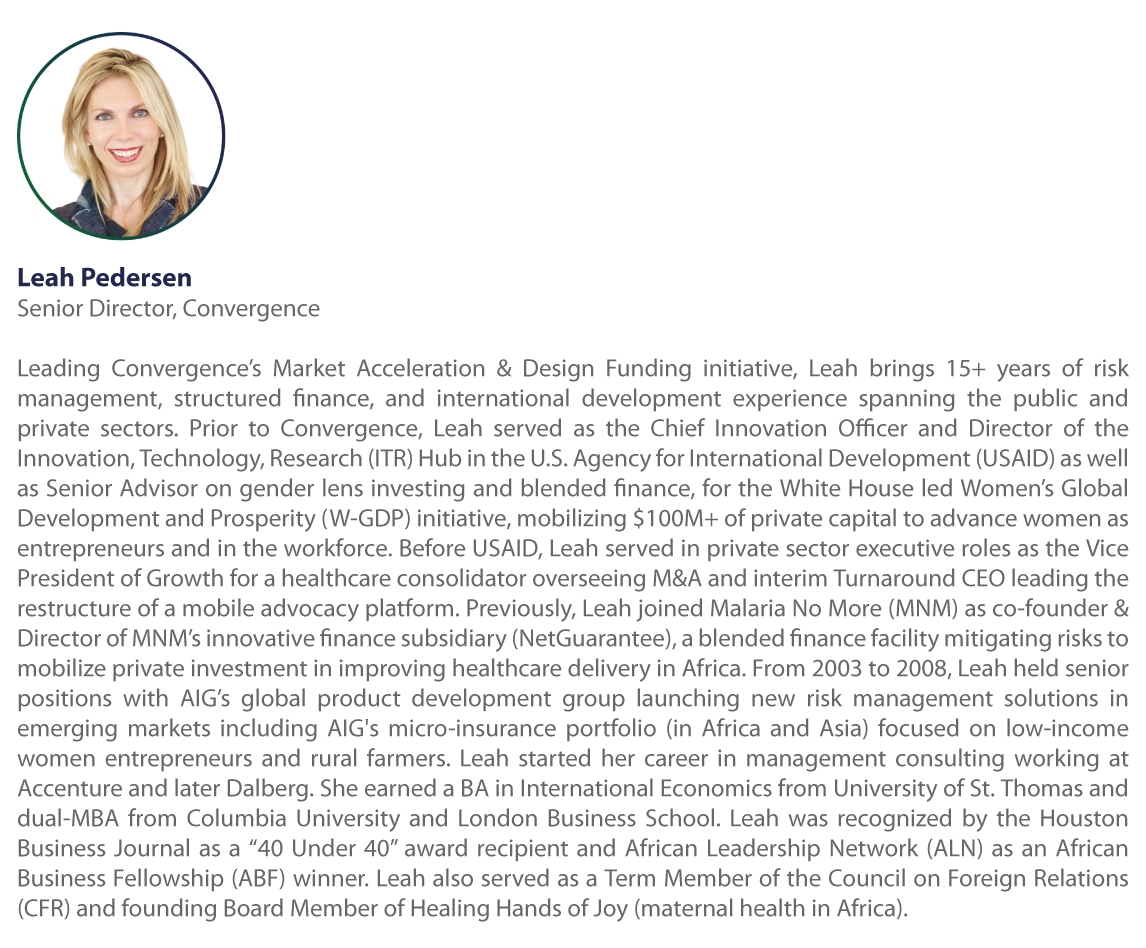 ---
Panel: The Challenges & Opportunities of Using Blended Finance to Support and Curate Early-Stage Innovation 

---
Panel: Blended Finance for Nature Based Solutions

---
Panel: Blended Finance for Managed Phaseout of High-emitting Assets


---
Summary and Way Forward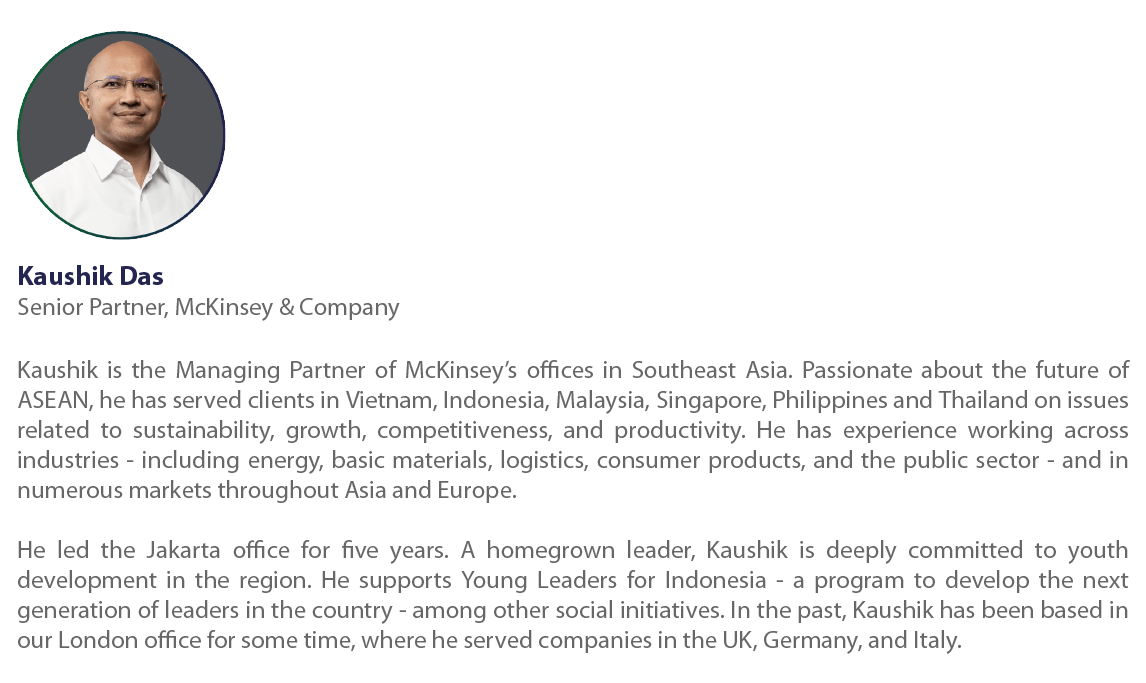 ---