Summit of Things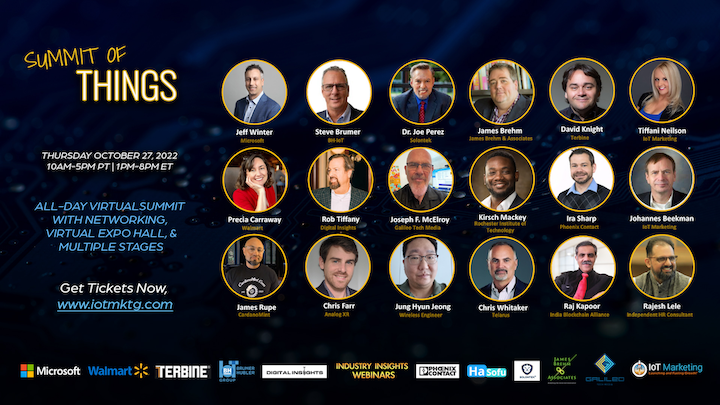 The Internet of Things is reaching mass adoption as the industries using IoT rapidly expand. From smart buildings to smart cities, the Internet is connecting us in all new ways.

Join Industry Insights Webinars and IoT Marketing Thursday October 27, 2022 from 10am-5pm PT for "Summit of Things," which is a summit focused on the Internet of Things and complementary technologies. This all-day live event will feature a combination of panel discussions, keynotes, training sessions, and more.

Discussion topics include:
IoT for Smart Manufacturing
IoT security and potential threats
Applications for IoT such as digital twins
Advanced technologies such as blockchain and extended reality
Unlocking the Value of Data
Creating a Data-Driven Strategy
How to make money with IoT

Contact us if you would like to participate in this live global event and attend the summit to learn more about the Internet of Things, Industry 4.0 and digital transformation.

Who should attend
Students, Educators, Professors
Engineers and Technologists
Industry Professionals
IoT Adopters
Telecom and Technology Ecosystem

Attendees can visit multiple stages, networking areas, and even explore a virtual expo hall, all on a unique experience-driven platform.