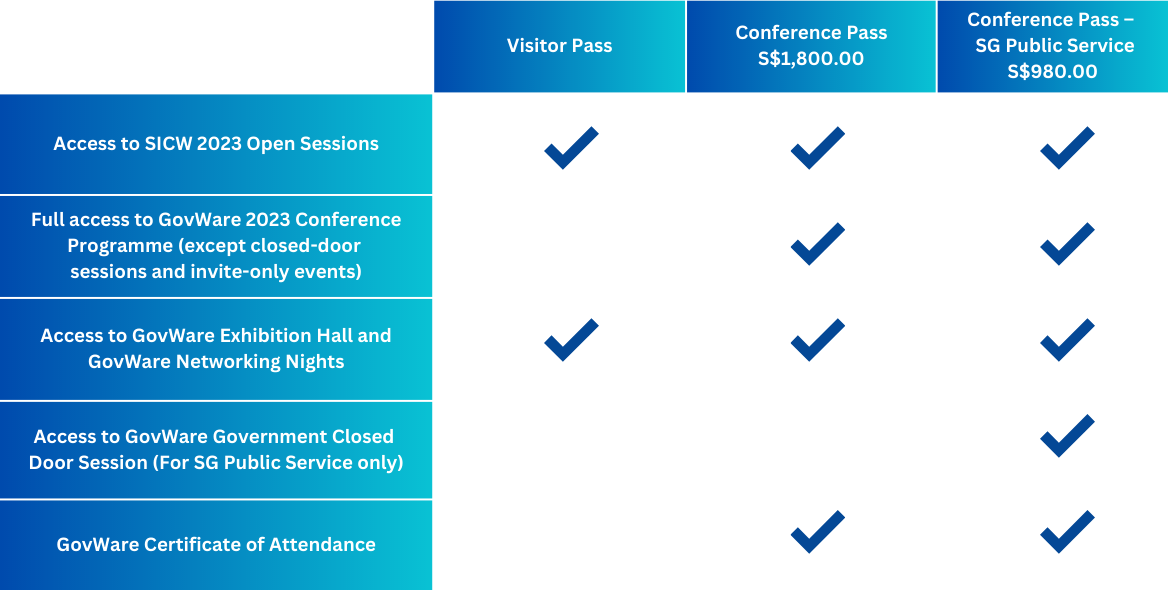 The eighth edition of SICW will take place from 16 to 19 October 2023, at Sands Expo and Convention Centre, Singapore. Under the theme of "Building Trust and Security in the Emerging Digital Order", SICW 2023 will explore the impact of digital developments on the global multilateral order, and how security can be developed to enable trust in the digital and cyber space.

The event will bring together global policy makers, industry leaders and top academics from across the world to exchange best practices and strengthen international cooperation on topics ranging from harnessing digital opportunities and tackling cyber challenges, the evolution of cyberspace and cybersecurity policy, the implementation of cyber norms, as well as security in the Internet of Things (IoT) and Operational Technology (OT) space.

Key SICW 2023 events include the SICW Summit, the SICW Ministerial Roundtables, a series of SICW Sessions focusing on diverse cybersecurity policy, operational, technical and diplomacy topics, as well as the SICW Women in Cyber plenary and International IoT Security Roundtable. There will also be various high-level events held on the sidelines including the ASEAN Ministerial Conference on Cybersecurity (AMCC) and Special Session, the ASEAN Cybercrime Prosecutors' Roundtable Meeting (ACPRM), the ASEAN Senior Officials Roundtable on Cybercrime (SORC), and the 5G PT Symposium.

The GovWare Conference and Exhibition 2023, the region's premier trade show for cybersecurity, will also be held in conjunction with SICW. GovWare programmes include expert-led keynotes, cutting-edge tech showcase by leading global and local innovators, and capacity-development initiatives such as Singapore Cyber Conquest and Pitch Pit for startups.
 
Find out more at www.sicw.gov.sg

NOTES:
All prices are shown in Singapore Dollars (SGD).

The SG Public Service Rate is only applicable to attendees currently employed in a Singapore government agency. Proof of employment, such as the Public Service Card or Civil Service Card, will be required to be presented for verification during pass collection.

The complimentary Trade Visitor Passes are STRICTLY for members of the trade and industry professionals. The Organiser reserves the right to review all Trade Visitor Pass registrations and reject any registrations deemed ineligible for this pass.

If you require a Certificate of Attendance for CPE credits, be sure to opt-in during registration. The digital certificate will be sent to you within two (2) weeks after the event, after verification of your attendance.

View the Terms and Conditions here.

All information listed on the website is accurate at the time of publication and subject to changes.

For group payment, please write in to registration@sicw.gov.sg.
CANCELLATION & SUBSTITUTION POLICY
All requests for cancellations are subject to the following deadlines.
Before 16 September 2023: 50% Refund
From 16 September 2023: No Refunds 
No refunds will be given from 16 September 2023. Request for substitution of names must be submitted in writing by the original pass holder before 4 October 2023, thereafter charges may apply. 
There will be a 5% administrative fee for cancellations and refunds

All requests for cancellations and substitutions must be submitted via email to

 

registration@sicw.gov.sg

.