Singapore Cybersecurity Education Symposium (SCES)
ABOUT THE VIRTUAL EVENT | PROGRAMME 
The Singapore Cybersecurity Education Symposium (SCES), organised by the Cyber Security Agency of Singapore (CSA), is part of CSA's efforts to develop the cybersecurity talent pipeline. To be held from 19 to 20 November 2020, SCES aims to equip educators with a better understanding of cybersecurity and career outlook. Through the Symposium, we hope to enable teachers and career counsellors to better guide their students towards considering cybersecurity as a profession. 
The Symposium will bring together industry partners, academia and government for a two-day online event. Attendees will be able to attend sessions centered around the following key themes:
Educators play an important role to groom our next generation of cybersecurity talents. If you would like to foster greater engagement on cybersecurity topics among your students, and be plugged in with the cybersecurity ecosystem, we would like to invite you to sign up and be a part of our very first Singapore Cybersecurity Education Symposium. 
The virtual event will run from
9.00am to 12.30pm
on both
19 and 20 November 2020.
To learn more about CSA's work in engaging youths and guiding them in their cybersecurity journey, visit our SG Cyber Youth page
here.
---
PROGRAMME
Day 1 on 19 Nov 2020, Thursday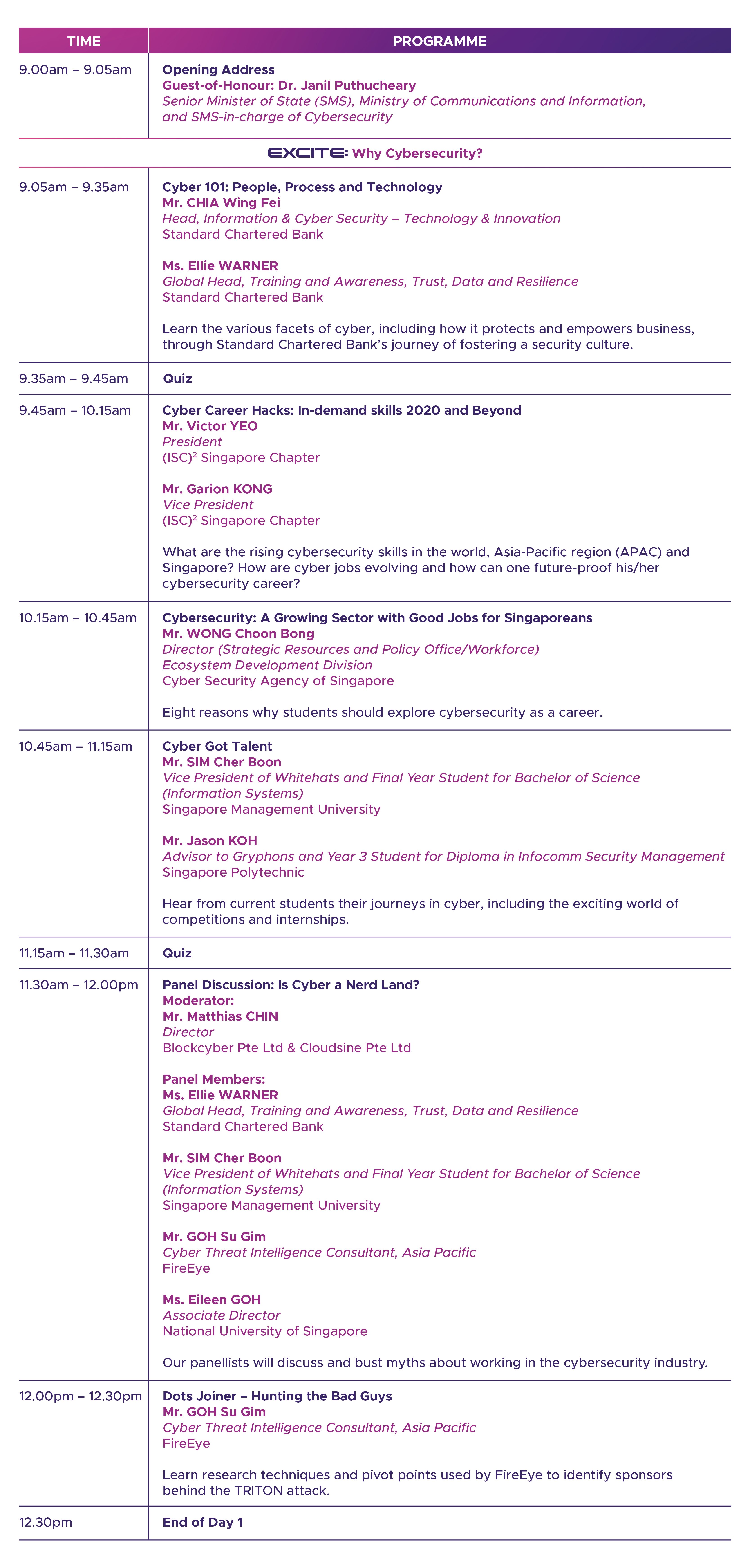 Day 2 on 20 Nov 2020, Friday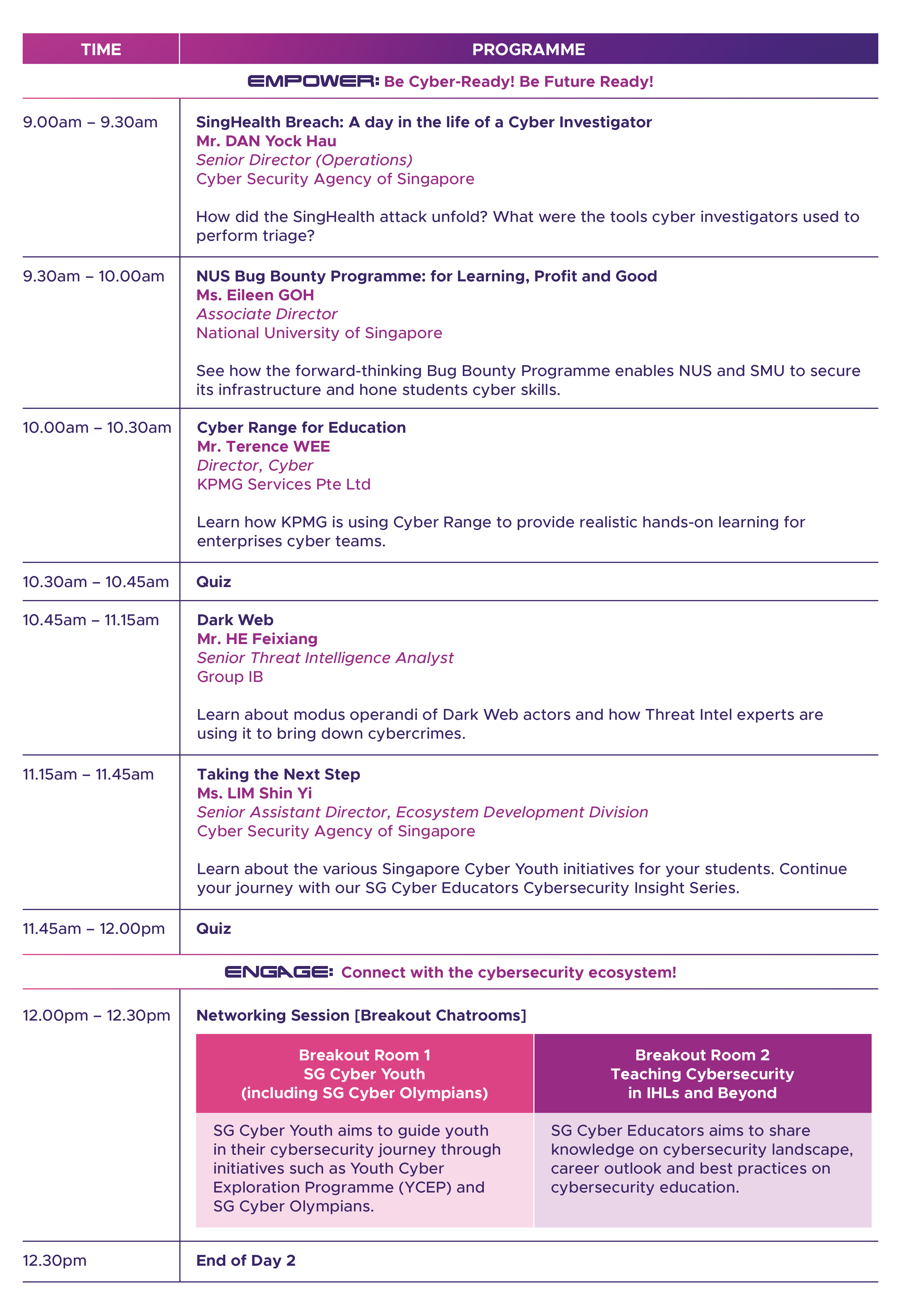 SPEAKERS


Chia Wing Fei, is the Head of Information & Cyber Security for the Technology & Innovation function, at Standard Chartered, based in Singapore and has been with the Bank since 2014. At the Bank, Wing Fei is driving the implementation of Bank's Information & Cyber Security (ICS) Risk Type Framework and the risk mitigation and remediation activities within the function. Prior to that, Wing Fei was the Head of Cyber Defence Centre, responsible for the Bank's cyber security operations services, consisting of cyber security event monitoring, incident response, cyber forensics, and cyber threat hunting.

Ellie leads the Bank's Training and Awareness portfolio across Cyber, Data and Privacy, Artificial Intelligence (AI), Resilience and Third Party, the Bank's Cyber Skills Academy designed to cross skill and upskill the cybersecurity workforce. She joined Standard Chartered in 2015 as Global Head, Cyber Policy and Awareness.

Born in the UK, Ellie has worked in technology for 25 years, living in Middle East, Africa, Europe and Asia Pacific since 1995. Over the years, she has held sales, partner, analyst, marketing and communications roles.
Ellie is an active advocate of ensuring women have an equal voice at the table.


Victor is a security professional and senior IT leader with  industry experiences in managing IT and Security projects, cyber security training, managed security services and security operation center.  He is also an experienced cyber security business manager.
 
He is currently the General Manager for BAE Applied Intelligence (Asia Pacific) office in Singapore. Prior to this he was Deputy GM with ST Electronic – Infosecurity and a Military Officer with Singapore Armed Forces.
 
He has volunteered his time with (ISC)2 Singapore Chapter since 2015. He is a recipient of Asia-Pacific Information Security Leadership Achievements (ISLA) Honorees in 2016 in the managerial professional for information security project(s) category.
 
He has a BEng(Hon) in Electrical and Electronic Engineering,UK and a MSc in System Integration, US.

Garion is an information technology and security professional also a senior IT leader with 19 years experience managing IT infrastructure and information security for SMEs and branch offices of MNCs in Asia. He works for AIR Worldwide, a software company, serving dual roles, managing and delivering internal IT infrastructure, services for the branch offices in Asia and providing technical consultation and support services in APAC. Prior to AIR, Garion was the head of IT for a catastrophe risk modelling and research company.

Garion has a Bachelor of Science in Business Information Technology and is a certified CISO. He holds several IT industry security certifications including CISSP, CCISO, CCSP, CISM, CISA, CRISC and CEH.

Mr Wong Choon Bong is the Director for Strategic Resources and Policy Office and concurrently Workforce Development at the Cyber Security Agency of Singapore. Prior to his current appointment, Mr Wong has served in the Ministry of Communications and Information, also the Defence Science and Technology Agency.
His interests for Workforce Development involve developing the talent pipeline for Singapore's cybersecurity industry, helping cybersecurity professionals grow their skills and competencies, and overseeing the CSA Academy.
Mr Wong graduated from the National University of Singapore with a Bachelor of Engineering (Electrical). He also holds a Master of Engineering (Electrical and Computer) from Cornell University, and a Master of Business Administration from Nanyang Technological University.

Sim Cher Boon is currently finishing his final year at Singapore Management University (SMU), pursing a Bachelors Science in Information Systems and a Master of Science in Computing (Cybersecurity) under the SMU-Master of Science in Computing Fast Track programme. Like many students, Cher Boon started his Cybersecurity journey in his freshmen year back in 2017 at SMU. Serving as vice-president for the SMU Whitehat society from 2018 to 2019 and as the club's current training director, he uses his experience from local and international competitions to lead the club in competitions and conducts training for his fellow peers.

Jason is a 3rd-year student pursuing a Diploma in Infocomm Security Management (DISM) at Singapore Polytechnic. Jason is involved in many internal and external school's activities. In April 2019, he was elected as DISM's student club (Gryphons) as the President and now after serving his term, he continues to provide guidance to club's new committee. During his term, he organised and planned Cyber Security Activities/Competitions for DISM Students as well as coordinated Singapore Polytechnic Open House 2019/2020 and other related activities.

Matthias is a tech entrepreneur and cyber expert with more than 15 years of extensive experience in internet, cloud, blockchain and cyber technologies. He received a scholarship and graduated with Dean's Honor List in Engineering at University of Toronto. He is a Certified Internet Expert (CCIE), Security Professional(CISSP), Web Pentester (GWAPT) , Incident Handler (GCIH) and Forensic Analyst(GCFA).

Matthias has worked in many companies including Cisco Systems, Pacific Internet and ST Electronics. He is currently deep into innovation and entrepreneurship through his two startups: Edutech company Blockcyber and a Cloud Security startup Cloudsine. His passion is to see youths empowered with good digital skills for future jobs and innovation.
Su Gim is one of the leading Cyber Threat Intelligence Consultant in the Asia Pacific region for FireEye. He serves as the subject matter expert in the field of Cyber Threat Intelligence involving the government sector, large enterprises in the private sector across multiple verticals such as the financial institution, telcos, energy and utilities. Su Gim has 20 years of IT Security experience working for several companies in the USA, Malaysia and Singapore in the area of threat insights for malware detection, IT security consulting, IT security system integration and running a 24/7 security operations center.

Prior to joining FireEye, Su Gim was the Cyber Defense Consultant in Asia Pacific for BAE Systems. He was actively involved in engagements with Financial Institutes consulting on best practices and providing insight into the ever-changing Cyber threat landscape focusing on cyber threat intelligence and threat analytics.

Before his role in BAE Systems, Su Gim was the Security Advisor who represented F-Secure in the Asia Pacific region, where he was actively involved in activities to raise public awareness of the IT threat landscape, giving talks in conferences on the latest threat vectors and attack techniques. As an evangelist, he also responded to the media as the spokesperson on the latest virus outbreaks and trends.

Eileen Goh is from NUS IT Security, responsible for NUS IT Security governance, risk and compliance. She has over 20 years' experience in Information Technology across various industries, with Master of Technology from NUS-ISS and certified with CGEIT, CISM, PMP, CISA, CRISC, CISSP, and GCIH.

She is a member of SCS IS chapter committee, a career mentor for CSA-SCS mentoring programme and a judge for AISP's The Cybersecurity Awards 2018. She ran the inaugural and successful NUS bug bounty programme, a first amongst all Singapore universities for students and a testament that a mid-career change is possible and women can also lead in cyber.


Mr Dan Yock Hau is the Senior Director for Operations at the Cyber Security Agency (CSA) of Singapore. Prior to his current appointment, Mr Dan served as an Army Officer in the Singapore Armed Forces for twenty-five years. He held a variety of command and staff appointments, dealing primarily with Communications, C4IT as well as Cyber Security development and operations. His last appointment in the SAF was Deputy Head of the Joint Communications and Information Systems Department.
As part of the management team in CSA, Mr Dan supports the agency's effort to provide dedicated and centralised oversight of national cyber security's functions, including cyber security operations, strategy, policy development, industry development and outreach. As Senior Director (Operations), he is directly responsible for all operational matters to resolve cyber security related incidents in Singapore. This includes threat monitoring, incident response, investigations and remediation during significant cyber incidents affecting the critical information infrastructures. He led the CSA response team for significant incidents such as Wannacry/Petya, IHL cyber-attack in 2017, and the SingHealth cyber incident in 2018.
Mr Dan graduated from the National University of Singapore with a Bachelor of Engineering (Electrical and Electronics Engineering). He holds a Master's of Science in Defence Technology from Cranfield University, UK, and a Master's of Arts in Defence Studies from King's College London.

Terence has been with KPMG Singapore since 2008. He is responsible for the development of a Cyber Range facility and providing training services for subject areas associated with KPMG, and in particular in cyber security.

Prior to joining KPMG, Terence was a Solutions Architect for a large System Integrator in Singapore focusing in Education, Healthcare and Government sectors. During his tenure, he was involved in numerous multi-million dollar IT system implementation project in several capacities spanning government agencies and departments locally, around the region and the Middle East. Terence also served in the Knowledge Management team in his previous organisation, looking at ways to leverage technology to improve the sharing of knowledge across the firm.

Feixiang He is the Senior Threat Analyst of Group-IB. He focuses on threat intelligence and malware research. He has extensive experience in mobile platform malware research and hacking campaign hunting. Some of his recent published research papers include Agent Smith and Operation Sheep. Prior to his cyber security research life, Fei Xiang was a software developer in the investment banking sector. He has a strong passion in cyber security research and collaboration across institutions and borders. He loves football and cycling.

Lim Shin Yi is the Senior Assistant Director of the Ecosystem Development Division in Cyber Security Agency of Singapore (CSA). Shin Yi leads the talent attraction and development team to develop Singapore's cybersecurity capabilities through manpower development in the cybersecurity ecosystem through the national SG Cyber Talent initiative. 

Shin Yi has over 20 years of experience in the Information and Communications Technology (ICT) sector in applications development, enterprise architecture, CRM, BSS, credit management and workforce development in both the private and public sectors. 

She holds a Bachelor of Science (Computer Science and Information Systems) from the National University of Singapore (NUS).