新加坡书展2022 - 儿童工坊:动作环节写作 Writing Action
National Library
100 Victoria Street, Singapore 188064, Singapore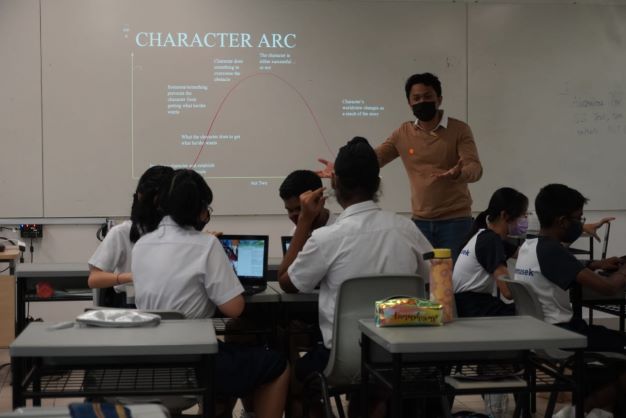 2022年新加坡书展 
儿童工坊:动作环节写作
你会如何捕捉一场光剑决斗、一场汽车追逐、一场精彩绝伦的魁地奇比赛、或一场极度刺激的足球比赛中的能量和惊心动魄的氛围呢?在这个工作坊中,希望成为作家的同学将学习如何以散文的形式描写出引人入胜的动作章节,聚焦在叙事、人物和情感,以撰写出精彩但又超越文本和立体的整体场景。此外,工作坊中将有一个实践环节,让同学们撰写动作场景,然后在其他学员面前表演出来。
这个工作坊将通过生动有趣的方式教导孩童写作,让他们从中也学习到如何改善自己的写作技巧。

讲者:  Suffian Hakim(英语课程)
日期: 6月11日(星期六)
时间: 下午4时-6时
地点: 新加坡国家图书馆 Multi-Purpose Room (B1)
地址:100 Victoria Street, Singapore 188064
收费:每人18元
年龄:6至13岁以上
需至少10人开课
活动名额有限,每堂课只限20人参加


Singapore Book Fair 2022
Children's Workshop: Writing Action

How do you capture the energy and nail-biting tension of a lightsaber duel, a car chase, an epic game of quidditch or a high-stakes void deck football match? In this workshop, aspiring writers will learn how to write compelling action sequences in prose with a focus on the narrative, character and emotion to write scenes that are exciting but also transcendent and organic to the text. There will also be a hands-on component for participants, in which they will write out action scenes and perform it for their fellow workshop attendees.

Speaker:  Suffian Hakim(English Workshop)
Date: 11th June(Saturday)
Time: 4pm - 6pm
Venue: National Library Multi-Purpose Room (B1)
Address:100 Victoria Street, Singapore 188064
Price:$18/pax
Age: 6-13 years old and above
10 pax to start a class
Workshop has limited vacancies, only 20 pax per class


**成功报名者将获得电邮通知**
**Successful registrations wil be notified via email**

若您在活动当天感觉身体不适,请勿出席活动。主办方有权拒绝任何身体不适或有冠病症状的参加者参与活动。
If you feel unwell on the day of the event, please do not attend. The organizer reserves the right to refuse participation of any participant who is unwell or has symptoms of COVID-19.

免责声明:主办方不会为本活动的参与者提供任何责任保险。
Disclaimer: The organizer does not provide any liability insurance for participants of this event.
新加坡书展2022 - 儿童工坊:动作环节写作 Writing Action
Event Venue