新加坡书展2022 - 儿童工坊:玻璃盆景 Small Close Terrarium
National Library
100 Victoria Street, Singapore 188064, Singapore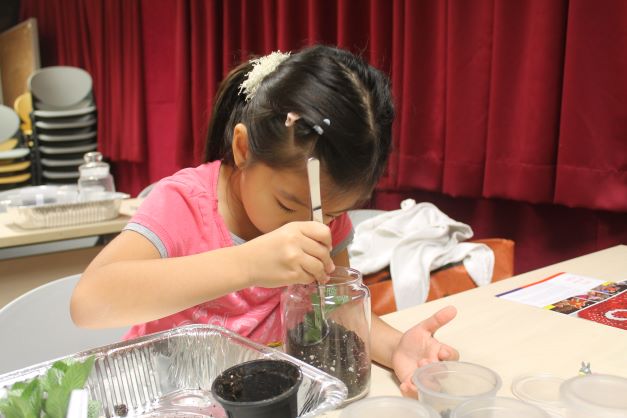 2022年新加坡书展 
儿童工坊:玻璃盆景
加入我们,一起学习简单的园艺和玻璃盆景制作!在导师的指导下,与您的孩子探索你们创意的一面,一起制作属于你们的玻璃盆景。你们将通过这15分钟的简单活动学会有关植物护理与责任的知识哦!

讲者:  The Green Capsule(英语课程)
日期: 6月10日(星期五)
时间: 下午4时-4时15分、下午4时20分-4时35分、下午4时40分-4时55分
地点: 新加坡国家图书馆 Multi-Purpose Room (B1)
地址:100 Victoria Street, Singapore 188064
收费:每人18元
年龄:6至12岁
每堂需至少7人开课
活动名额有限,每堂课只限7人参加


Singapore Book Fair 2022
Children's Workshop: Small Close Terrarium Workshop

Come join us and learn the skill of terrarium making & simple gardening! With the guidance of our instructor, explore your crafty side with your kids and create their own story jars. Learn all about plant care and responsibility through this simple 15min activity.

Vendor:  The Green Capsule(English Workshop)
Date: 10th June(Friday)
Time: 4pm - 4.15pm / 4.20pm - 4.35pm / 4.40pm - 4.55pm
Venue: National Library Multi-Purpose Room (B1)
Address:100 Victoria Street, Singapore 188064
Price:$18/pax
Age:6-12 years old
7 pax to start a class
Workshop has limited vacancies, only 7 pax per class


**成功报名者将获得电邮通知**
**Successful registrations wil be notified via email**

若您在活动当天感觉身体不适,请勿出席活动。主办方有权拒绝任何身体不适或有冠病症状的参加者参与活动。
If you feel unwell on the day of the event, please do not attend. The organizer reserves the right to refuse participation of any participant who is unwell or has symptoms of COVID-19.

免责声明:主办方不会为本活动的参与者提供任何责任保险。
Disclaimer: The organizer does not provide any liability insurance for participants of this event.
新加坡书展2022 - 儿童工坊:玻璃盆景 Small Close Terrarium
Event Venue