新加坡书展2022 - 儿童工坊:机器人和编码 Robotics and Coding
National Library
100 Victoria Street, Singapore 188064, Singapore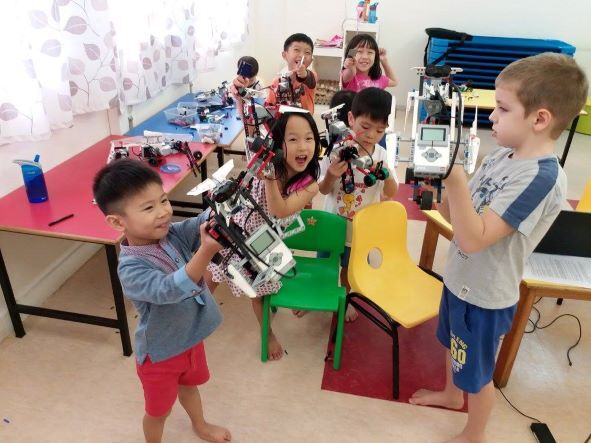 2022年新加坡书展 
儿童工坊:机器人和编码
欢迎加入我们这个假期有趣的乐高机器人节目,您的孩子将在这里学习编程概念,学习编码中的 当型循环、判断式语句、切换语句、变量和计循环。同时,他们还将学习加减法等数理概念,大于、小于或等于,测量距离、旋转度数、时间、颜色的基本介绍,使用块 语言进行简单编程,以及许多有助于边玩边学习的有趣机器人。

学习成果:
* 学习编程的基础知识
* 激发对学习早期数学、科学和科技等学科的兴趣 率提高精细运动技能
*培养对解决问题任务的信心
*鼓励孩子思想具有突破性(创造性思维)
* 手动学习

讲者:  Robotics Revolution(英语课程)
日期: 6月4日(星期六)、6月5日(星期日)及6月11日(星期六)
时间:
6月4日——下午1时-2时30分
6月5日——下午4时30分-6时
6月11日——下午4时-5时30分
地点:
6月4日和6月5日——新加坡国家图书馆 Imagination Room (5楼)
6月11日——新加坡国家图书馆 Multipurpose Room (B1)
地址:100 Victoria Street, Singapore 188064
收费:每人16元
年龄:6至13岁以上
需至少10人开课
活动名额有限,每堂课只限15人参加


Singapore Book Fair 2022
Children's Workshop: Robotics and Coding

Join us for this Holiday Fun Lego Robotics Program where your little ones will learn programming concepts like while-loop, if-else statement, switch statements, variables and for-loop. At the same time they will also get to learn math concept like addition and subtraction; more than, less than or equal; measuring distances, basic introduction to rotational degree, time, colours, simple programming with blocks language and many more interesting robots that will aid in learning while playing.

Learning Outcomes :
* Learn the fundamentals of programming
* Sparks interest in learning subjects like early math, science and technology
* Improve fine motor skills
* Develop confidence in problem-solving tasks
* Encourage kids to think out-of-the-box (creative thinking)
* Hands-on learning

Vendor:  Robotics Revolution(English Workshop)
Date: 4th June(Saturday),5th June(Sunday),11th June(Saturday)
Time: 4th June——1pm - 2.30pm / 5th June——4.30pm - 6pm / 11th June——4pm - 5.30pm
Venue:
4th and 5th June —— National Library Imagination Room (Level 5)
11th June —— National Library Multipurpose Room (B1)
Address:100 Victoria Street, Singapore 188064
Price:$16/pax
Age:6-13 years old and above
10 pax to start a class
Workshop has limited vacancies, only 15 pax per class


**成功报名者将获得电邮通知**
**Successful registrations wil be notified via email**

若您在活动当天感觉身体不适,请勿出席活动。主办方有权拒绝任何身体不适或有冠病症状的参加者参与活动。
If you feel unwell on the day of the event, please do not attend. The organizer reserves the right to refuse participation of any participant who is unwell or has symptoms of COVID-19.

免责声明:主办方不会为本活动的参与者提供任何责任保险。
Disclaimer: The organizer does not provide any liability insurance for participants of this event.
新加坡书展2022 - 儿童工坊:机器人和编码 Robotics and Coding
Event Venue