新加坡书展2022 - 儿童工坊:魔术 Magic
National Library
100 Victoria Street, Singapore 188064, Singapore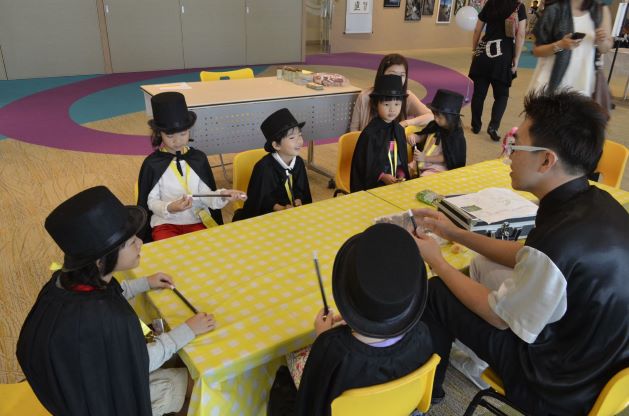 2022年新加坡书展 
儿童工坊:魔术
想学魔术吗?加入瓶子先生魔法学院的工作坊,学习如何自信地表演神奇的魔法:

第一节课 4-5pm - 最喜欢的书 - 小小魔术师能猜对你所选择的书。

第二节 5-6pm - 红包的惊喜 - 小小魔术师学习如何制作这个神奇道具,利用它把纸变成钱等其他物品!

讲者:  Mr. Bottle Kien(英语课程)
日期: 6月12日(星期日)
时间: 下午4时-5时、下午5时-6时
地点: 新加坡国家图书馆 Imagination Room (5楼)
地址:100 Victoria Street, Singapore 188064
收费:每人28元
年龄:5至12岁
需至少10人开课
活动名额有限,每堂课只限20人参加


Singapore Book Fair 2022
Children's Workshop: Magic

Learn how to perform amazing magic with confidence by joining these fun workshops at Mr Bottle's magic academy:

1st session 4-5pm - My favourite book - Choose your favourite book from a few choices and your child is able to read your mind!

2nd session 5-6pm - Red packet surprise - Kids learn how to make this prop in which they learn paper into money or other objects like credit card, pictures, etc by magic!

Speaker:  Mr. Bottle Kien(English Workshop)
Date: 12th June(Sunday)
Time: 4pm - 5pm / 5pm - 6pm
Venue: National Library Imagination Room (Level 5)
Address:100 Victoria Street, Singapore 188064
Price:$28/pax
Age:5-12 years old
10 pax to start a class
Workshop has limited vacancies, only 20 pax per class


**成功报名者将获得电邮通知**
**Successful registrations wil be notified via email**

若您在活动当天感觉身体不适,请勿出席活动。主办方有权拒绝任何身体不适或有冠病症状的参加者参与活动。
If you feel unwell on the day of the event, please do not attend. The organizer reserves the right to refuse participation of any participant who is unwell or has symptoms of COVID-19.

免责声明:主办方不会为本活动的参与者提供任何责任保险。
Disclaimer: The organizer does not provide any liability insurance for participants of this event.
新加坡书展2022 - 儿童工坊:魔术 Magic
Event Venue