新加坡书展2022 - 生活工坊:生态清洁剂 Eco Cleaner
National Library
100 Victoria Street, Singapore 188064, Singapore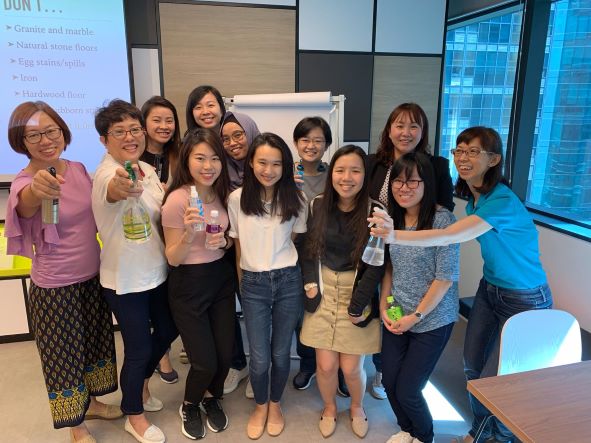 2022年新加坡书展 
生活工坊:生态清洁剂
省钱并了解我们在家中使用的清洁产品的具体成分,让您高枕无忧!学习 一些清洁技巧和方法,我们可以用在家中可以找到的简单成分制作多功能 清洁剂。通过使用较少有害的化学品和包装,我们正在爱护我们的环境, 这意味着我们也在爱护自己。
遵循可持续发展的精神,参与者被要求携带柑橘类水果皮(例如柠檬、酸橙、橙子)、一个喷雾瓶(100-150 毫升)和一个容器(300-350 毫升)。 
请将收集的柑橘类水果皮存放在冰箱中。 
也欢迎参与者带自己喜欢的精油香味。 

讲者:  Zero Waste SG(6月4日 - 英语课程、6月5日 - 华语课程)
日期: 6月4日(星期六)及6月5日(星期日)
时间: 下午3时-4时
地点: 新加坡国家图书馆 Possibility Room (5楼)
地址:100 Victoria Street, Singapore 188064
收费:每人23元
需至少25人开课
活动名额有限,每堂课只限25人参加


Singapore Book Fair 2022
Adult's Workshop: Eco Cleaner

Save money and know what exactly goes into the cleaning products we use at home for a peace of mind! Learn some cleaning hacks and ways we can make a multi-purpose cleaner from simple ingredients we can find at home. By using less harmful chemicals and packaging, we are taking care of our environment, which means we are taking care of ourselves too.
In following the ethos of sustainability, participants are requested to bring their citrus fruit peels (e.g., lemon, lime, orange), a spray bottle (100-150ml), and a container (300-350ml) for the eco-cleaner workshop. 
Please store your collected citrus fruit peels in the refrigerator 1 or 2 days before the workshop.
Participants are welcome to bring their favorite scent of essential oil for the eco cleaner too.

Vendor:  Zero Waste SG(4th June - English Workshop / 5th June Chinese Workshop)
Date: 4th June(Saturday)& 5th June(Sunday)
Time: 3pm - 4pm
Venue: National Library Possibility Room (Level 5)
Address:100 Victoria Street, Singapore 188064
Price:$23/pax
25 pax to start a class
Workshop has limited vacancies, only 25 pax per class


**成功报名者将获得电邮通知**
**Successful registrations wil be notified via email**

若您在活动当天感觉身体不适,请勿出席活动。主办方有权拒绝任何身体不适或有冠病症状的参加者参与活动。
If you feel unwell on the day of the event, please do not attend. The organizer reserves the right to refuse participation of any participant who is unwell or has symptoms of COVID-19.

免责声明:主办方不会为本活动的参与者提供任何责任保险。
Disclaimer: The organizer does not provide any liability insurance for participants of this event.
新加坡书展2022 - 生活工坊:生态清洁剂 Eco Cleaner
Event Venue