Stargazing at Science Centre Observatory and Digital Planetarium show in Omni Theatre
What stars, planets and constellations are in the skies tonight? As the Earth spins around the Sun, we will see different portions of the night sky.

Every week brings a slightly different visual spectacle to the skies overhead. In this live planetarium show inside the Omni Theatre, our Science Educator will bring you on a tour of the current night sky, point out the beautiful sights and listen to fascinating stories about the stars.
Book your stargazing slots at the Science Centre Observatory after the show, hang around admiring the celestial objects and interact with our Science Educators and Volunteers. 

Event ​details: 
8pm-8.45pm - Whats Up there? Digital Planetarium Show in the Omni Theatre (Registration starts at 7.45pm)

9pm-10pm - Stargazing at the Science Centre Observatory
Participants will take turns for stargazing according to the prevalent safe distancing measures. Please follow the instructions on the day of the event.

Fees: $14 per person (Omni Theatre + Stargazing)

Please note:
Individuals can be allowed entry into Science Centre in groups of 2 if all are fully vaccinated*. We will be verifying all participants vaccination status using TraceTogether or HealthHub SG app. [*Fully vaccinated means past 14 days after second dose]

Children aged 12 years and below can be included in the group of 2. If there is more than one child aged 12 years and below in the group of 2 persons, both children must be from the same household. Age verification will be done using birth certificate or school EZ link card.

Recovered individuals and/or unvaccinated individuals with a negative pre-event test (PET) result, can be included in the group of 2. A negative COVID-19 PCR or ART test must be administered or supervised by MOH-approved COVID-19 Test Providers. Negative results from self-administered ART are not recognised as PET.

Anyone without a valid ticket will not be allowed into the Observatory & Telescope field. Do book your tickets early as there will only be 50 slots for each date.

For your safety, all participants must wear the safety goggles provided when viewing through the telescope.

This activity is not suitable for 3 years and younger as they will not be able to wear the safety goggles. Toddlers are also not recommended for this Omni Theatre show.

As stargazing is weather dependent, there will be no refund or alternative activity in case of bad weather.

There will be no free Friday stargazing sessions until further notice. These specific Fridays are selected due to availability of celestial objects in the night sky.

This programme will be available in 2022 if you miss the tickets in 2021.

The observatory will host occassional talks and other programmes. Information on these will be available on the Science Centre Observatory Facebook page.
~~~~~~~~~~~~~
Special Astronomy Event on 9 &10 November

In collaboration with The Embassy of Chile, the Science Centre Observatory is proud to present a series of documentaries, presentations, and panel discussions.

For more information, please refer to the e-booklet at 
https://for.edu.sg/chileaninfobook
 .

Only for 100 fully vaccinated adults 12 years old and above only. Unvaccinated visitors and children below 12 years old will not be allowed into the Omni Theatre. Strictly no refund for no show or wrong ticket purchase.

Tuesday 9 November
Session 1:
4pm - The eyes of the World documentary
4.50pm - Q&A with Mrs Marie Courvasier, director of the documentary
5.30pm - End of session

Session 2:
7pm - "Astronomy and light pollution + Globe at Night Campaign" presentation
8pm - Q&A session with Mr Juan Seguel, Education & Engagement specialist, NSFs NOIRLab
8.30pm - End of session

Wednesday 10 November
6pm - ALMA: The Rebirth of a Giant documentary
6.30pm - Discussion with the astronomers from ALMA
8pm - End of session

As the event capacity is controlled due to COVID-19 restrictions, a token fee of $3 per attendee is charged to ensure attendance. This programme only includes the Digital Planetarium show. The Observatory is not open for this programme.
~~~~~~~~~~
Thank you for your support! All the sessions are full!
ASTRONAUT EXPERIENCE @ Science Centre Observatory (20 pax per session)
Live digital planetarium show inside the Omni Theatre (45-min)

Make and bring home your own Galileo Telescope (45-min)

Embark on Apollo 11 Mission using VR (45-min)

Private stargazing session in the Observatory (45-min) - weather permitting*
​*Wet weather programme includes a demonstration of the portable telescope set up and viewing the simulation of the night sky inside the classroom.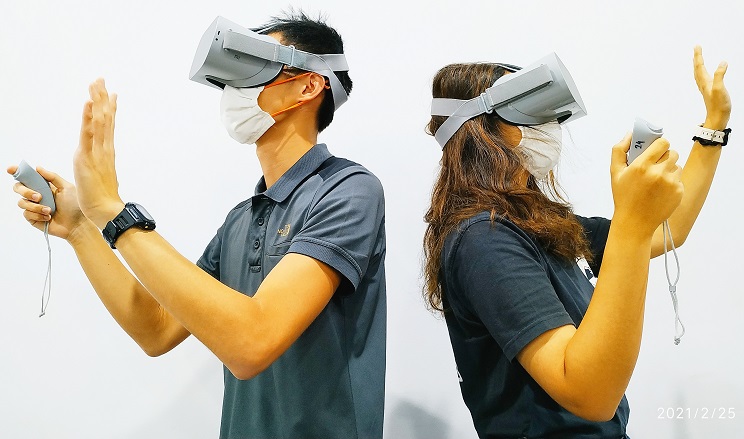 Time: 7pm to 10pm (registration starts at 6.45pm)
This programme takes place only on the first and second Friday of the month.
Price: $80* per pax (same rate for adult & children 7 years and above, accompanying adult will need a paying ticket).
*This programme cannot accept Singapore ReDiscover vouchers.
This Astronaut Experience is recommended for 10 years and above. Children below 12 years old need to be accompanied by at least 1 adult with a valid ticket. Not suitable for children below 6 years old. Young children/toddler without a paying ticket will not be allowed into the classroom and observatory. Due to Safe Distancing Measures, only the 20 pax with valid tickets are allowed inside the classroom and observatory. For your safety, workshop participants will be handling a hot glue gun on their own when making their Galileo telescope.
Like ​our ​
Science ​Centre ​Observatory ​Facebook ​page
 ​to ​receive ​updates ​on ​our ​latest ​programmes and view event photos. You can also follow Young Scientist, Family Programmes, and UNTAME for other Informal Science public programmes.
---
Terms and Conditions
1. Confirmation is on a first-come-first-served basis. 
2. Please note that there will be no refund of the programme cost for any no shows, cancellations or wrong selections during registration. 
3. Please note that all discounted admissions are subject to the attendees holding the relevant identification. If identification is not produced upon request, the participant may be denied entry to the programme.
4. Science Centre has the right to change or cancel the programme. In the event that the programme is cancelled, all registered participants will be informed 3 days prior to the date of the programme and all charges will be refunded.
5. Please be informed that while we will make sure that necessary safety precautions are taken, the Science Centre will not be liable for any accidents or damages incurred during the programme. 
6. Science Centre Singapore may take photographs or recor
dings of any visitor for any purpose, without prior approval or compensation.
7. There will be no refund in case of rain or overcast skies.
8. All participants must abide to the the prevailing Safe Management Measures. Science Centre has the rights to deny entry without refund should participants not follow the SMM requirements.
Stargazing at Science Centre Observatory and Digital Planetarium show in Omni Theatre
Event Venue