Email marketing is one of the most effective event tools to help you get your target audiences through the door. With the asset of online registration, event marketers can send automated confirmation letters to the attendees right after their registration has been completed. Let's find out how to craft a lucrative event registration confirmation email sample that won't leave anyone cold.
Why should you use event registration confirmation emails?
Confirmation emails are used in the frame of event registration for several main purposes:
To provide confirmation of participation and inform a prospective attendee about the basic event details

To inform registrants about a successful payment transaction for a paid event

To promote a referral program

To encourage a registrant to sign up for a newsletter or to continue interacting with the event organiser in some way.

The elements of a good event registration confirmation email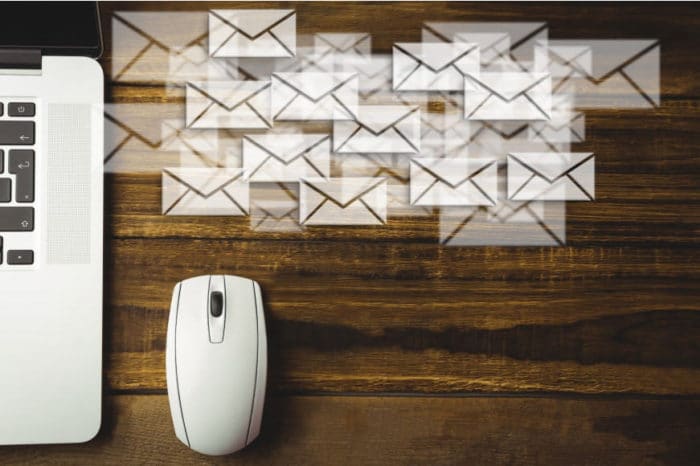 A good registration confirmation email is like a perfectly cooked recipe. If you have all the ingredients and know how to put them together correctly, you're bound to succeed. Check out this list of the essential elements that should be a part of your event confirmation email:
An eye-catching subject. Successful subject lines maximize the email opening rates. This means that if the subject of your email catches the eye of the registrant, the chances are high that the contents of the email will be successfully perused. The email subjects used to confirm registration should depend on the goals of an event marketer. However, there are some must-have elements that include urgency, relevance, and informativeness. In other words, to craft a clickable email subject, you should develop a clear purpose statement and express it as briefly as possible. To add an extra punch, throw in a bunch of creativity through the use of rhymes, idioms, or quotes, and reap the open rate benefits!
Event reminder. You should remind people of what they have registered for, even if you run a stunning event website where all the necessary information can be found. Through your email, you can underline the event theme and the key dates or add some new details to excite the registrants. There is one simple way to verify whether the content of your conference registration confirmation email is reaching your targets. Imagine that this email is the only thing that an attendee can consult on his or her way to the venue. Accordingly, it should include the essential details that get people through the door.

No spammy words. There is a group of words that can make your event registration email land in a spam post. To avoid this, try to exclude the words like "free," "promotion," and "read" from the subject line. This way, you'll ensure that no registrant misses out because an email registration confirmation is missing from his or her inbox.
The best samples of event registration confirmation emails
There are several aspects that make up a successful confirmation email sample for registration: simplicity, brevity, and a bridge to further activities or the company materials. To make this possible, you will need a flexible messaging system that helps to customise event emails. Let's have a look at the best samples of event registration confirmation emails: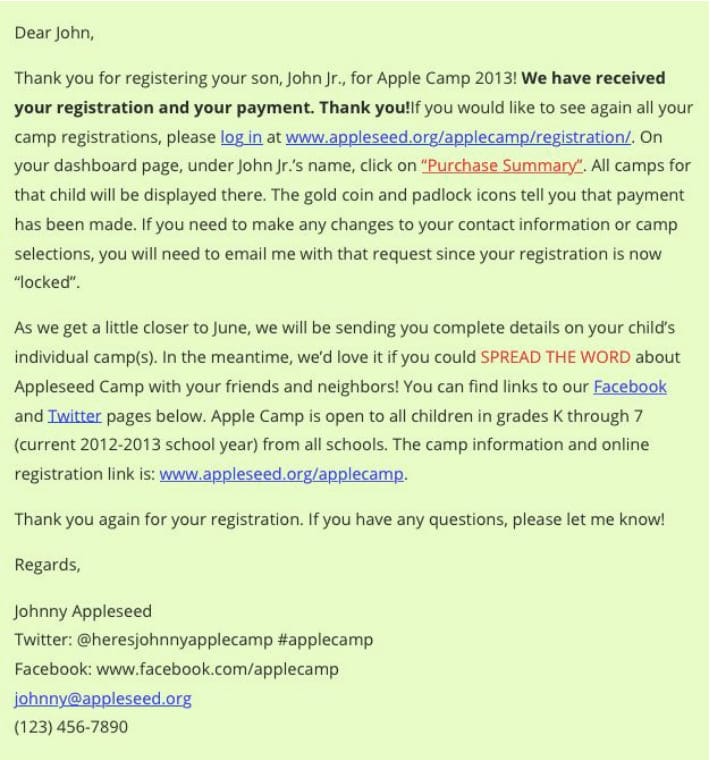 Why is it good?
This is a simple event email that includes the basic details, confirms the payment, and informs the reader of further activities. The confirmation details are bolded to catch the eye of the registrant.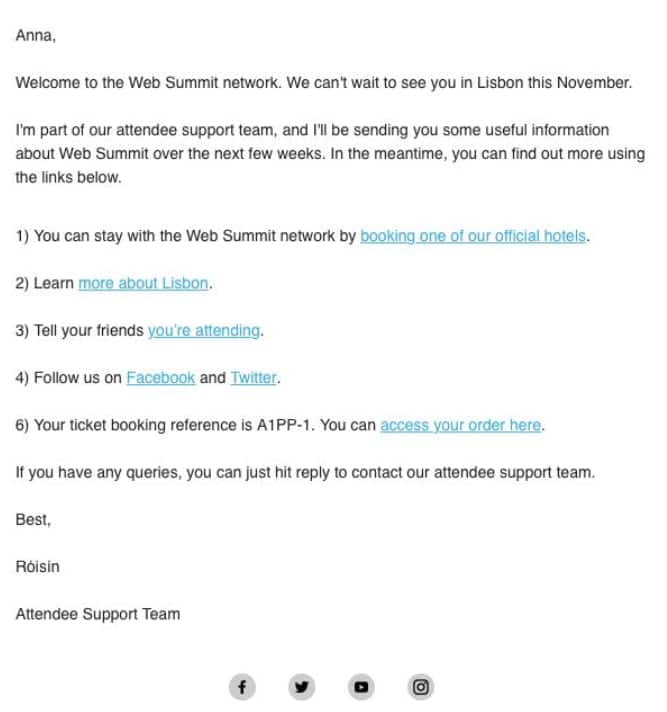 Why is it good?
This registration confirmation email message sample from one of the major tech events, Web Summit, demonstrates that simplicity is related to efficiency. The key perk is the links to the relevant web pages, which help a registrant discover more about the event and its location.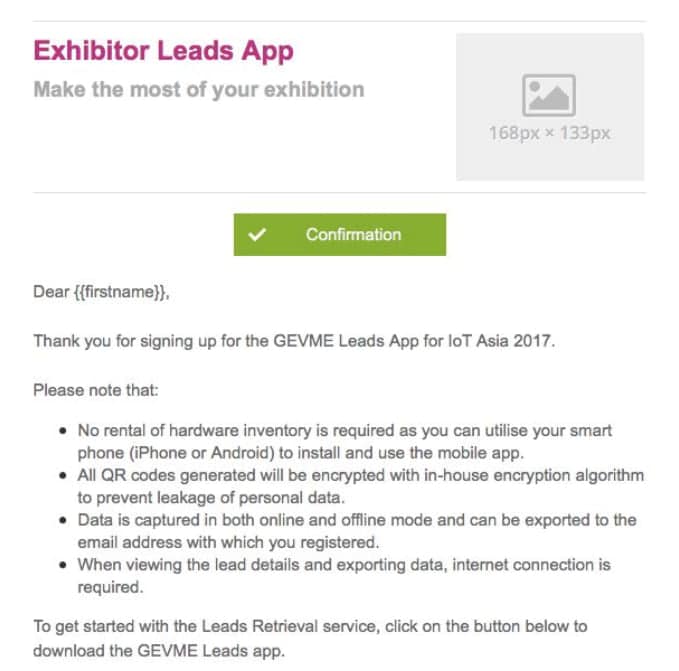 Why is it good?
This sample of an event confirmation email from Gevme shows the benefits of high customisation. Personalise your event narratives, and list the most critical details in an event confirmation email.
Sending a registration confirmation email is an important preparation step for many corporate events that take place online, such as trainings, webinars, remote conferences, live streaming, etc.
Webinar registration confirmation email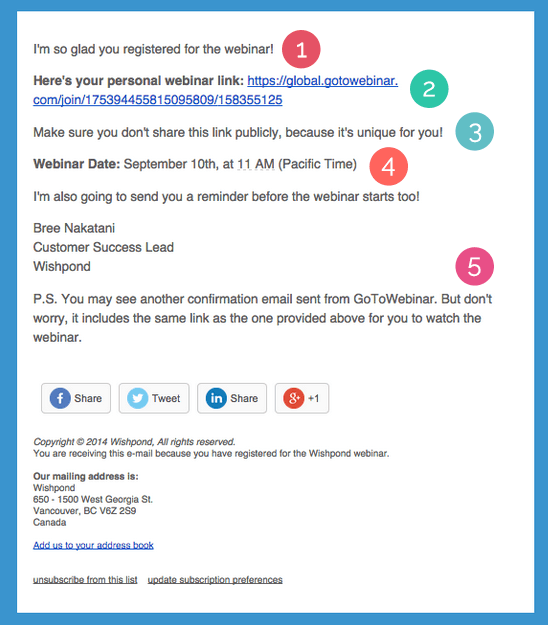 Such email confirmation after registration letters may be customised, designed, or written in a nonstandard way that creates an immediate impression on the readers. These samples are designed to maximise your event attendance and simplify your interactions with the registrants. They establish immediate communication without boundaries, making the whole user experience more comfortable and shortening the time needed to achieve the ultimate goals.
Conference registration confirmation email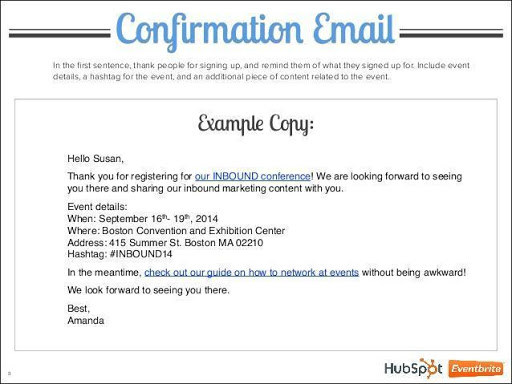 A thank you for registering for our event message is a good way to involve the readers and create good brand awareness that is formed through polite corporate communication and highly reputable attitudes towards your readers. It keeps the audience tuned in as you remind them of why they are using your event brand or your event products.
Tips on how to design & send emails
Even with a responsive email template, you will need to pay particular attention to a range of elements. Use the following tips to improve your email design and open rate:
Personalise your message.

Tell a good story.

Include an obvious CTA.

Segment the audience depending on location, time, or other pre-selected preferences.

Use a strong image and Alt text.

Keep the subject short.
The subject line can provide important information, even if the email is not yet open. Also, pay attention to the following:
Text size and breaks: Short paragraphs with an interval between them are important. Also, make sure that text elements will not be too tiny when viewed on mobile devices.
Image size and placement: Do not place text on images, and make sure that images are scaled so that users can see them when opening emails.
Multiple-column layouts: Even with a highly responsive email template, the columns may not stack up the way you want them to, and the content may be messed up. Test the design before sending the message.
Elements of buttons and clicks: Buttons and links must be large enough to click. Use obvious buttons, not embedded links.
Also, make sure you stay away from clichés or phrases that mean nothing.
The common mistakes and how to avoid them
Email etiquette is very strict when it comes to event registration emails. To ensure that event registrants won't change their minds about attending your event and that they get all the necessary information they need, you have to know the common mistakes and how to avoid them.
Misspelled name:

The golden rule of email marketing states that event registration emails have to be personalised by including the recipients' names. Failure to spell the name of a registrant correctly can be very offensive to a recipient and can even affect the event's attendance.

Improper capitalization:

Grammar and punctuation are very important when it comes to business email communications. Don't forget to capitalise proper nouns and the first words in sentences while writing an event registration confirmation email.

Using words with negative connotations:

You have a new registrant! Woohoo! This is definitely a good thing. Try to sound as positive as possible while sending a registration confirmation email to your prospective event attendee. Show how glad you are to see this person on the list of registrants. Cross negative words like failure, delay, and trouble off your list.

Amateur signatures:

Your event registrants expect professionalism in your email structure. No matter how catchy and memorable the content is, an amateur signature can really spoil the effect. Stick to the professional framework by including the name, job title, company name, phone number, and website. Remember, the signature area isn't the right place for quotes or jokes!

Entire URLs:

Don't waste space in the body of your event registration confirmation email. Use hyperlinks or shortened URLs to add visual appeal.




Conclusion

You can find a huge range of inspiring registration confirmation email templates out there that can help you add a special flavour to an event promotion campaign. Capitalise on attendance in a smart way, and craft seamless confirmation emails for your prospective attendees to get a zero "miss out rate" on the big day.

With GEVME Registration, you will be on the road to automated event marketing processes and to getting your event sold out with great confirmation email template for events.