How to write a report for an event? Creating a post-event report template is an essential part of any event you organize. This is because reporting on an event gives you and your client valuable insight as to how effective the event actually was.
Furthermore, such event reports help you plan more effectively in the future. Since an event report involves a lot of data regarding the number of attendees, the expenses, the revenue, and other similar information, collecting all the data in one place can reveal some very interesting trends and allow you to make even better decisions in the future.
Get access to advanced real-time and post-event analytics. Generate insightful reports and more. Try Gevme for free
Reasons why you need to write a post-event report
A post-conference report is an important summary of the whole event that pulls out the most relevant post-event statistics and data on any key goals or recommendations for your future events. That's why it's essential to write an event report after the event concludes

Preparing to write a post event report
Writing an excellent post-event wrap-up report demands careful preparation. If you want to write a successful post-event wrap-up report, follow these helpful professional tips:
Schedule time to write and publish the report within 48 hours of the event.

Take good notes.

Include photos and video or audio recordings; make sure to embed them in the post. Linking to these resources is recommended.

Provide important stats in your post that are relevant to the event.

Make sure to genuinely thank your event vendors, volunteers, and sponsors.
Once your post about your event's success is ready, publish it, making sure to also share some significant figures,  via social media and any other channels you regularly use.

Also, you may come up with a good post-event video. Here's a successful example of the Websummit, when they made a separate post-event video:
Such kind of content is good for sharing on social media and promotion.
Get access to advanced real-time and post-event analytics. Generate insightful reports and more. Try Gevme for free
What should you include in a post-event report?
All of the event data should be fed into an event report definition. This will demonstrate the value of the event to your business. The following elements are important to include in this report to give senior project stakeholders all the information they need to make final decisions on future event budgets, speakers, formats, floor plans, and so much more.
Executive summary
The official executive summary must be an independent document: an outline of the entire event that spells out the most important insights and discoveries from the rest of the report. It must incorporate the data on any key objectives or proposals for future event organisation.
Introduction
Defining the objectives as a feature of your planning will make your post-event report less demanding to compose (and your event simpler to run). These objectives must take into consideration a substantial profit return for targets and be stated in your report introduction.
Attendee survey
Research your audience. Your objectives should be measurable, actionable results that will benefit your future events. Use survey apps to provide questionnaires to your attendees.  If the event doesn't meet the goals, use this tool to discuss how you can ensure that they will be met at future events or revise them for the next time around.
Engage your event audience with live surveys, polls, etc. Try Gevme for free
Metrics
Audience metrics are an essential data point: collect the total numbers of visitors, sponsors, and exhibitors with their demographics, job titles, and responses. This data will help you tailor future events to your target needs and collect statistics that will be vital to show to your partners in the future.
Program and speakers
This segment of your report will originate from dialogs with representatives, speakers, and exhibitors. Use it to investigate the assessment of your event program and determine whether participants were happy during the event.
Location and venue
It's critical to audit the area of your event. Not only will it help you choose where to hold future events, but it might also give you some understanding of participant numbers. You also need to survey other parts of post-event reporting, including:
Availability and simplicity of venue

Hotel choices

Cost of transfer

Setting choices in proximity to the event

Accommodation and capacity
Marketing, media, and promotion
You must provide a marketing summary of promotion activities, highlighting both successes and failures. Areas to address in a post-event wrap up report include:
Promotional activities and outcomes: Use analytics to support outcomes.
Check attendee demographics: It is important you know your audience and how to target them. You may also create and display this in an infographic.
Social media engagement: Look at growth during the event campaign and the engagement rates at the event.
Media: Summarise your event media coverage. Highlight positive outcomes.
Website: Include key

analytics from your landing page.

Review marketing budget, expenditures, etc.
Include any creative post-event checklist templates and marketing plan examples in attachments.
Sponsorship
Write down all sponsorship information and results to make post-event report. Items to cover include:
Review of sponsors and numbers
Full synopsis of sponsorship programs/packages
Incorporate a synopsis of sponsorship income.
Staffing
Survey staff resources from your event and give proposals to future events. This will enable you to get expenditure plans ready for the following year's meetings, conferences, and other events.
Photos
Taking photos may not help you with your report writing directly. However, it does let you create a good rapport with the audience. Also, it may be required by your client for administrative purposes.
In addition, it may be used to create profiles in the future for various branding and marketing activities.
Nevertheless, ensure that the event policy allows you to take photos in the first place. Secondly, get permission from the audience before taking their photos. This is because some attendees may prefer not to have their photos taken.
Audio and Video
If possible, it's always a good idea to tape the entire event or any important sessions in the event. This is because such recordings can be referred to in the future to assess how the event unfolded, and what were the dynamics with regard to how the event was organized.
However, don't forget to include a little description below a video clip or an audio script in the report. This will help the reader know the significance of the content.
Conclusion and recommendations
This is an opportunity to sum up the post-event report: a concise discourse of what functioned well and where there is space for improvement. To close your post-event report, summarise the key suggestions featured throughout the report. Incorporate suggestions from staff, patrons, speakers, and participants.
Pro tips
Now you know what to include in a post-event report. Here are the pro tips for how to optimise your post-event reporting:
Schedule your time s

o that no more than 24 hours pass before you write and publish your wrap-up report. The fresher the news, the more readers you'll have.

Include thanks to your event sponsors, particularly your employer, product owner, and staff.

Focus on the report visuals. Use graphs, infographics, and photos or shoot a video to commemorate the most successful event moments. Capture or use the highest possible quality imagery.

Make sure you've researched all your accounts before the report release. Before publishing your report, take a moment to search your website using the event hashtags. This quick search will be more likely to produce other write-ups that you may wish to link to in your own post.

Tag your video/photo materials on social media appropriately to expand your reach. The conference news aggregator or press page is also an excellent source for such material.
Helpful tools to write a report
There are various online tools that you can use to write a good report. GEVME, as mentioned earlier, provides some very useful tools that help you categorize your data, analyze the data and navigate through it effectively with the use filters and other inbuilt features.
Good Sample Post-event reports
You can always make use of an event report sample to help you with your report.
Below is an event report template that you may use to get started.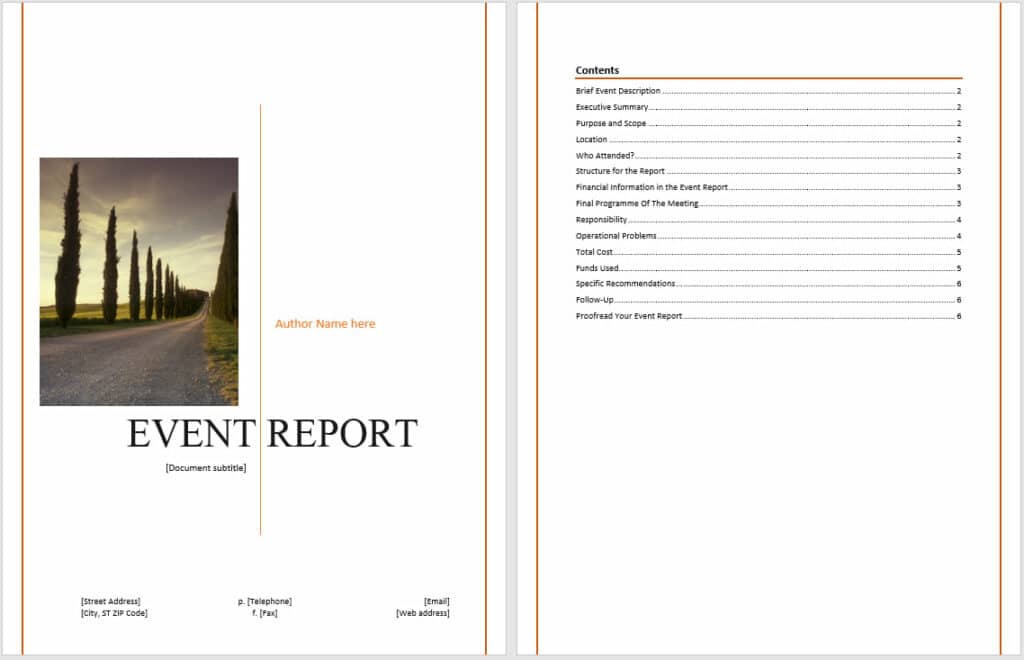 You can use the table of contents as a guide to help you with the type of information you'll need to collect and write.
Conclusion
Writing a post-event wrap-up report can be a hefty task. However, it does offer a number of benefits in terms of providing you with key information, based on which you can make critical decisions with regards to your event.
Follow the steps mentioned above, and you will have a perfect report in no time. The events you organize deserve actionable wrap-up reporting – get started for free and learn how to automate your post-event experiences.